Commentary
At 40, Guardiola is still awe-inspiring
Updated:
January 18, 2011, 5:49 PM ET
By
Graham Hunter
| Special to ESPN.com
[+] Enlarge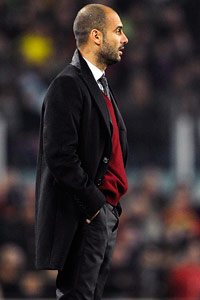 David Ramos/Getty ImagesBarcelona's Pep Guardiola turns 40 this week and is still acquiring accolades.
They evidently sprinkle some magic dust in the sporting genes of those born this week in history.
Over the past three days, Jan. 17, 18 and 19, we have celebrated the birthdays of Muhammad Ali, Ottis Anderson, Alvaro Arbeloa, Peter Beardsley, Jenson Button (Formula One), Richard Burns (Rally driving), Julius Peppers, Ivan Zamorano, Stefan Edberg (tennis), Predrag Mijatovic, Dennis Taylor (snooker), Shawn Johnson (gymnastics) and Chili Davis.
Among them are world, European, Olympic or national champions, hall of famers, a Wimbledon winner and in the case of Ali, a figure almost universally acknowledged as the sporting colossus of history.
So, sandwiched in amongst all these genuine greats it is possible that some of you missed the fact that on Tuesday Josep "Pep" Guardiola turned 40 -- a cause for fear and loathing.
At an age when most top soccer managers would still be considered precocious if they were beginning to learn their trade at a major club, FC Barcelona's awe-inspiring coach has won nine trophies at the Camp Nou -- the Third Division title, La Liga (twice), the Champions League, the Copa del Rey, two Spanish Super Cups, the World Club Championship and the European SuperCup.
If he doesn't add at least one, perhaps three or four, more before turning 41, then I will be shocked rigid.
So if Pep feels loathing for hitting the famous age when youth is, conclusively, behind you and your passport indicates "middle-aged," then it's nothing compared with the loathing which Real Madrid, Valencia, Espanyol, Sevilla, Villarreal or Atlético Madrid fans feel about the moment when he, at age 38, he took over at Barcelona!
And the fear? Well until Guardiola actually announces that he wants to stay with Barcelona beyond the end of the season he is, effectively, out of contract in July and could walk away.
Until he announces his decision to stay, the Camp Nou fans will fear that they might lose him but, for the moment, here are some facts for them to cling to.
Guardiola has agreed to and signed the same kind of contract which Frank Rijkaard had at the Camp Nou. The "rolling" deal will renew at the end of each season so long as both the president and the coach agree.
If either declines, then it is a walk-away-free deal on either side with any compensation for ending the relationship based purely on goodwill and mutual gratitude.
So, all that is missing, given that Barcelona would walk over hot coals to keep him, is Pep confirming that he's not burned out, bored or tempted by another offer.
And while football loyalty is both capricious and mercurial, we should all expect that, in due course, this proud, driven, remorseless and talented Catalan will announce that he will try to drive Barca's greatest era to new heights.
He and his club have intertwined DNA. Think about this: When Terry Venables won the Spanish title for Barcelona in 1985, Guardiola was a ball boy at the Camp Nou and attended school approximately 150 meters away from the stadium, having arrived to live at La Masia just under a year earlier.
In moments of triumph, winning the title and then qualifying for the European Cup final a year later, Guardiola had the curious talent of getting into the shot by running from the touchline to pay homage to either the "Mister," Venables or his own favorite player, Victor Munoz.
The photos are brilliant snapshots of a moment when viewed today but also indications of his need to be at the center of things.
When Spain won its only Olympic gold medal, it was in Barcelona in 1992 with this man anchoring its midfield -- an achievement which replicated his feat at Wembley two months earlier when Barca won its first European Cup.
It was Guardiola's first golden summer.
But his 16 trophies as a footballer with the club he adores brought him to the same point at which, one day, he'll likely leave as a coach.
Burnout is the threat.
During Year 1 of his managerial reign, Guardiola's assistant, Tito Vilanova, speculated that: "This is a club where all that goes on around it, plus the pressure to win with style can burn you out. It's likely that we are here for a two- perhaps three-year project."
This season would be the third of that projection.
Guardiola puts both heart and soul but also appendix, ligaments, red-blood cells and hair follicles into his work.
Just ask his players. I asked Leo Messi last week, "What keeps you from relaxing or dropping your standards?" He said: "Pep does, he's on top of every one of us, every minute of every training or playing day."
Xavi, in the same situation, responded: "Pep's almost got a sickness for football, he never stops, he never draws breath he just works, and studies, and researches and then he's on the players like a hungry hawk."
Guardiola's partner, Cristina, is so long-suffering that she had to allow him to accept the first negotiations to become Barca coach in 2008 a couple of hours after she'd given birth to their third daughter, Valentina.
Doting parents beaming down at the gurgling youngster, a knock at the door of the hospital room, and then-Barca president Joan Laporta sticking his head into the gap: "Nice work on the little one, but can we have our guy back now please Mrs. Guardiola?" is not far from what happened.
Barca regularly travels to away games on the same day, unheard of in La Liga, because Guardiola stresses that the players don't need to be sitting bored overnight in a strange hotel.
What's less written about is that prematch nights tend to be when he has his best-quality family time available.
As a young man he was into politics, poetry, philosophy and even modeled Antonio Miro fashion at the Barcelona Spring Fashion Festival, Passarella Gaudí.
But, sadly, there are misinformed sections of the public and the media who like to have it both ways. If our footballers misbehave they are uncouth yobs. If they show any interest in fashion, reading, philosophy or art, then some assume they must be gay.
Unfounded urban myths dogged Guardiola toward the end of his playing days with Barcelona to the extent that the man who discovered Leo Messi, agent Josep Maria Minguella, recently published a book in which he claims Guardiola was partly inspired to seek new pastures because "people around the club and in the media began to speculate about his private life and to claim he was gay." There is always burnout at Barca.
When this proud Catalan is angry, the power and the heat are like lava -- witness his regular clashes with a variety of referees and coaches over the past couple of seasons. But he kept his counsel and the vicious rumormongers were left without the satisfaction of a response. Good luck to him whatever he does in his private life, but it was and is no concern of ours.
Xavi describes the kind of intensity which means Guardiola now doesn't have time for much except family and the occasional music gig outside his work.
"You notice a flood of little details which have become immensely important," explains Barca's all-time appearance maker. "Food, weight, timekeeping, body fat -- fundamentals which just need that little bit of extra emphasis. If a club has an atmosphere where a minute late here and there doesn't matter or an extra kilo isn't a problem, then important details get lost. Pep came along, just the same as he was when he was my teammate, and told us: 'Believe in me, trust in me and we'll do well.' It has been magnificent but what people don't see quite so much is what fun it has been training under him. I've enjoyed myself like a little kid."
Your correspondent happens to be the only person who has been granted a one-on-one interview with Guardiola since he took over as manager 2½ years ago.
He declines to do interviews with anyone, including close media friends like Luis Martin of El Pais, simply so that he then doesn't have to do one after another day after day, week after week.
His average of six news conferences per week suffices.
But he did agree to be interviewed for the Champions League Final match program in May 2009 and gave me what I take to be the strongest clue that, for the moment, he'll fight the burnout, celebrate his 40th birthday and then get on with working to renew Barcelona's domination of the European game.
Guardiola told me: "The thing I admire most in any footballer, manager, sportsman or athlete is their career trajectory. It's common to see someone in sport who can win a lot for a year or two or who perhaps can sweep the board in a single year. But to keep doing it over and again like, for example, Paolo Maldini, that's what I truly admire.
"When Sir Alex Ferguson started as a coach at Manchester United I was nothing more than a kid. How could I not admire someone who continually achieves at the highest level, reinvents his team and starts a new cycle of achievement?"
Just as Sir Alex turns 70 and is still going strong, one of his many disciples, Pep Guardiola, is a very young 40.
Unless something drastic happens, he will celebrate many more birthdays at the Camp Nou before, one day, giving one of Europe's greats like Manchester United, Arsenal, Inter Milan or Liverpool the benefit of his massive talents.
And of that massive, saturnine intensity. Cumpleaños feliz, maestro.
Graham Hunter is a Barcelona-based freelance writer for ESPN.com who specializes in La Liga and the Spanish national team. You can reach him on Twitter at twitter.com/BumperGraham.
ESPN.com freelance columnist
Graham Hunter is a Barcelona-based freelance writer for ESPN.com who specializes in La Liga and the Spanish national team.