Commentary
The other Fernando
Updated:
February 2, 2011, 7:45 AM ET
By
Graham Hunter
| Special to ESPN.com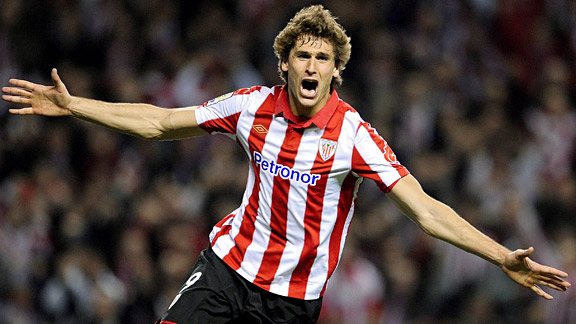 Jasper Juinen/Getty ImagesAthletic Bilbao's Fernando Llorente didn't move during the January transfer window, but he'll continue to be the subject of a tug-of-war between his club and potential suitors.
BARCELONA -- There are a number of reasons for Fernando Torres being sufficiently tempted by Chelsea to abandon one of his idols, Kenny Dalglish, and also the Kop faithful who idolized El Nino.
Torres isn't, and hasn't really been, El Nino for a long time. The Kid turns 27 in seven weeks and he hasn't won a club trophy for nearly nine years, and even then it was only Spain's second division. He's also spent too long worrying about whether medical decisions have sufficiently addressed what is now almost a year in which he's been hobbled by injuries.
Will moving to Chelsea reinvigorate his career for club and country? Torres will hope so, as his spot on the national team could be in doubt going forward.
Indeed, there is one more factor which has propelled Torres toward this drastic decision to leave Anfield for Stamford Bridge. That factor has piercing, steel-blue eyes like Paul Newman's, angelic, curly hair a la Harpo Marx and a gigantic frame so bursting with muscle and sinew that you'd think Marvel comics designed him.
His name is Fernando Llorente.
Just like any Stan Lee superhero, Llorente has been battered by repeated setbacks, prejudices and ill treatment. But the journey has been worth it. The 6-foot-4 Athletic Bilbao striker is, and will continue to be, the subject of a tug-of-war between his Basque owners, Tottenham Hotspur, Liverpool, Real Madrid and Inter Milan.
What's much more grim for Torres is that this man who was born in the Navarran town of Pamplona, where they race with the bulls during the festival of San Fermin every July, is within touching distance of becoming Spain's preferred strike partner for David Villa. Which would leave Torres on the bench for national games.
During the World Cup in South Africa, Llorente was very much a novice. Even the kit men didn't know exactly how to handle his sartorial needs. When Ricardo Carvalho ripped the front of Llorente's shirt to tatters in the second half of the Portugal match, he needed a good three minutes and the help of two backroom staff to unpeel the strip from his massive upper body and wrestle into a fresh XXL shirt.
That spectacle in Cape Town was like watching Harry Houdini escape a straightjacket.
But Llorente turned that game, has scored regularly for club and country since and, in fact, volleyed home the winner for Spain in Scotland the last time the world champions played competitively.
[+] Enlarge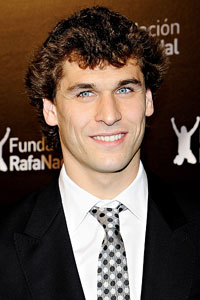 Carlos Alvarez/Getty ImagesLlorente could be the preferred strike partner with Spain's David Villa, leaving Fernando Torres on the bench.
Vicente del Bosque is a very loyal coach, but also shrewd. If Llorente doesn't yet rival Torres for international experience or pace he does mimic him for power, ability to finish, ability to hold the ball up and wonderful team work ethic.
And Llorente is in much better form.
Since scoring the winning goal in the Euro 2008 final, Torres has 29 appearances for Spain, nine goals but only five in competitive matches. Those five all came against either New Zealand or Liechtenstein, which are 63rd and 148th in the FIFA ranking chart.
In the same time span, Llorente has 13 appearances and seven goals. Not only were four of them in competitive matches, he also got crucial point-winning strikes against Lithuania and Scotland.
When you meet Llorente, he can seem, like Torres, the gentlest, most easy-going sportsman on the planet. One anecdote that comes to mind: I was walking down the long sloping tunnel to the World Cup final pitch just about 35 minutes before kickoff at Soccer City. The vuvuzelas and prematch hoo-ha meant I didn't hear anyone jogging up behind me. But suddenly this massive vice-like grip squeezed around my shoulders and a voice asked: "What's up? How's everything going?"
It was Llorente, who was about to go warm up for the biggest match he'll ever play. We strolled down the tunnel as if I was one of his best buddies instead of a Joe Nobody journalist until we reached the pitch and he sprinted off with a departing "Enjoy the game!"
Remarkable sangfroid, remarkable friendliness and an indication of his class rather than anything I'd done to earn that treatment.
Perhaps Llorente's journey to superstardom and proper appreciation at the top of European football has conditioned how he now treats people.
As with all strikers of gigantic size, Llorente attracted ill-educated criticism and something close to fairground freak scrutiny before his fantastic personality and determination to improve his skills made him a hot property. Sadly, the criticism often came from his own managers.
"I made my debut with Ernesto Valverde [in 2005] but he quickly left to join Espanyol and first Mendilibar and then Javier Clemente took over," Llorente said. "They showed no confidence in me, and even though I was only 19 they tried to sell me or just leave me on the bench all the time. They called me a big lump, lazy and accused me of not running enough. But gradually other strikers left, the new coach, Joaquin Caparros pushed me to improve, and I started to score goals."
As a firsthand witness, I can testify to the relentless work he puts in to become a more complete footballer. In South Africa, for example, there was no outfield player for Spain who practiced more tirelessly or self-critically on the drills set by Del Bosque. Volleys, headers, setup play, free kicks, first-time control, shooting from close in, long-distance efforts -- Llorente couldn't get enough.
Llorente told me: "All this has had a marvelous impact on me. When you are surrounded by the best players in the world, it teaches you about standards. From the first training session I knew that I had to improve everything about my game and to keep improving. I get a touch on the ball far less often than with my club. So I have had to improve."
The hard facts about his situation are that while Athletic has developed him over the last 15 years and he's a straight-up loyal guy, Llorente is Navarran, not Basque, and his loyalty to Athletic is firm but not infinite.
His brother, Txus (a former truck driver), is now Llorente's representative and has already been over to London to check out Spurs' setup. Llorente also sticks assiduously to two hours of English language practice most days of the week. He supported Barcelona as a kid, had his head turned to Liverpool, and knows that Real Madrid has enquired to Athletic's president Fernando Macua about a deal. But Llorente is open-minded about what to do next.
"What I will admit is that I have a hankering to try new pastures and new experiences some time in my career," he told Marca. "When that happens, or where it will be is something I'm open-minded about. I wouldn't duck an opportunity to play for a good team in England. My football gives me life experiences which I enjoy, so I will keep an open mind about where next when the time comes."
No one needs to remind Fernando Torres how quickly time flies. It must seem like yesterday that he set off across half of Europe last April, by car because of the Volcanic ash cloud, to undertake the keyhole surgery which was meant to rescue his World Cup.
It didn't, and Torres' momentum hasn't properly regenerated since then.
Meanwhile, the other Fernando has been shooting up the charts. Forty-one goals for club and country in the last season and a half, a queue of clubs wanting him and injured far less regularly than El Nino.
Before either of the strikers blinks an eye, Spain will be defending its European Championship title in Poland and Ukraine in the summer of 2012. If the first game of that tournament, indeed the final itself, were this week, Del Bosque would be almost certain to pick David Villa and Llorente, not Villa and Torres.
Healthy competition for both men, wonderful for Del Bosque and Spain, but ultimately, costly for Liverpool, which now rues the departure of El Nino -- the boy who needs to prove he's a man again. And to compete harder against the man with the Paul Newman eyes.
Graham Hunter is a Barcelona-based freelance writer for ESPN.com who specializes in La Liga and the Spanish national team. You can reach him on Twitter at twitter.com/BumperGraham.
Spain writer
Graham Hunter is a Barcelona-based freelance writer for ESPN.com who specializes in La Liga and the Spanish national team.