Commentary
Get ready for a footballing feast
Updated:
February 15, 2011, 2:55 PM ET
By
Graham Hunter
| Special to ESPN.com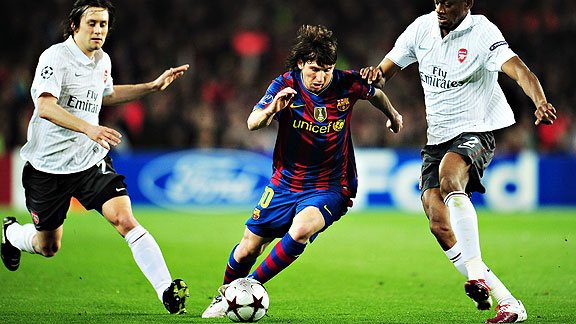 Shaun Botterill/Getty ImagesIn the Champions League quarterfinals last year, Lionel Messi put four past Arsenal at Camp Nou. The Gunners will have to find a way to stop him when the teams face off on Wednesday in the round of 16.
In spiritual terms, Johan Cruyff is the granddaddy of the footballing philosophy behind Barcelona and Arsenal.
Upon his arrival at Camp Nou in 1988 as coach of what would become the "Dream Team" era, the elegant Dutchman instituted the 4-3-3 formation, insisted on the pass-and-move style and, above all, taught that it was a sin to gift away possession.
These days, Barcelona is still putting his strategy to practice, while Arsenal is still practicing to perfect it. But the theory is the same: Play devastating, one-touch football when possible and cut the opposition to shreds before it knows what has happened and keep the ball to run the competition ragged.
That's why the game on Wednesday at Emirates Stadium (and perhaps the return leg at Camp Nou, too) is the can't-miss match of the Champions League round of 16. This is when the competition hits the high-stakes, high-octane knockout stage. When referee Nicola Rizzoli blows for kickoff in London, the players better have their nerves steady and the spectators better be ready for a footballing feast.
Cruyff, for one, is feeling confident Barcelona will win. He told El Periódico that the English Premier League is weak because "Arsenal's opponents lose the ball not once, twice but loads of time and they are unable to string three passes together.
"The other English teams go 'all-out' and trade blows. They go straight for the throat with the long ball tactic."
The maestro, who taught Pep Guardiola as a player all he knows about tactics, also betrayed Barca's game plan. Cruyff said: "Not only can Barcelona string many more than three passes together, they do so high up the pitch and close to the opposition penalty area -- a long way from their own.
"You're always going to lose the odd ball, but if Arsenal's strikers win the ball, they are a long way from Victor Valdes' goal. Barca can play the offside trap and also run down their [opponent's] energy levels by making them chase for possession."
Presumably Cruyff believes, with justification, that Arsenal's record of 93 goals scored but with 39 conceded and eight defeats in 40 competitive matches is dwarfed by Barca's stats of 112 goals, 21 conceded and three defeats in 41 outings.
Arsene Wenger knows all too well the challenge that his team faces. During his managerial career at AS Monaco and now Arsenal, he has failed to defeat Barcelona in seven matches. His record: two draws and five defeats, one of which was a brutally painful loss in the 2006 Champions League final.
But nobody should believe that the Gunners' cause is a lost one. Here are the three keys to the match for Arsenal, followed by the three keys for Barcelona.
What Arsenal Must Do To Win
1. Commit fewer errors
It sounds basic enough, but even though
Lionel Messi
's four goal display in eliminating Arsenal in last season's quarterfinal was scintillating Wenger said he believed that his own players contributed just as much to the defeat. After the match, he pointed out to reporters that "the way we gave the ball away is beyond understanding."
Small errors cost the Gunners a fortune: Manuel Almunia's decision to venture off his line unnecessarily when Zlatan Ibrahimovic lobbed him for the first goal in London; Mikael Silvestre losing possession before the first goal at Camp Nou; Almunia's failure to control the ball and clear it properly; and Thomas Vermaelen's gifting of more goals to the little Argentinean.
"The regret is that at 1-0 we had great opportunities to score a second goal and over the two games we basically gave Barcelona the goals," Wenger said.
Competing with this Barca side strains the brain, the muscles and the internal engine. Gift them possession and it's game over.
2. Take Chances
The Gunners have Robin van Persie back and in sparkling form, and it's important to note that the Dutchman didn't play in either of last April's quarterfinal ties between the sides. He has power, pace and skill -- especially off his left foot. Cesc Fabregas also fully fit, which he was not last season, will help the Gunners' cause. Barcelona's lost midfield prince scored against the club he supports last season and can drive forward in the quick counter attacks, which are emblematic of Arsenal and threaten Barcelona's tactic of playing high up the pitch.
[+] Enlarge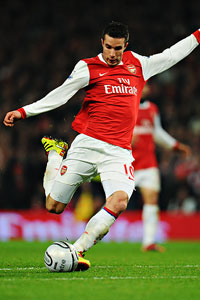 Clive Mason/Getty ImagesPerhaps the biggest boost to Arsenal's chances is an in-form Robin van Persie, who has scored 10 league goals so far this year.
Yes, it could be risky, but risks must be taken when you consider that it's been nine years since Barca were knocked out of the Champions League by more than one goal.
3. Exploit Theo Walcott's Pace
We will see whether Wenger starts the young English winger, but you can't ignore the effect he had in last season's quarterfinal home-and-away ties. Walcott scored the first goal, contributed to the second and then, at Camp Nou, set Arsenal up for a barely credible 3-2 aggregate lead before Messi took over.
Barca so often move to a 3-4-3 shape when dominating high up the pitch that it leaves them vulnerable in the full-back areas. Sprint past Maxwell on the left or Dani Alves on the right and suddenly there is an ocean of space and Barcelona is desperately stretched. Walcott ripped past Maxwell last season and he's helped open up many an attack for Arsenal in the EPL this season.
Indeed, using the explosive pace of Walcott and van Persie -- along with Samir Nasri, if he's fully fit -- will be an absolute key for the Gunners. Barcelona's fireman-in-chief, Carles Puyol, won't be there to run around putting out incendiary moments, and that gives Wenger's men a chance to run at Barca and test their back line.
What Barcelona Must Do To Win
1. Dominate the midfield
When casual fans of Barcelona talk about the midfield, it's always Andres Iniesta and Xavi who get the rave reviews. Fair enough, but the team's exceptional ability to control the center of the pitch is also because of Sergio Busquets. And make no mistake -- the match on Wednesday will be a big test for him.
Who did Guardiola choose to rest a couple of games before the Clasico against Madrid in November? Busquets. Who did Guardiolo choose to rest against Gijon this past weekend despite knowing what a tough game it would be at the Molinon? Busquets.
Guardiola knows how important it is to have Busquets fully charged and ready to go.
[+] Enlarge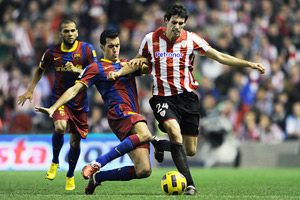 Jasper Juinen/Getty ImagesBarca's Sergio Busquets is the enforcer in the midfield who deserves a lot of credit for his team's ability to maintain possession.
The no-nonsense Catalan is adored by his fellow players. Xavi said Busquets is the Gunners equalizer, the guy who hands out revenge tackles if need be. And if Xavi is the orchestrator of all that is beautiful, Busquets is the traffic controller. He makes the tackles, he dictates what does and doesn't get to move in the middle of the pitch and he is clever and quick in distributing the ball.
In many ways, he is one of the reasons why people ask, "What would Barcelona do with Fabregas if it bought him back?" Fabregas plays traffic controller for Arsenal; Busquets is his equivalent for Barca. It will be wonderful to watch them face each other on Wednesday.
2. Supply Messi
An obvious key to the game, but one that still warrants mention. The little genius destroyed Arsenal last season has scored 89 goals in his last 90 club games and loves the big occasion. But Messi is also deadly when he's not hitting the net. Saturday's pass to David Villa was his 17th assist. Add that to the 40 competitive goals he's registered, and Messi has contributed just under 60 goals to Barcelona's campaign since August. Villa should be especially thankful, as Messi has assisted on eight of the striker's 17 tallies.
3. Cope with Puyol's Absence
Maybe it is a coincidence that on all three occasions that Barca have lost this season -- away to Sevilla in the SuperCup, to Betis in the King's Cup and at home to Hercules -- Puyol has been absent for one reason or another. Because of a knee injury, the Barca captain won't make the trip to London. And although Eric Abidal is in the form of his life, it's obvious that Gerard Pique, Valdes and particularly Alves benefit from Puyol's presence. During his early years at Barca, he thrived on chaos, loving to put out fires left, right and center. It's tribute to his adaptability that he equally loves patrolling the now serene Barcelona back four and jumping on trouble when it occurs.
Barcelona will miss him, and Abidal will have to raise his game to compensate.
Graham Hunter is a Barcelona-based freelance writer for ESPN.com who specializes in La Liga and the Spanish national team. You can reach him on Twitter at twitter.com/BumperGraham.
Spain writer
Graham Hunter is a Barcelona-based freelance writer for ESPN.com who specializes in La Liga and the Spanish national team.