Commentary
Real Madrid's keeper of the peace
Updated:
February 22, 2011, 4:12 PM ET
By
Graham Hunter
| Special to ESPN.com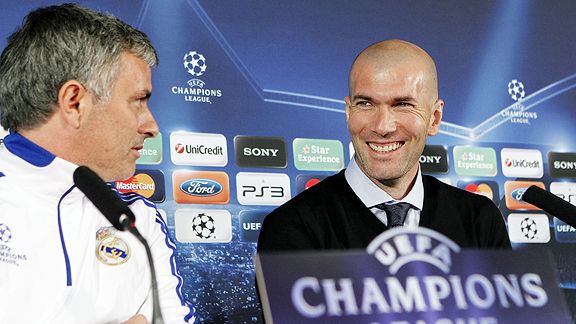 Angel Martinez/Real Madrid/Getty ImagesAt Real Madrid, Zinedine Zidane has proved that diplomacy rather than brute force can bring rewards.
BARCELONA -- It's ironic to celebrate Zinedine Zidane in the week that the second-most-famous head-butt in world football is punished with Gennaro Gattuso's three-game ban for his assault on Joe Jordan in the Champions League last week. Zizou's attack on Marco Materazzi in the 2006 World Cup final cost him a whole lot more -- in addition to worldwide vilification and ignominy, he failed in his chance to lift sport's most important trophy for a second time.
But today, the Frenchman has proved that diplomacy rather than brute force can bring valuable rewards.
One of the questions I'm most regularly asked by fans of Spanish football, here in this country and all around the world, is this: "What the hell is Zizou's job at Real Madrid?"
When he came on board in 2009 as an adviser to Florentino Perez after Perez was named president for the second time, Zidane looked like football's version of the glamorous piece of fluff you see on the arm of an aging, wealthy playboy. Soon after, for 12 months, his role with Madrid was subjugated to what he admits was a controversial but massively lucrative job when he became an ambassador for Qatar's bid to host the 2022 World Cup, much to the detriment of stronger candidates such as the U.S. and Australia.
"It has been causing me a lot of pain that people thought I had some kind of fictitious job at Madrid," he told L'Equipe. "The time spent supporting Qatar earned a lot of money, but not for me, all for the Zidane Foundation. But I'm at Madrid training almost every day, I observe, I pass my thoughts on to the coach and I have spent a lot of time planning the tie against Lyon [in the Champions League on Feb. 22]. I've got too much time to give back to my family to be a full-time coach for the next few years, so this level of involvement is perfect."
Part-time or not, Zidane has made a series of vital contributions to Madrid over the past few months. Although they might not dwarf his immeasurably splendid volley at Hampden Park in Glasgow to win Los Merengues their ninth European Cup in 2002, they might one day stand alongside that goal in importance.
Zizou, you see, has been the diplomat who has prevented Jose Mourinho from blowing his top and deciding to quit at the end of the season. He's also pushed Florentino into trusting Mourinho, edging general manager Jorge Valdano out of the picture and giving Madrid stability and direction at a crucial time in this season.
Perez confirmed to El Larguero this week that "Mourinho guards his work and his area jealously. He wanted more autonomy from me and from Jorge Valdano, and we were persuaded that this would be beneficial."
It has been genius behind-the-scenes work for Zidane, a man who has always been more reliant on his limbs and his football vision than his power of persuasion.
The story goes like this. In the weeks before and after Christmas, the tension between Mourinho and Valdano was like a poisonous cloud. The Portuguese and the Argentinean simply don't like each other. They view football from opposite ends of a telescope. Valdano sees Madrid as his personal fiefdom, while Mourinho won't let any single thing, no matter how seemingly insignificant, jeopardize his desire to sing the chorus of "My Way" en route to winning trophies. Or even toward failure.
As I predicted back on Jan. 21, when I warned that "Florentino and Valdano are at risk of becoming the Laurel and Hardy of the footballing world," Perez was always going to have to choose between the two men. It was one of those make-or-break moments in a season that determines whether you put yourself in a position to achieve glory or careen headlong toward disaster.
Enter Zidane. Mourinho had cleverly insisted that the Frenchman, a born footballer who was always going to respect the coach's skill, previous success and rigorous work ethic, should be at his side more often. So this past November, he was named as a special adviser to the first team. Zidane started regularly attending training, meeting with Mourinho, studying opponents (especially Olympique Lyon) and following Madrid's players (especially fellow Frenchman Karim Benzema) when they went on international duty.
A bond formed, respect grew and when it was vital for the increasing war of words and deeds between Mourinho and Valdano not to escalate any further, Zidane played the role of the intermediary.
Perez may be making money for his personal empire and for Real Madrid (the highest-grossing club in the world, according to Deloitte) and perhaps he can boast an increasingly complete squad. But Real supporters want trophies, especially the Champions League, which Madrid last won in 2001-02. And the last piece of hardware that Perez himself brought to them was nearly eight years ago.
Zidane persuaded the president that Mourinho must be backed in his quest to bring attacking reinforcements to the squad. As a result, the loan deal for Emmanuel Adebayor was approved, even though Madrid's directors hated the inflated salary terms for the Togolese, who had been warming the bench at Manchester City.
So far, Adabayor has been a well-behaved, footballing success and has proved the point Mourinho has been arguing since July -- that Madrid requires a different style of center forward, a target man with height and presence up front, in certain tactical situations.
Score one for Zidane and Mourinho.
Zidane also persuaded Perez to edge Valdano away from the training ground and into the institutional role that he's actually supposed to be filling.
The prize has been Mourinho's admitting: "I'm much happier that the club and I are moving in the same direction and the right direction now. I only answer to the president and Jose Angel Sanchez, who is responsible for signing the players."
Score two for the Franco-Portuguese alliance.
And because Benzema holds Zizou in almost god-like reverence, Mourinho has been able to get more out of the talented but still maturing striker both in training and in matches. What's more, the Special One has even pulled off the trick of taking in a new striker, dropping Benzema on occasion and still getting more effort, commitment and winning attitude from the young Frenchman than he had in the first five months of their time working together.
Hats off to Zizou and Jose.
Now there is some of his work at the club that Zidane still doesn't much like, such as being in the spotlight. Meet him off camera and he can have a relaxed, fun sense of humor. And the fact that he is quiet doesn't mean, for a moment, that he is not passionate, intelligent and very driven on certain issues. But when he was asked to sit with Mourinho and defender Ricardo Carvalho the other day in Lyon to add gravitas to Madrid's news conference in France and to emphasize that this is a new, serious Real squad that has arrived at the Stade Gerland without being overconfident -- a mindset that has cost the team three defeats there in the past -- Zidane looked uncomfortable. His role wasn't really to speak, but rather to loom magisterially over proceedings. So he sat there, clearly counting down to the end of the spotlights, cameras and questions.
Because these days, Zidane is content with making things happen away from the glare of the public's eye. His behind-the-scenes work has given additional power to Mourinho, brokered peace between president and coach, and given the Special One even more cachet with the players. Whether Real overtakes Barcelona in La Liga, defeats Barca in the Copa del Rey final on April 20, or wins the Champions League for a 10th time, the fact remains that the club is in a stronger, healthier and more threatening position, thanks, in large measure, to Zidane.
News and Notes
Bienvenido en Casa Raul -- or Welcome Home Your Majesty
[+] Enlarge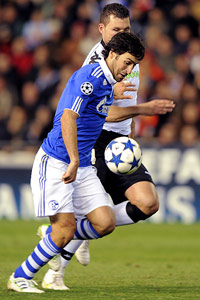 Jose Jordan/AFP/Getty ImagesRaul had a triumphant return to Spain last week when he scored for Schalke 04 against Valencia in the Champions League.
I enjoyed being in the heaving, chanting Mestalla Stadium last week as Valencia was cut down in full flow by the Schalke 04 of Raul and Jose Manuel Jurado. After the match, I also enjoyed the first interview with Raul I've been part of since the 2006 World Cup.
He'd been greeted like visiting royalty before the 1-1 draw and he scored with majestic grace during it. I also interviewed the King of the Penalty Box at the 1996 European U-21 Championship semifinal against Scotland. Back then he told me that his game was all about anticipation and movement and, 17 years later, absolutely nothing has changed in that respect.
Valencia center back David Navarro glanced over his shoulder in the 64th minute to verify that he had Raul covered. But the very instant Navarro began to turn his head back to anticipate the cross from Jurado, Raul started to move. Before Navarro knew what had happened, the King of the Penalty box was in front of him, had controlled the ball and was angling it into the far corner of the net with that demon left foot of his.
What has changed is the level of appreciation for Raul. For years, there have been Spaniards, especially outside the Bernabeu, but also within Real Madrid, who criticized his influence on club and country and who cheered when Luis Aragones permanently dropped him from Spain's squad. True, Spain has moved on and all great careers end. But appreciation in sport so often happens retrospectively when nostalgia adds magnification to achievement.
It's sad that Raul had to endure three, perhaps four years at the end of his Madrid career when he was talked down to and identified as more of a problem than a benefit. And it was pathetic that Madrid gave him such a mean-spirited, impromptu farewell instead of a proper sendoff in front of tens of thousands of fans.
But when he told my UEFA.com colleague and me, "I'd like to dedicate that goal to all the people who have welcomed me back to Spain with such passion and affection," he said it from the heart.
Whether Raul El Rey, Raul the King, has the final word in Gelsenkirchen, Germany, in two weeks time remains to be seen. But the people who saluted him on his return to the country he once ruled did the right thing. They acknowledged greatness.
Time for a bit of perspective
Spain currently has more brilliant goalkeepers than it knows what to do with. In my opinion, it has the three best in the world in Iker Casillas, Pepe Reina and the much underrated Victor Valdes. Recently there has been a massive clamor over Atletico Madrid's David De Gea, because not only is he talented but also because Manchester United has scouted him a couple of times.
But we live in an overheated football media world. De Gea is no more ready for Manchester United than you or I. He is inexperienced, boasting just one full year in La Liga. He needs to increase his upper body strength if he is to succeed in the much more physical English Premier League.
In my view, De Gea is no better technically or talent-wise than Valencia's Vicente Guaita. Guaita has excelled for Los Che since pushing Cesar Sanchez onto the bench. He is mature, physically much more powerful than De Gea, capable of making outstanding saves, and is making fewer mistakes and competing at a higher level than De Gea. That doesn't mean United should sign Guaita, nor does it automatically prove that he will be a better long-term prospect. But those who scout for top clubs and those who write or broadcast about top-level football need to increase the breadth of their knowledge in this modern football era when power, success and reputation are based on getting the best and most accurate information first. Not making the loudest noise.
Graham Hunter is a Barcelona-based freelance writer for ESPN.com who specializes in La Liga and the Spanish national team. You can reach him on Twitter at twitter.com/BumperGraham.
Spain writer
Graham Hunter is a Barcelona-based freelance writer for ESPN.com who specializes in La Liga and the Spanish national team.