Commentary
Is he the one?
Updated:
March 23, 2011, 3:28 PM ET
By
Graham Hunter
| Special to ESPN.com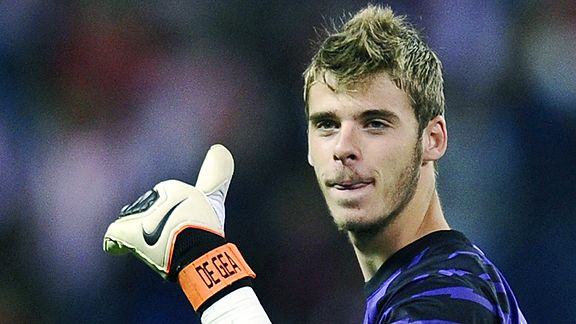 Pierre-Philippe Marcou/AFP/Getty ImagesAlthough he's just 20 years old, Atletico Madrid's David De Gea is on a short list of candidates to replace Edwin van der Sar at Manchester United.
The tourist season hasn't arrived, but enjoying successful trips to Spain has been at the forefront of all the great minds behind the scenes at Manchester United over the winter months. Not because of the Champions League knockout draw, as United wouldn't face either of La Liga's survivors until the Wembley final. And not because of Sir Alex Ferguson's holiday plans, given that United's boss far prefers his Côte D'Azur mansion, along with the French cuisine and wine.
The Spanish theme that has been occupying Ferguson's thoughts relates to the next piece in his jigsaw project to rebuild the champions-elect of England -- namely the goalkeeper chosen to replace Edwin van der Sar.
One thing that needs to be established is that were there any serious tradition of Liverpool being willing to sell to its most hated rival, then Pepe Reina would be Ferguson's first choice. Though not actually impossible, that deal has been made even less likely by the Anfield revival under Kenny Dalglish and the prospect of owner John Henry reinvesting serious money in Liverpool's rebuilding. So Ferguson has had to forgo the battle-tested Prem keeper and has turned his focus on Atletico Madrid's David De Gea.
It's been tough going for De Gea. The poor kid has just finished a sequence of four Madrid derbies this season (thanks to the fact that Los Merengues and Los Colchoneros were also paired in the Copa Del Rey), during which his side lost every game and De Gea conceded eight times. Add to that the three tallies Los Blancos scored against him in his derby debut last season, and the 20-year-old De Gea is staring at some ugly stats: five games, no wins and eleven goals conceded against Madrid.
Those who fretted through Manchester United's "dark" years of goalkeeping choices such as Massimo Taibi, Mark Bosnich, Tim Howard, Ricardo and Fabien Barthez may well be looking nervously at the fact that De Gea is close to conceding his 100th first-team goal before he's even three-quarters of the way to the same number of appearances. And to be fair, there have been some recent errors among those goals. Mesut Ozil's winner this past weekend, Espanyol's equalizer in a 3-2 victory at the Vicente Calderon, Tote's first for Hercules in a 4-1 thrashing of Atletico, plus Nano's opening-score header in Atletico's defeat at Levante -- all underlined De Gea's inexperience.
[+] Enlarge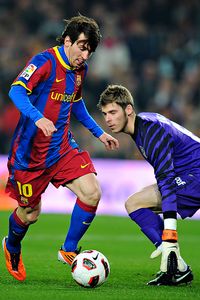 Lluis Gene/Getty ImagesDavid De Gea has gone up against the best in the world: Barca's Lionel Messi.
Perhaps that is the reason that, while Atletico has been willing to talk turkey over a sizable transfer fee, De Gea and his representatives are admitting to United that the young man himself is deeply divided about whether this is the time for him to not only abandon the club where he was developed, but also to leave his home nation after fewer than two seasons in the first team.
In this case, self-doubt is a mark of common sense and growing maturity, not uncertainty. De Gea is simply trying to decide whether he is ready yet.
But it's important to note that there is a strong case to be made for De Gea's talents, and there are some extenuating circumstances for his weird season.
This season, Atletico could have benefited from a dose of footballing Viagra in its group stage defense of the UEFA Europa League, exiting in a manner that perfectly prefaced its "Not tonight, I've got a headache" performances most weekends in La Liga.
Frankly, this team has performed anemically since August, with only De Gea stanching the flow of goals.
Atletico's trophy displays in lifting the Europa League at the end of last season and the UEFA Super Cup in August were largely because of Diego Forlan and Sergio Aguero playing brilliantly together. But as soon as World Cup fatigue kicked in and Forlan's form dropped, the Rojiblancos have been pitiful and their defending exposed still further.
Cristiano Ronaldo, inadvertently, caused De Gea's reputation a little more bruising in January when he playfully described the lanky keeper as a "salchichon," which in the U.S. would mean a "long sausage."
But many in the media who repeated the jokey quote forgot to add that Ronaldo -- who is still in regular phone contact with Sir Alex Ferguson, and who knows what it's like to arrive at Old Trafford as a highly priced prodigy -- went on to call De Gea "an absolutely brilliant goalkeeper who produced amazing saves against Real Madrid and who, in my opinion, should be picked for the Spain squad."
Football has always found room for weird coincidences and quirky moments that can change a career, so it is not irrelevant to note a couple of them in De Gea's case.
For example, De Gea's favorite all-time keepers, the players upon whom he models his development, are Peter Schmeichel and Gigi Buffon. The Dane became Old Trafford's best-ever net-defender and won that fabled treble in 1999, while Ferguson admitted to a Scottish newspaper just after the treble season that if he didn't have Schmeichel, Buffon would be his "dream" replacement.
Graham Hunter

For more Graham Hunter, check out his columns on all things La Liga and Spanish soccer.
• History beckons for Barca
• No time for nostalgia
• Messi's rise to greatness
• Torres should play for Spain
• Real Madrid's title quest
• Madrid's Pepe problem
• Di Maria is odd man out?
• Jokers wild for Spain's national team
• Yellow Submarine on verge of sinking
• Ronaldo's rant, Atletico's despair
• Barca beats Madrid again
• Spain's three kings
• Ibra's book of nonsense
• Spain's balance of power
• Rossi's injury huge blow
• La Liga's ultimate late bloomer
• Messi chasing Barca record
• Laporta's fall from grace
• Barca's off-the-pitch battle
• Real Madrid's game plan

Then there is De Gea's appearance -- he stands 6-foot-4, roughly 170 pounds, bearing more than a passing resemblance to current Old Trafford incumbent Van der Sar. He even has the nickname "Van De Gea."
The two men share a temperament, too. The Spaniard may be young and still very inexperienced, but having met him I can vouch that he is a calm, serious and almost nerveless athlete.
The crux of the argument is whether or not this is a potentially exceptional footballer, unfortunate enough to play behind a joke defense, whom United would do well to purchase young and for a relatively cheap price, given that Buffon cost over $52 million in 2001 when Juve bought him as a mere 23-year-old from Parma. Is there a supporting argument for United's goalkeeping coach Eric Steele, who has to help Ferguson decide between De Gea and other candidates such as Manuel Neuer, Hugo Lloris, Maarten Stekelenburg, Julio Cesar and Diego Lopez?
Well, the penalty De Gea saved in the UEFA Super Cup against Diego Milito merely matched his heroics in the penalty shoot-out of the 2007 FIFA U-17 World Cup quarterfinal, when he blocked France's Thibault Bourgeois' effort to put Spain in the final four of a tournament in which it finished as a runner-up.
That same season, De Gea helped make Spain the European U-17 champion with yet another nerveless penalty shootout save as his ten-man team defeated Belgium in the semifinal (blocking Dimitri Daeseleire's spot kick). That paved the way for a clean sheet in the 1-0 victory in the final over England.
So yes, De Gea has had a difficult season, but keep things in perspective: At just 20, he's already won three major trophies -- the UEFA U-17 European Championship, UEFA Europa League and UEFA Super Cup -- as well as played in another two major finals: the FIFA U-17 World Cup and Copa Del Rey. You have to say he could be an excellent fit as the next man between the sticks at Old Trafford. But there's still much up in the air.
United's Steele decided to take in Bayer Leverkusen's 2-0 defeat of Schalke 04 at the weekend with the clear thought that, perhaps, De Gea will finally opt for more growing-up time at Atletico. Which could mean that two other keepers -- Leverkusen's Rene Adler and Schalke's Neuer -- would move up the short list.
Of course, someone like Neuer would present less of a risk. But Ferguson has always prided himself on making big decisions with ease, irrespective of pressure. Risk scares him no more than a penalty shootout daunts De Gea.
ESPN FC on Twitter
Don't miss a moment of the latest soccer coverage from around the world. Follow us on Twitter and stay informed. Join »
All Ferguson needs now, given that those around De Gea think he is an exceptional talent, is an indication that he, too, is fully committed. Ferguson, who turned down gigs at Tottenham, Rangers and Barcelona to become a legend at Old Trafford, will appreciate that you don't always jump at the first opportunity. Football, like comedy, needs perfect timing.
Over to you, David -- are you ready or not?
Graham Hunter is a Barcelona-based freelance writer for ESPN.com who specializes in La Liga and the Spanish national team. You can reach him on Twitter at twitter.com/BumperGraham.
Spain writer
Graham Hunter is a Barcelona-based freelance writer for ESPN.com who specializes in La Liga and the Spanish national team.