Commentary
The magic of Malaga
Updated:
May 10, 2011, 4:31 PM ET
By
Graham Hunter
| Special to ESPN.com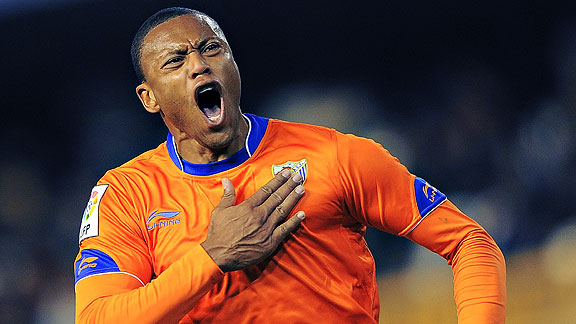 Jose Jordan/AFP/Getty ImagesWhen faced with the threat of relegation, most teams play anti-football. Not Malaga. Julio Baptista & Co. are fighting the drop with a free-flowing, attacking spirit.
Malaga's past eight games haven't just been mildly impressive -- they are producing both football and scorelines of which even the mighty FC Barcelona would be proud.
Manuel Pellegrini's side has racked up 19 points out of a possible 24, and done so with a 16-5 goal aggregate. Malaga has zoomed from 20th position when the run began to 13th, after it went to the home of the Europa League champion, Atletico Madrid, and had a party Saturday night, smashing the lamps, playing the music loud, stealing the alcohol and then singing all the way down the street until the neighbors were wide-awake and angry.
The 3-0 defeat was a mauling, like watching a hungry lion toying with a small, shortsighted suckling pig, which included Julio Baptista's eighth goal in nine games. For anyone who, like me, has been watching Malaga's games in recent weeks, the result was not a surprise.
Pellegrini has his men playing confident, flowing football, with a 4-2-3-1 system that has five creative or attacking players going forward -- usually Rondon, Duda, Baptista, Seba and Apono. Plus, the Chilean manager uses an attacking player, Eliseu, at left back.
[+] Enlarge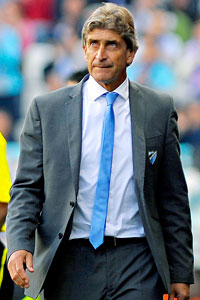 Jorge Guerrero/AFP/Getty ImagesManuel Pellegrini's side has racked up 19 points out of a possible 24, and done so with a 16-5 goal aggregate. But the threat of relegation still looms.
It's an enthralling style of play. But Pellegrini's side is so attack-minded that when an opponent catches it on a bad day at the office -- like Madrid did when it hit Pellegrini's mob for seven goals last month -- the wheels will come off big-time.
For the moment, however, Malaga is a joy to watch, and I will cast aside the cloak of impartiality and declare loudly that I don't want the team to go down. I say that because, despite that thrilling sequence of results and goals, Malaga remains only three points off the last relegation place. There is no room for a sudden bout of vertigo.
And because of Spain's quaint and, in my view, lovable use of head-to-head records as the first tiebreaker between teams, Malaga remains in jeopardy if, for example, it finishes level on points with third-from-the-bottom Deportivo La Coruna. In that scenario, Malaga would pay dearly for the defeat in Galicia earlier in the season and the strange scoreless draw that came in the midst of Pellegrini's recent hot streak.
You get it? On the head-to-head, you compare the two clubs' results and if there is a clear winner, that team vaults over the loser. If the result is a win each, you total the goals and find a winner that way. If that doesn't decide it, a premium is given to whichever of the two sides scored more away goals.
This is how it's done in Spain -- mano a mano, with echoes of the torero and the bull ("Me against you, and glory to the winner").
So why has Malaga won me over? No, it's not because the club's La Rosaleda stadium is the first place in Spain I ever watched a football match, nearly 29 years ago during the 1982 World Cup. Nor is it simply because of the elegance and talent their Chilean coach possesses. His work at Villarreal (2004-09) produced some fantastic nights in domestic and European football. And his sacking by Real Madrid in 2010 was simply another reason for me to call Real's president Florentino Perez -- no doubt a business genius and a pillar of society -- a jackass in football terms.
ESPN FC on Twitter
Don't miss a moment of the latest soccer coverage from around the world. Follow us on Twitter and stay informed. Join »
Under Pellegrini, Madrid played good football. If the manager had been given an influx of talent such as Ricardo Carvalho, Angel Di Maria, Mesut Ozil, Sami Khedira, Sergio Canales and Pedro Leon, then we would have seen his work flourish again this year (and we'd have seen a damn sight more of Canales and Pedro Leon than Jose Mourinho has given us.)
No, Malaga wins my respect partly because I just love watching Rondon and Baptista become the Butch and Sundance of La Liga. I also, strangely enough, admire what the team's new Qatari owners have done in their first few months.
In January, I wrote a piece on Malaga's change in direction. In it, I said: "When Sheikh Abdullah Bin Nasser Al-Thani bought Malaga for around $46 million this past June, he promised a steady, step-by-step development plan. His right hand man, Abdullah Ghubn, told reporters that 'buying big-name stars would be contrary to Malaga's philosophy. We want to create our own stars from the youth system and make the fans identify with guys they've seen come through the ranks.'"
I enjoyed the fact that the column came at a time when Malaga had already splashed the cash for Martin Demichelis, Enzo Maresca, Nacho Camacho, Sergio Asenjo, Baptista and coach Pellegrini himself.
[+] Enlarge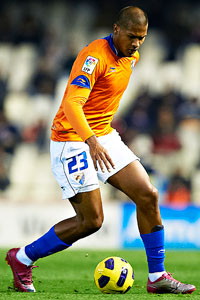 Manuel Queimadelos Alonso/Getty ImagesRondon has played a key role in Malaga's resurgence.
Last summer, the Qataris started off with flow charts, financial predictions, long-term strategy and all that blah, blah, blah. Within six months, they were hooked on the game of football and driven by the desire to win just like your average fan in the street. But not only did the owners open their wallets, they also spent wisely (a rarity in football) on the likes of Demichelis, Baptista and Pellegrini.
It was as recently as March 9, just before the beginning of Malaga's magical sprint for safety, that Ghubn flew in from Qatar to resist calls for Pellegrini's sacking. Malaga had just lost at home to Osasuna, but Ghubn arrived to shoulder the blame. He told reporters: "We, the owners, are responsible -- not the coach or the players. If anyone should be blamed it is me. Technically and in personality, Pellegrini is a great coach and the right man for this club. We will keep him, we will stabilize the situation and we will try to convince the fans to be our most important player."
It was remarkable stuff. Nothing is easier -- or often more stupid -- than sacking the coach, or at least blaming him and warning of dire actions if results don't change immediately. What the owners have received for their wisdom and faith is a Malaga stadium that is packed and noisy, and a team that not only provides superb value to watch but is also close to producing a miracle of sorts by staying up.
Malaga's worry now is that its last two matches are away at Athletic Bilbao and then -- what a doozy -- at home to Barcelona. If Malaga's survival happens to hinge on it beating the team that should be Spain's new champion long before Week 38 and that is en route to Wembley to fight for the European crown, I would pay damn good money to be there to watch that game.
Barcelona report
So much has been written about Barca and Madrid in recent weeks that perhaps we all need a bit of a respite -- because in Barcelona's case there will be a heck of a lot more to say in the coming three weeks.
Pep Guardiola is about to wrap up his third title in three seasons at Camp Nou and of them all, this will be regarded as his piece de resistance.
Graham Hunter

For more Graham Hunter, check out his columns on all things La Liga and Spanish soccer.
• History beckons for Barca
• No time for nostalgia
• Messi's rise to greatness
• Torres should play for Spain
• Real Madrid's title quest
• Madrid's Pepe problem
• Di Maria is odd man out?
• Jokers wild for Spain's national team
• Yellow Submarine on verge of sinking
• Ronaldo's rant, Atletico's despair
• Barca beats Madrid again
• Spain's three kings
• Ibra's book of nonsense
• Spain's balance of power
• Rossi's injury huge blow
• La Liga's ultimate late bloomer
• Messi chasing Barca record
• Laporta's fall from grace
• Barca's off-the-pitch battle
• Real Madrid's game plan

To come off the back of a World Cup in which seven of his players were on duty right into the middle of July after two previous summers of competition in the European championship and the Confederations Cup was already a big ask. But to have a Madrid fortified by six costly new signings and Mourinho in the white corner meant that this would be a test of will and nerve as much as sinew and skill for Guardiola and his gang.
We have all made much of the artistry and the seductive passing rhythm that Barca uses to lure opponents to their doom, and how Lionel Messi is, literally, a football genius. But the unity of spirit; the professionalism; the refusal to be beaten by tiredness, mental rust, injuries and physical opponents; and the constant ability to conjure up established players who will switch to new positions -- that is what will make this La Liga title go down as Guardiola's greatest domestic achievement.
Graham Hunter is a Barcelona-based freelance writer for ESPN.com who specializes in La Liga and the Spanish national team. You can reach him on Twitter at twitter.com/BumperGraham.
ESPN.com freelance columnist
Graham Hunter is a Barcelona-based freelance writer for ESPN.com who specializes in La Liga and the Spanish national team.