Commentary
The Messi and Ronaldo show
Updated:
May 19, 2011, 2:47 AM ET
By
Graham Hunter
| Special to ESPN.com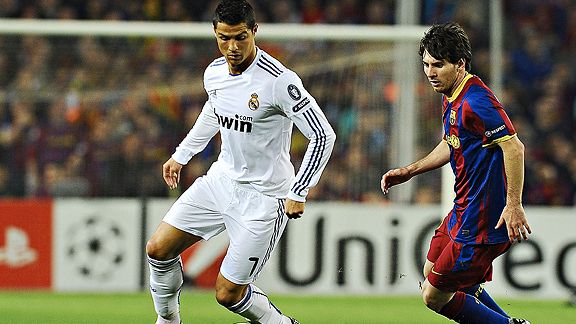 SIU WU/AFP/Getty ImagesOne craves the spotlight, the other is all about the football. But Cristiano Ronaldo and Lionel Messi have both delivered virtuoso performances in La Liga this season.
For those addicted to the wonderful drama of the boot-to-boot combat between Lionel Messi and Cristiano Ronaldo for the hearts and minds of the world's football public, these have been a magical few weeks.
Cometh the hour, cometh the man, say the wise ones, and this time magical Messi and clever Cristiano haven't let us down. Of the seven goals scored in the recent quartet of Clasicos, Messi bagged three and Ronaldo two.
The Argentinian effectively put his club in the Champions League final with that gorgeous brace of goals at the Bernabeu, while the Portuguese won Madrid its first Copa del Rey in 18 years thanks to his wonderful header.
The battle for the Pichichi title -- the prize awarded to La Liga's top scorer -- has all but been won, as Ronaldo heads into the final weekend of league play with 38 goals to Messi's 31. But if you weigh a league medal and a place in the Champions League final, both of which Messi has earned, against a Spanish Cup and a goal-scoring garland, it should be the little flea, rather than Ronaldo, who is feeling pretty chipper with a spring in his step.
Instead, this past weekend, Ronaldo's face was all smiles as he smashed in his ninth goal in three games and, depending on who you believe, he either equaled or broke the all-time Spanish league scoring record for a season (more on that later).
[+] Enlarge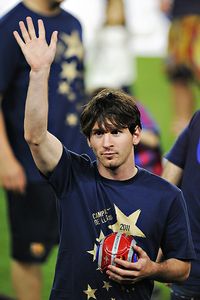 David Ramos/Getty ImagesMessi finally joined the Camp Nou season-ending celebration after being left on the bench against Deportivo.
It was in stark contrast to what I witnessed at Camp Nou on Sunday, when a mostly second-string Barcelona side played Deportivo La Coruna. After the game, when the team was being presented with the league trophy in a colorful celebration, I was banging away at my computer. My friend and colleague from BackPage Press, Martin Greig, tapped me on the shoulder. "What's up with Messi?" he asked.
There he was among the Barca squad, the only one who kept on his tracksuit top and trousers rather than joining his teammates in their playing kits to throw red peppers all over the place. He drifted away from Pep Guardiola's lads, who were singing, dancing and generally shaking off the tension of a long, hard football campaign.
If you had taken a snapshot, it looked like each and every player was holding a winning lottery ticket but Messi had lost his and was shuffling about looking for it -- downcast and preoccupied.
Now, I am not trying to overdramatize this. Messi isn't ticked off with his team, his manager or life in general. It is just that he literally cannot stand missing out on a game, even one that has no bearing. So on Sunday, with the league won the week before, Messi was left on the bench, having to watch an understrength Barca trundle along to a goalless draw with Deportivo.
The next day, I asked Josep Maria Minguella, the football scout and player agent who discovered Messi for Barcelona, to confirm my suspicions. He did.
"Leo lives to play, every second, every minute, every match -- it's what he thrives on. He hates not taking part in any game. That's one of the best things about him."
Good old crazy-horse Jose Manuel Pinto, Barca's backup keeper, understood this. He trotted over to put an arm round the little genius's shoulder and eventually convinced him to have a laugh and join the party.
It was a blip, just a moment in time, and yet another indication that Messi is such a straight-down-the-middle kind of guy that his body language normally speaks louder and more articulately than his words do.
Interestingly, over at Villarreal's Madrigal stadium that same day, Ronaldo's patent delight at his current Raging Bull form didn't tell the full story, either. I've spent a good deal of time over the past few days in the company of people who work for Manchester United in various capacities, and they testify that Ronaldo could be much happier than he is at Real Madrid.
Obviously, this does not automatically mean there will be consequences like him misbehaving, sulking or trying to leave.
In fact, Ronaldo has been through a campaign like this before, when he was playing his penultimate season at United, scoring almost equal floods of goals en route to winning the EPL, the Champions League and the FIFA World Club Cup. He didn't enjoy playing center forward, he was coping with a foot injury and was regularly phoning his old friend Walter di Salvo, who had preceded his own move to Real Madrid, to ask for fitness tips and general personal support.
Injured, not allowed to go and join Madrid and being played out of position -- Cristiano felt like a martyr at United.
But being down in the dumps didn't adversely affect his form. He cracked in 42 goals in 49 matches.
[+] Enlarge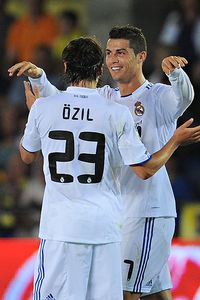 Denis Doyle/Getty ImagesRonaldo has been all smiles since the Clasicos, which belies the frustrations he's experienced at Madrid.
The frustration he's feeling at Real Madrid has different causes. It's quite obvious, given his words and deeds, that he found the tactics chosen by Jose Mourinho for the "world series of soccer" against Barcelona both frustrating and infuriating.
But Ronaldo's chagrin has not just stemmed from the Clasico matches. His friends at United suggest that he finds Real Madrid less organized than his former club, rife with politics and sporting schisms and with a dressing room that doesn't have the same robust all-for-one spirit he experienced at Old Trafford.
Yet, to his immense credit, Ronaldo hasn't let any of this affect his performance on the pitch. Indeed, I wrote here at the start of this season that Ronaldo's critics often cause me intense frustration because of ill-founded and ill-advised supposition about him. This season he has been sensational. Again.
For Ronaldo, the matches since being knocked out of the Champions League have been like the moment when an angry jungle animal is freed from chains -- all muscle, sinew, teeth and claws. The rage and previous impotence have been transformed into a demonstration of power and dominance.
But his goal-scoring record has come under a bit of controversial scrutiny. Marca, the Madrid-based newspaper that awards the Pichichi, decided earlier this season that Ronaldo's deflected free kick off Pepe's back against Real Sociedad was CR7's goal nonetheless. So Marca credits him with 39 goals, one more than the legendary Hugo Sanchez and Telmo Zarra who have shared the record since the Mexican equaled the Basque striker in 1990.
Graham Hunter

For more Graham Hunter, check out his columns on all things La Liga and Spanish soccer.
• History beckons for Barca
• No time for nostalgia
• Messi's rise to greatness
• Torres should play for Spain
• Real Madrid's title quest
• Madrid's Pepe problem
• Di Maria is odd man out?
• Jokers wild for Spain's national team
• Yellow Submarine on verge of sinking
• Ronaldo's rant, Atletico's despair
• Barca beats Madrid again
• Spain's three kings
• Ibra's book of nonsense
• Spain's balance of power
• Rossi's injury huge blow
• La Liga's ultimate late bloomer
• Messi chasing Barca record
• Laporta's fall from grace
• Barca's off-the-pitch battle
• Real Madrid's game plan

Everyone else says Ronaldo only has 38. Only?
It is a remarkable achievement. Had Ronaldo been badly injured earlier in the season, Barcelona would have had the title wrapped up in February, instead of a couple of weekends ago. Yes, he likes being the best and sees no shame in it. Ronaldo also knows that because he wants to win the Pichichi and is honest enough to admit that, he provides more ammunition to his critics who love nothing more than to call him selfish.
Rubbish. Ronaldo's attitude to football matches Mourinho's -- a relentless winning mentality, discipline in training and a hunger to practice and improve all the time. If his teammates possessed that approach to their daily work, to winning, and to smashing any obstacles, then Los Blancos would truly be a force.
As it is, Ronaldo will have one more game to try to erase any doubt over whether he has broken the all-time Spanish league goal-scoring record for a season. Look out, Almeria, when you face Real at the Bernabeu on Saturday.
Then, like the majority of the world, Ronaldo will have to settle down on his sofa to watch the Champions League final the following weekend. It won't be a fun night for him. Sure, if his friends and former teammates defeat Barca, there will be great relief. But just as Messi hates missing out on even a second of competitive football, Ronaldo can't bear not being a part of the great soccer occasions.
ESPN FC on Twitter
Don't miss a moment of the latest soccer coverage from around the world. Follow us on Twitter and stay informed. Join »
Di Salvo once told me, "Cristiano genuinely wants to earn the right to be considered as the best player of all time."
That's not achievable unless you are racking up Champions League titles, World Cup finals, European Championship medals and so on.
So the real goal for this powerful, proud Portuguese is not the Pichichi. What lies ahead for Ronaldo is letting Mourinho and Real Madrid know that if he, personally, keeps his standards this high next season, they must match him. No more hiding from Barcelona. Real must follow a blueprint of all-out pursuit when it comes to attacking football -- starting with the two Clasico matches in the SuperCup, which are now only three months away.
But Ronaldo has room for improvement, too. He's got to find a way to score more goals on the big occasions -- and not just run-of-the-mill matches -- for both club and country. He needs to produce goals at Camp Nou, goals if his national team qualifies for the Euro Championship in Poland and Ukraine, goals if he should reach the Champions League final.
What a time we live in. Messi and Ronaldo have scored 103 times between them, led their sides in an intense season-long battle and will still have the La Liga finale and Champions League final to come. And given that the two men are 23 and 26, respectively, Madrid is growing into a better-balanced, more talented unit and Barca is considered to be capable of the best football of all time, I can't wait to discover what the new season will have for us.
More of this battle between two very different geniuses, please. Lots and lots more.
Graham Hunter is a Barcelona-based freelance writer for ESPN.com who specializes in La Liga and the Spanish national team. You can reach him on Twitter at twitter.com/BumperGraham.
Spain writer
Graham Hunter is a Barcelona-based freelance writer for ESPN.com who specializes in La Liga and the Spanish national team.