Commentary
Ferguson's and Pep's winning mentality
Updated:
May 25, 2011, 2:41 PM ET
By
Graham Hunter
| Special to ESPN.com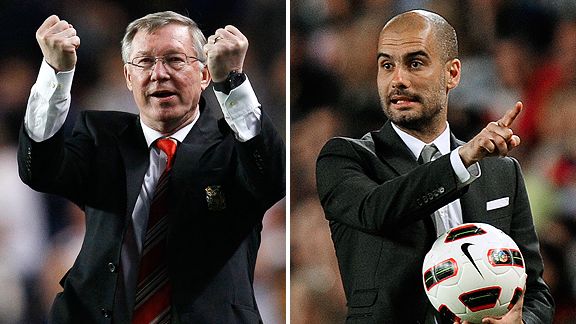 AP PhotoSir Alex Ferguson and Pep Guardiola have led their teams to the Champions League final in part because they never lose sight of their main responsibility -- winning matches above all else.
There will be a great deal said and written in the buildup to the Champions League showdown at Wembley on Saturday about how FC Barcelona and Manchester United are welcome finalists. And for good reason, too, because these two clubs are perhaps the most committed to top-class attacking football in Europe.
But this also misses an equally important, yet forgotten, point -- Barcelona and United are led by two men whose commitment to winning is almost peerless among the game's corps of managers.
I know, I know -- that might either sound inane. But let me assure you, it's not.
To fully understand Sir Alex Ferguson's and Pep Guardiola's approach to the game, it's helpful to remember that old trick economics teachers have used for ages to startle their innocent new pupils into attention. The question is invariably asked: "Why is the Ford Motor Company in business?" And the answer typically comes back, "To make cars." At that point, the old-school teacher would bounce a blackboard eraser off somebody's head and yell, "No! It's to make profits!"
Graham Hunter

For more Graham Hunter, check out his columns on all things La Liga and Spanish soccer.
• History beckons for Barca
• No time for nostalgia
• Messi's rise to greatness
• Torres should play for Spain
• Real Madrid's title quest
• Madrid's Pepe problem
• Di Maria is odd man out?
• Jokers wild for Spain's national team
• Yellow Submarine on verge of sinking
• Ronaldo's rant, Atletico's despair
• Barca beats Madrid again
• Spain's three kings
• Ibra's book of nonsense
• Spain's balance of power
• Rossi's injury huge blow
• La Liga's ultimate late bloomer
• Messi chasing Barca record
• Laporta's fall from grace
• Barca's off-the-pitch battle
• Real Madrid's game plan

Likewise, you could ask football supporters a similar, deceptively simple question: "What is the manager's primary goal?" You'd get a plethora of answers in return: "to play attractive football," "entertain the fans," "sign great players" and "avoid relegation." But they'd all be wide of the mark, as the only answer is also the most basic one -- "win."
Win points, win matches, win trophies, win again and again -- and, in so doing, win fans over. But you wouldn't believe how many managers lose sight of that. They are scared of not getting the next victory, but do they literally live to win? No, most of them don't.
Guardiola and Ferguson do. They're not alone, of course. But if you name some of the candidates for this small band of driven footballing managers -- Jose Mourinho, Fabio Capello, Giovanni Trapattoni, Marcello Lippi, Ottmar Hitzfeld, Bob Paisley and Jock Stein -- you'll see that the trophy count is massive.
One modern example of a man who should be on the list, but isn't, is Arsene Wenger. He has lost focus. His priorities, ahead of winning, are sanitized spending, attractive football and youth development. If you de-prioritize winning, you face what is sure to be -- for Wenger -- at least seven years without a trophy.
But in the case of Guardiola and Ferguson, I would argue that they both embrace the idea that planning, buying players, coaching, tactics and standard-setting are all aimed at one thing -- winning titles.
Over the span of his career at Old Trafford, Ferguson has found it amazing that so many of his rival coaches seem unable to focus ruthlessly and relentlessly on winning and are distracted by all manner of peripheral nonsense, thus making Ferguson's dominance in the EPL that much easier.
What's more, Ferguson and Guardiola make sure that their winning mentality trickles down to the training pitch.
[+] Enlarge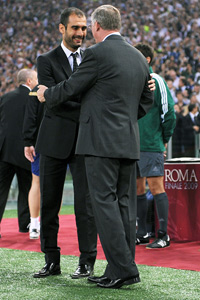 Shaun Botterill/Getty ImagesGuardiola got the better of Ferguson in the 2009 Champions League final, which Barcelona won 2-0.
Footballers are paid an extraordinary amount these days for a very short work week. Their job is to train before matches, honing their skills, maturity and fitness. Some take it seriously and call it "practice," because they train to get fit and practice to get better. But others -- and I find this amazing about top-level soccer -- come into training to have a laugh. Some days they'll put in a full shift, others they'll give the team three-quarters attention and three-quarters effort. Often, training is just a mandatory chore to get out of the way before earning sponsors' money, chasing girlfriends, training horses. You get the picture.
At Barcelona, just before Guardiola took over, it was the same. Xavi admitted to me that "suddenly little things don't matter so much, a kilo here or there, a couple of minutes late for training," he said. "And the next thing you know, the standards have dropped. Pep came in and was on us like a hawk. Every half-kilo counted, every minute of the training day was vital."
Look at the difference it has made.
United has little tolerance for slackers, either. Although I know that some training sessions, even at sizable clubs, are loose, slack in mentality and attention, it was disappointing when a senior United player recently told me that there are certain youngsters at his club upon whom he has already given up because all advice goes in one ear and out the other.
So when analysts preview Saturday's mouthwatering match as a meeting of the two great attacking football ideologies, I'll agree. But it needs to be noted that both managers believe in attacking football not as an end in itself, but because they know their playing system is the one that is most likely to win them individual battles, matches, league titles and knockout trophies.
ESPN FC on Twitter
Don't miss a moment of the latest soccer coverage from around the world. Follow us on Twitter and stay informed. Join »
But attack-minded football doesn't necessarily mean that Sir Alex will have his players charging forward from the opening whistle. If he chooses to rip a page out of Mourinho's playbook and man-mark Lionel Messi when he drops deep into midfield -- perhaps with Darren Fletcher or Park Ji-Sung -- by using five across the middle, does it betray the manager's philosophy? No, on two counts.
One, that style would be chosen to win, and Sir Alex believes in winning as the Holy Grail. Attacking football is a means to seek it.
Two, if there is a moment when Ferguson thinks Barcelona is tiring mentally or physically, he'll pounce like a hungry tiger.
There are two moments from Ferguson's Champions League career that come to mind with a view to this weekend. When United won this trophy at Camp Nou in 1999, he famously stopped Steve McClaren from signaling to their players to hold on for extra time when Teddy Sheringham scored that dramatic added-time equalizer. "Bayern are shot, they are gone … there's only one team that's going to win this," Ferguson told his assistant. Seconds later, up popped Ole Gunnar Solskjaer with that crazy winner. The attack mentality.
Earlier this season at Valencia, United had endured a relatively tough night, shedding a few goal chances, but Ferguson read it correctly that Los Che were also a spent force and threw on two strikers, Federico Machedaand Chicharito, who instantly combined for a late game-winning goal.
I'm quite sure Sir Alex thinks that Barcelona is tired, mentally and physically. So his decision is whether to go for the throat right from the start, establish a lead and test whether Barca has the legs, lungs and desire to claw themselves back. Alternatively, he might think of that night in Valencia and attempt to press and harass Barcelona until it wilts -- and then attack with a flurry of strikers.
That's all part of the fascination. But so is the fact that Guardiola is like-minded. He loves the fact that Barca is lauded for its free-flowing, beautiful style -- that this team is discussed as one of the great entertainers of all time. But when I last talked with him about it, Guardiola made it utterly clear that Barca's playing style is a means to an end.
He won't betray his team's style of play, but that's not because he is some kind of high-minded aesthete. It's because he knows that when his team clicks, it can pass and move better than any modern side. So if he can coax one more top-level performance from them this season, Barcelona will likely win the Champions League.
Ferguson and Guardiola, a matter of style
I also have a bone to pick with those people who state that Guardiola and Ferguson, because they share a football philosophy, are two peas in a pod.
I've known Sir Alex since 1982, when, at the World Cup in Spain, I dared to suggest that his club's goalkeeper (Aberdeen's Jim Leighton) should be playing for Scotland instead of Alan Rough. We were sharing social time, as I wasn't a journalist, and the morning had been perfectly pleasant. But he tore a strip off me, right there. "Don't you dare, ever, criticize Jock Stein [Scotland's manager] to me. He knows better than you."
[+] Enlarge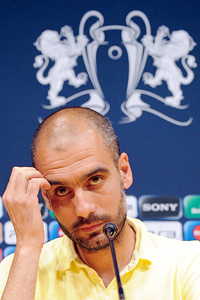 Lluis Gene/AFP/Getty Images While Ferguson thrives on controversy, Guardiola can find the media spotlight draining.
It was sharp and it was heartfelt. It was the equivalent of his infamous hairdryer!
In 1999, Fergie had fallen out with my then-newspaper because of an article someone else had written a couple of years before, and he banned all of our reporters from his personal press conferences.
But United had won the Champions League, and Ferguson was in patently high spirits. So, in the lobby of the Arts Hotel in Barcelona, I approached him as an old acquaintance and said: "I've listened in to your morning-after press conference and I'd like permission to use a few quotes in this moment of triumph. Please?"
"No, son, no chance" he beamed at me. "Your paper is a shower of #$%@#$, it's nothing personal to you, but no quotes."
Sir Alex has fed off belligerence and aggression to add to his mammoth talents. He needs that the-world's-against-us mentality to thrive. He was born to a proud and clever working-class background. His drive to compete and win is seared through everything he does -- breeding horses, dominating the media, quizzes with his players. Everything.
This is not to suggest that Guardiola is a saint. When he's not happy, his rant can strip paint off the wall. But faced with the media, no matter how hacked off he may be, Guardiola will chat with almost endless patience and answer almost every football-based question with respect.
Guardiola is a competitive animal, but to the same extent that the pressures and demands of the job help inspire and drive Sir Alex, they drain and irritate Guardiola. I can easily imagine him either taking a sabbatical one day or coaching Qatar with the satisfaction of a massive paycheck and the chance to do some missionary work on behalf of spreading the football gospel. It's also a good bet that one day Guardiola will become either FC Barcelona's technical director or president.
None of that is part of Sir Alex's makeup. He has always needed to be on the front lines.
But I welcome the fact that the "new kid on the block" and the old warrior are able to pit their wits against each other again. The Champions League final in Rome two years ago was memorable, but one-sided. Let this game be both memorable and hotly contested. And may the better "winner" win.
Graham Hunter is a Barcelona-based freelance writer for ESPN.com who specializes in La Liga and the Spanish national team. You can reach him on Twitter at twitter.com/BumperGraham.
ESPN.com freelance columnist
Graham Hunter is a Barcelona-based freelance writer for ESPN.com who specializes in La Liga and the Spanish national team.