Commentary
Will Clasico divisions tear Spain apart?
Updated:
June 2, 2011, 3:16 PM ET
By
Graham Hunter
| Special to ESPN.com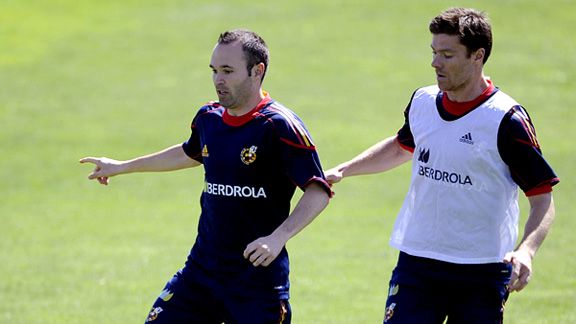 Javier Soriano/Getty ImagesA few weeks ago, Real and Barca were at each other's throats. Now many of their players, including Andres Iniesta and Xabi Alonso, are training for Spain's friendly against the U.S.
There is absolutely no doubt in my mind why Spain became European and World Cup champions. Individual talent played the most important role, but squad harmony came a very close second on the list of factors that contributed to La Roja's recent success.
It's something you shouldn't underestimate on a team that has been historically beset with internal divisions. Spain found a way to put its often petty internal differences aside for the greater good of winning football matches and bagging the most prestigious titles in the game. But after the recent "World Series" of Clasicos between Real Madrid and Barcelona, in which national teammates squared up to each other in ugly displays of unsportsmanlike behavior, it was up for debate whether new divisions might once again tear Spain apart and jeopardize its future. It'll certainly be a major talking point when Xavi & Co. take on the U.S. in a friendly in Foxboro on Saturday.
Although I've been attending the biggest soccer tournaments since the World Cup in 1982, it has been during the past three -- Germany's World Cup in 2006, and Spain's victories at the 2008 Euros and in South Africa last summer -- that I've been dedicated to following La Roja.
Infamously, Spain was a country riven with more political, regional, social and cultural divides than most of the world's great soccer nations. The rigid hierarchy in the dressing room, the schisms and the lack of a fundamental willingness to lay your footballing life on the line for the next guy on the team made for a poisoned atmosphere. It was like tying all the players' bootlaces together before sending them out on the pitch. No wonder Spain had earned the reputation as one of the world's biggest underachievers, a collection of amazing footballers that couldn't win a major title.
But in 2006 there were hints that matters were improving. Sure, there was the occasional sign of the typical tensions and nonsense -- like when Raul turned up at a training camp wearing a green sweater and was promptly sent home to change by superstitious coach Luis Aragones, who will not stand for the color green being anywhere near him. But the young bloods were beginning to find elbow room in the squad. And Aragones somehow bullied into the players the idea that winning should be paramount over squabbling.
[+] Enlarge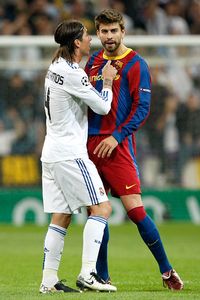 Helios de la Rubia/Getty ImagesSergio Ramos and Gerard Pique engage in a heated exchange during a Clasico.
Only a poor refereeing decision and Spain's inability to match France's streetwise play stopped it from reaching the World Cup quarterfinals in 2006.
Two years later, I was struck by a conversation I had with a senior member of the Spanish FA. We were in Neustift, just outside Innsbruck, Austria, and Aragones' lads were two days into training. The man didn't know me well, but because he was so startled by what he was seeing on the pitch, he volunteered: "The change in atmosphere is absolutely incredible," he said. "No Raul, no Guti and no Hierro. Everything is completely different."
No doubt the admission wasn't easy, as the man is a true Real Madrid fan. But his yearning for the national team to stop underachieving filled him with excitement.
A few weeks later, he was hugging me in delight after Spain beat Germany 1-0 to become champion of its continent.
And last summer? Well, it was outrageous. Spain were tired, the schedule was grueling, teams defended like they were fighting for their wives and children, not for a football victory. National team coach Vicente del Bosque's troops lost the first game, were living in student accommodations, not five-star luxury hotel rooms. And these Mediterranean megastars shivered in the sub-zero temperatures of the Transvaal winter. But when it came down to the crunch, Spain won its last four knockout matches, each by a goal.
Talent was the main ingredient to the team's success, but I swear to you the players pulled for each other like 22 brothers-in-arms. I was in the winning dressing room in Soccer City. Although many of them had chosen to assert their cultural roots -- Pedro with a flag from the Canary Islands, Javi Martinez with a Navarran neckerchief (which those who run with the bulls in Pamplona wear every year at the San Fermin festival), Xavi and Carles Puyol draped themselves in the Catalan flag -- there were no cliques, no divisions.
ESPN FC on Twitter
Don't miss a moment of the latest soccer coverage from around the world. Follow us on Twitter and stay informed. Join »
It was Spain victorious, Spain unified.
Iker Casillas and Xavi had really begun the process of unification, winning the Youth World Cup together in 1999, along with Carlos Marchena. The Real and Barcelona players have remained close friends since then.
The fact that each one was a diehard, fanatical supporter of the club he played for but still openly friendly and respectful of the other helped bring down the Madrid-Barcelona barriers. Others, such as the Basques, followed suit in expressing their talents instead of their regional identities.
Maybe that is why, during the recent World Series of Clasicos, the image of Casillas and Xavi remonstrating with each other and using insulting gestures, which went beyond the heat of a competitive moment, rang the loudest alarm bells. Of course, there were also rows between Gerard Pique and Sergio Ramos, some horrible tackling between Alvaro Arbeloa and David Villa as well as between Sergio Busquets and Xabi Alonso.
[+] Enlarge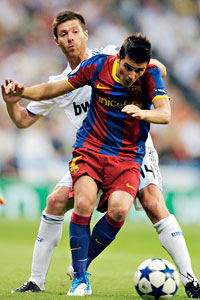 Pedro Armestre/AFP/Getty ImagesXabi Alonso tries to stop David Villa in the Champions League.
Even uglier, Real Madrid accused Busquets of racist taunts against Marcelo, with players from both sides staunchly backing their teammate. Spain players from Madrid supported Marcelo and didn't believe their Spain teammate Busquet's protests of innocence.
Del Bosque quickly spotted the danger. When he was an international midfielder and defender, the Spain dressing room was rife with divisions and acrimony. And when the Real Madrid side he coached to a Champions League victory in 2001-02 was disintegrating, it featured a horrible divide between Florentino Perez and two Spaniards, Fernando Morientes and Fernando Hierro, plus a schism between certain hard-living South Americans and the Madridista Spanish.
Del Bosque's warnings after the four Clasicos went from a seismic 3 to 7 in the span of just under three weeks. "I hope the lads don't bring these confrontations and bad feelings into the squad," was how he began. But that mild sentiment rapidly became the much more hardlined: "Anyone who takes this kind of behavior into my squad will be excluded."
So the Spain side you see at Gillette Stadium on Saturday to play the U.S. in a friendly won't simply be under examination by Bob Bradley's boys. There will be a magnifying glass put on every training session, every mixed-zone quote, all the body language in matches and, of course, the final result.
The noises leading up to this North American visit have been reassuring. The relationships are too close and the players too professional to instantly take grudges into the public domain again.
Casillas started it all by saying, "Xavi and I will have four or five little interchanges when we see each other again, even if we both swear at each other a little, and that will be that. I'm convinced that we didn't need to have some sort of clear-the-air meeting. I made a mistake during one of the games against Barca, in the heat of the moment, when I tapped my face with the back of my hand to signify what I thought of them. But I recognized and accepted my mistake. I wanted Busquets to do the same. He's a friend as much as a teammate and a great guy, but I think it's right to admit when you've done the wrong thing. Now I blame the press for part of what went on. They became obsessed by four Clasicos in less than three weeks and it all started to be about people and issues and actions, not football.
Graham Hunter

For more Graham Hunter, check out his columns on all things La Liga and Spanish soccer.
• History beckons for Barca
• No time for nostalgia
• Messi's rise to greatness
• Torres should play for Spain
• Real Madrid's title quest
• Madrid's Pepe problem
• Di Maria is odd man out?
• Jokers wild for Spain's national team
• Yellow Submarine on verge of sinking
• Ronaldo's rant, Atletico's despair
• Barca beats Madrid again
• Spain's three kings
• Ibra's book of nonsense
• Spain's balance of power
• Rossi's injury huge blow
• La Liga's ultimate late bloomer
• Messi chasing Barca record
• Laporta's fall from grace
• Barca's off-the-pitch battle
• Real Madrid's game plan

"Now what genuinely worries me," Casillas added, "is that the media will seize on a challenge by Arbeloa on Villa or some sort of normal argument between Ramos and Pique and claim that there are deep wounds or vendettas instead of just accepting that such moments are normal, even in this Spain squad."
Sane words from a great leader.
The state of relations between Casillas and his Barcelona-based international teammates could be gauged by the fact that he was allowed to call them "Catalufos" all last summer. It's typically a nasty insult from a Madrileno to a separatist, nationalist Catalan. But used by Casillas, it's a gentle, affectionate way of underlining that he sees Xavi, Pique and Busquets in exactly the opposite light.
The Barca boys loved it.
But the orchestra leader this time might have to be Xavi rather than Casillas. Xavi is the outgoing one, the great one. The greatest footballer Spain has ever produced.
Pique told me last week that Xavi is the most important player who turned Spain from good players who lost to great players who won. He is louder, funnier and more emblematic of the social side of Spain than Casillas, and with Xavi's words and gestures lie the path to harmony.
In truth, I think Barcelona winning the Champions League final in such emphatic, sublime style will have helped the situation. The Madrid players who still smart and smolder at having been eliminated from the competition, while Mourinho whispered malevolently in their ears, "You were cheated," will have watched the Wembley match in awe.
They came within touching distance of jarring Barcelona's progress, but they know deep in their hearts that this Barca side -- Xavi, Iniesta, Victor Valdes, Villa, Busquets, Pedro and Lionel Messi -- is exceptional. I'll bet you that some of the anger and hurt felt by Alonso, Arbeloa, Casillas and Ramos will have dissipated in watching that display of molten brilliance against Manchester United.
But Bradley's boys can take heart. Beyond smoothing over the hurt feelings, the Spanish players are very tired mentally and physically. I spoke to a couple of them about the prospect of taking their show on the road to the East Coast of America and onwards to Venezuela to earn money for the commercial company which owns their television rights, and they were not happy. Not happy at all.
It's inevitable, of course, that Spain's glorious run will come to an end sooner or later. In the entire history of the three great national footballing tournaments -- the World Cup, the Copa America and the European Championships -- no country has ever won its own continental cup, then the world crown, then retained its continental title. West Germany came closest by winning the Euro in 1972, the World Cup two years later and then losing on penalties to the Czechs in Euro '76. Brazil won Copas in 1997 and 1999 and lost the World Cup final in between.
Champion eras don't last long. Any number of things, including internal squabbles, injuries and aging players, can throw a great team off its course. Starting with Spain's friendly against the U.S. on Saturday, we'll all start to wonder if what's happened is the beginning of a tempest, or just a storm in a teacup.
Graham Hunter is a Barcelona-based freelance writer for ESPN.com who specializes in La Liga and the Spanish national team. You can reach him on Twitter at twitter.com/BumperGraham.
Spain writer
Graham Hunter is a Barcelona-based freelance writer for ESPN.com who specializes in La Liga and the Spanish national team.