Commentary
Messi, Ronaldo and the La Liga season
Updated:
August 31, 2011, 4:53 PM ET
By
Graham Hunter
| Special to ESPN.com
Five and six, rather than three, are the magic numbers in Spain right now.
Five is the historic taunt between Real Madrid and Barcelona -- each of which has handed out infamous manitas (5-0 defeats) to the other -- and Gerard Piqué made a point of using his open palm and splayed fingers to signify that number after Barca's infamous mauling of Jose Mourinho's side this past November.
Five-nil is also the way in which the Spanish champions began the defense of their title in response to Madrid's six-goal opening victory at Zaragoza.
Five is the number of signings Mourinho has made to try to catch Barcelona or at least prevent Lionel Messi & Co. from winning the six trophies they have on offer this season. Five is the number of goals we feasted on in the decisive leg of the Spanish Supercup, which Barca won 3-2. And five would be the number of games I'd expect the Portuguese to be banned for his cowardly attack on Tito Vilanova.
So I'll swim with (rather than against) the tide this week. Here are six things to keep our eyes on this season.
[+] Enlarge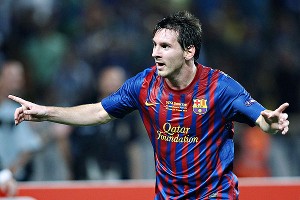 Valery Hache/AFP/Getty ImagesMessi's motivation hasn't suffered even as he's racked up trophy after trophy.
1. Messi
Pep Guardiola is one of those coaches who will normally emphasize and explain the team ethic in a given victory or when analyzing Barca's total domination of the past three seasons. So it was enlightening when, in the postmatch euphoria of their Champions League victory at Wembley this past May, he took the unusual step of singling out Messi for eulogies.
Having praised the little footballing genius, Guardiola added, "We need to ensure that Leo doesn't get fed up or bored here and that the club selects the right kind of guys to perform beside him. We want him to be happy and comfortable playing here."
Guardiola was hinting at two specific things. The vast majority of Barca's superstars across the ages have left abruptly, disillusioned or via the back door. That list includes Romario, Ronaldo, Rivaldo, Deco, Ronaldinho, Guardiola, Figo and Michael Laudrup. Guardiola doesn't want that to happen with Messi.
There was also a hint that no matter how long Guardiola chooses to remain in charge at Camp Nou, there may come a time when he is no longer there but Messi is. The idea that a modern superstar spends his entire career at one club is increasingly difficult to envisage. You can pay your players fair market value, but the majority of them simply get a bit bored over time -- they are predators who need new challenges.
What we have learned about Messi's predisposition since Wembley can be summed up like this. Among the Argentine's bountiful treasury of gifts is the desire to keep learning, playing, winning and improving. During the summer, he had a difficult, disturbing and ultimately very disappointing Copa America. That people in his home nation doubt either his capacity or his wish to excel for Argentina drives him absolutely nuts with anger. So for him to swallow that experience, go away on holiday and both train individually and stay utterly focused on returning to his competitive best (of Barca's four competitive matches, Messi has scored six and made four of its total 12 goals) is evidence of a psychological excellence to match his sporting genius.
But don't miss the significance of why Guardiola fought hard for the club to bring Cesc Fabregas into the fold. The former Arsenal captain and Messi began playing together 11 years ago and formed a shatteringly good youth side with other stars such as Piqué and Victor Vazquez. The two of them understand each other's movements with the same preternatural intuition that tells sharks what baby seals are for.
Graham Hunter

For more Graham Hunter, check out his columns on all things La Liga and Spanish soccer.
• History beckons for Barca
• No time for nostalgia
• Messi's rise to greatness
• Torres should play for Spain
• Real Madrid's title quest
• Madrid's Pepe problem
• Di Maria is odd man out?
• Jokers wild for Spain's national team
• Yellow Submarine on verge of sinking
• Ronaldo's rant, Atletico's despair
• Barca beats Madrid again
• Spain's three kings
• Ibra's book of nonsense
• Spain's balance of power
• Rossi's injury huge blow
• La Liga's ultimate late bloomer
• Messi chasing Barca record
• Laporta's fall from grace
• Barca's off-the-pitch battle
• Real Madrid's game plan

Messi possesses what so many superstar footballers are not complemented with -- the right temperament and hunger. And his coach, the inestimable Guardiola, understands how to complement him very, very well.
2. Real Madrid
OK, OK -- another trophy, the Supercup, snatched by Barca from underneath Real Madrid's nose. Some will say that we've seen further proof that the Catalans reign supreme. I don't think that's quite what we have learned.
With the step away from playing defense-oriented football toward an attacking, daring, confident style, Mourinho has closed the gap on his rival. Madrid is not, by any means, an outrageous bet to win the Spanish title, but the Special One's players are noticeably happier that they are "getting after" Barcelona. They like the professional nature of their coach's daily training regime and very obviously believe that they can win one or both of the next two Clasicos (December at the Bernabeu and April at Camp Nou).
What's more, the depth added by Mourinho's five signings (Hamit Altintop, Nuri Sahin, Fabio Coentrao, Jose Callejon and Raphael Varane) certainly means that they are equipped to compete on multiple fronts, including the Champions League.
Sahin, in particular, could be key. Real Madrid has had a recurring problem in the midfield. When Xabi Alonso is not playing, the body is muscular but the brain is missing, so to speak. Sahin is the special talent, the visionary passer with a musical tempo playing in his head who was signed to solve that dilemma. But until he recovers from injury, learns a bit of Spanish and adapts to his new team, there will be a big burden on the shoulders of Alonso, the Basque midfielder who grew up in the Pedralbes neighborhood of Barcelona that overlooks Camp Nou.
However, Mourinho's warning that "my teams are always better in the second season" looks to be simmering away nicely and coming to the boil.
Barcelona has earned the right to be favorites for the remaining four trophies for which it is competing -- FIFA Club World Cup, Champions League, Copa del Rey and La Liga -- but Madrid is closing the narrow gap that separated the teams last season.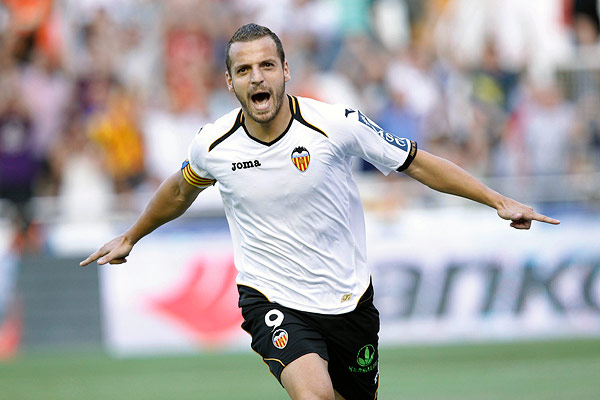 AP Photo/ Alberto SaizValencia's Roberto Soldado is one of La Liga's hidden gems.
Football lends itself strongly to metaphors: a thunderous shot, explosive pace, a golden chance. The one that I like and that all the scouts and coaches of top teams need to keep high on their agenda is "hidden gem."
Roberto Soldado is the perfect example.
Let's touch on the hidden bit before we polish the gem.
Soldado just turned 26, but Valencia is already his fourth senior club. His previous teams, Real Madrid, Osasuna and Getafe, clearly valued his price over his talents. Despite a few Premier League managers asking me to recommend high-value/low-profile strikers in the past few months, Soldado remains at the Mestalla and wasn't, at least to my knowledge, the subject of any bids. Then, ahead of this week's Euro 2012 qualifying, Vicente del Bosque named the Spain squad -- without an in-form Soldado on it. All of which confirms his "hidden" status to me.
Gem? Fifteen goals in his past 10 league matches, seven in his past 12 Champions League appearances and 11 in 29 during his various age-group caps for Spain's youth teams.
Soldado is a young model pro, scored the key goals which hauled debt-ridden Valencia into the vastly lucrative third place in La Liga (direct Champions League qualification should earn each club between 20 and 25 million euros) and has a prodigious leap that belies his relatively short, 5-foot-10½ frame to go with his ambidextrous shooting and control. In Valencia's first game this season, he scored three times -- including twice in the final three minutes -- to give his team a dramatic 4-3 victory over Racing Santander.
If you want a dark horse to be the Pichichi (top scorer) of this league once Cristiano Ronaldo and Messi are discounted, Roberto Soldado seems like a sharpshooter to me.
4. La Liga
Because of its plethora of stars and its superlative football, La Liga should be earning as much or more in worldwide television revenue as every Championship around the world, possibly even including the English Premier League. In the past 11 years, Spain has sent seven clubs to the Champions League final, which has, on average, a viewing audience of 109 million viewers around the globe -- 3 million viewers more than the most recent Super Bowl. In the same period, La Liga teams have made it to the Champions League semifinal 15 times.
For those reasons alone, irrespective of all other domestic viewing markets and the worldwide fascination with Spanish football, you would have thought that it was utterly inconceivable that even in an economic crisis, seven clubs could start this La Liga season without shirt sponsors. That two of those teams are Villarreal and Valencia defies belief. We also had a players' strike because more than 200 players are owed some 50 million euros in delayed wages.
Add it all up, and it's clear that although Spanish football is played with brilliance, it's administered and marketed by either dullards or inept bureaucrats.
La Liga is a 21st century product sold and funded with 19th century skills. That must change, or the league will financially implode.
[+] Enlarge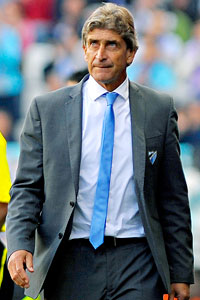 Jorge Guerrero/AFP/Getty ImagesManuel Pellegrini is responsible for making sure Malaga makes good on its 80 million euro investment.
5. Manuel Pellegrini
If anyone needed to learn that a team can be thrown together at high cost but not properly built without top-quality coaching, Malaga's 2-1 loss to Sevilla this past weekend was evidence.
Malaga's owners demand a top-six finish for their 80 million euro investment in the past two transfer markets. Beyond that, they actually expect a season-ending place in the top four.
For the expensive jigsaw pieces they have purchased to fit together satisfyingly -- players such as Ruud van Nistelrooy, Diego Buonanotte, Jeremy Toulalan and Joris Mathijsen -- they need someone with experience and skill to assemble them carefully and cleverly on the pitch. Yet poor, old Pellegrini will probably not be allowed the kind of time needed to debug the new playing system before coming under intense pressure from his bosses.
Claudio Ranieri was promptly ousted at Chelsea when a billionaire took over, as was Mark Hughes when Sheikh Mansour tired of not meeting his objectives instantly at Manchester City. Huge investment usually brings massive expectation. Patience, rather than money, is in short supply. Of all the signings made by Malaga's petrodollar owners, Pellegrini is the one with the most influence over the team development, the pattern of play and the likelihood of the Rosaleda side playing European football next season.
But watch out. As the weeks go by, it is the Chilean who runs the most risk of impatience ruling over wisdom. If Pellegrini doesn't deliver good results in the next two months, the manager -- the guy in whom Malaga should invest the most faith -- will be one of the leading candidates in this season's sack race.
ESPN FC on Twitter
Don't miss a moment of the latest soccer coverage from around the world. Follow us on Twitter and stay informed. Join »
That said, Pellegrini has the talent to take this gauche team to great heights. But it will require faith and patience, which are qualities typically in short supply in new, ambitious owners.
6. Ronaldo
Ronaldo is engaged in an image cleanup that, in theory, will help close the appreciation gap that exists between him and Messi in the eyes of fellow professionals and journalists when awards time comes around. First off, I'll miss Ronaldo's theatrical displays of happiness, frustration and anger. Secondly, not even if he sewed a pair of angel's wings on his back and balanced a halo on his head could the Portuguese prevent further recognition that, exceptional though he is, Ronaldo remains light-years behind the young Argentine, who is shaping up as the best footballer ever.
Graham Hunter is a Barcelona-based freelance writer for ESPN.com who specializes in La Liga and the Spanish national team. You can reach him on Twitter at twitter.com/BumperGraham.
Spain writer
Graham Hunter is a Barcelona-based freelance writer for ESPN.com who specializes in La Liga and the Spanish national team.