Commentary
Messi closing in on remarkable record
Updated:
October 19, 2011, 12:06 PM ET
By
Graham Hunter
| Special to ESPN.com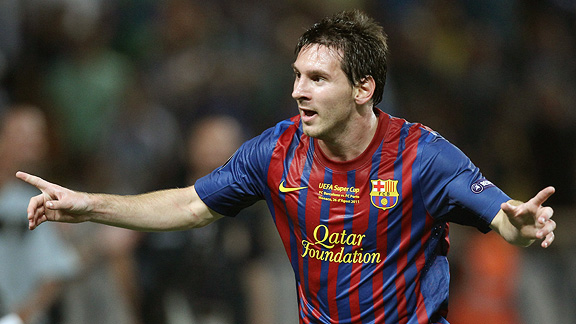 Valery Hache/AFP/Getty ImagesLionel Messi's sublime form has put to rest (for now) who's better, Messi or Ronaldo, as he closes in on Barca's scoring record.
Just in case anyone thought there was one talent Lionel Messi didn't possess -- that is, a sense of dramatic timing -- on Saturday the Argentine celebrated the seventh anniversary of his La Liga debut for Barcelona with a pair of goals that put him second in the club's all-time scoring list.
At age 24.
Thanks to 103 goals in his past 100 matches, Messi has superseded the legendary Ladislao Kubala (an outrageously talented Hungarian striker of the 1950s and early 1960s) with 196 goals in all competitions -- 39 short of all-time leader Cesar Rodriguez's 235.
The over-eager are beginning to speculate whether this footballing genius could overtake that record this season. You and I who know Messi a little better understand that if he does, it will be a byproduct of a good season. This is a kid who lives to win games and lift trophies. Goals are simply his contribution to doing so, not an end in themselves.
However, at a time when he's already won 20 senior competitive trophies with club and country, Messi is also pressing the accelerator -- his 16 goals in 12 competitive matches for Barca is his best start to a season. Moreover, he tends to give teammates more than 20 assists per season (24 last term), and he's already provided nine in 2011-12 and we are only in October. Messi is a machine.
As you read this, the ballot forms for the FIFA Ballon D'Or award are going out to specified journalists plus the captains and coaches of the world's international sides. We will know who'll be on the long list in a couple of weeks and the short list in late December. It is inconceivable that Messi, by some considerable distance the greatest modern talent and arguably the most remarkable footballer ever, won't win to become the only player other than Michel Platini to lift the award for three straight seasons.
If he stays healthy, Messi is likely to become the only man in the history of football to win that individual trophy more than three times, leaving behind him Alfredo Di Stefano, Johan Cruyff, Marco Van Basten, Franz Beckenbauer, Roberto Baggio, Ronaldo, Ronaldinho and similar world talents.
Let's say it again. Messi is 24.
It also wasn't that long ago that Messi had competition on an individual level. In 2007, he was third on the Ballon D'Or short list behind Cristiano Ronaldo at No. 2 and Kaka at No. 1, and in 2008 he was second behind Ronaldo. There was a "field"; there were credible rivals.
Unthinkable now.
[+] Enlarge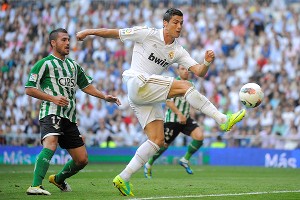 Denis Doyle/Getty ImagesSo long as Messi stays healthy, Ronaldo will remain second-best.
Which is one of Messi's great achievements. Ronaldo is a monstrous talent who has produced 96 goals in his first 100 official matches for Real Madrid and celebrated reaching those figures this past weekend by providing a couple of assists (for Gonzalo Higuain and Kaka) in the 4-1 defeat of Betis. He also has 13 goals in 15 games for club and country this season.
I know that Ronaldo is consumed with the idea of how to improve his game (his generosity and intelligence in providing goals to teammates have significantly increased over the past few seasons) until he is judged to be the best of the current breed and, he hopes, eventually the best ever.
So long as Messi is fit, motivated and playing for a club that understands how to get the best out of him, that won't happen.
Think about it: How far have players like Ronaldo, Wayne Rooney, Robin Van Persie, Arjen Robben, Kaka, Mesut Ozil, Sergio Aguero, Wesley Sneijder and their ilk fallen behind Messi? If you really stop to analyze it, perhaps, the two Barca teammates he left in silver and bronze position last year, Xavi and Andres Iniesta, are still within a distance where they can see Messi's heels -- but only just.
When you look at those blessed with nonpareil talent -- people like Elvis, George Best, Maradona, Paul Gascoigne, John Lennon -- it's often those who appear to have everything who, in fact, don't. The coping mechanisms, the lack of ego, the equilibrium, the family support network -- they are usually missing among the world's most extraordinary people. Messi is fortunate to possess them.
And what is often forgotten, particularly now when the majority of the football fans who love him probably think that Messi could levitate if he chose to, is that his genius already has been blighted by bad times. He has overcome some bleak and threatening moments in his footballing life. Currently, he's one of the few senior players at Camp Nou who isn't being plagued by niggling injuries. But he once was.
From 2006 though 2008, Messi lost nearly 11 months of football -- eight to hamstring problems and three to a broken metatarsal. When his last major problem struck, against Celtic in the Champions League in Spring 2008 (yes, that recently) Messi departed the pitch in a flood of tears, anguished at the repetitive, damaging nature of his affliction.
Graham Hunter

For more Graham Hunter, check out his columns on all things La Liga and Spanish soccer.
• History beckons for Barca
• No time for nostalgia
• Messi's rise to greatness
• Torres should play for Spain
• Real Madrid's title quest
• Madrid's Pepe problem
• Di Maria is odd man out?
• Jokers wild for Spain's national team
• Yellow Submarine on verge of sinking
• Ronaldo's rant, Atletico's despair
• Barca beats Madrid again
• Spain's three kings
• Ibra's book of nonsense
• Spain's balance of power
• Rossi's injury huge blow
• La Liga's ultimate late bloomer
• Messi chasing Barca record
• Laporta's fall from grace
• Barca's off-the-pitch battle
• Real Madrid's game plan

There was a genuine threat that although his physique had developed, his career would be stunted.
Barcelona's board at the time devised new regimens for his nutrition, lifestyle, training and stretching, and it invested in making sure that his personal trainer, Juanjo Brau, could be with Messi constantly to ensure that all measures would be taken to keep him in prime condition. Txiki Begiristain, Ferran Soriano, Marc Ingla, Jorge Messi, Brau and Joan Laporta, particularly, are hidden heroes in Messi's story. They realized that something magical was in danger of slipping away and acted with vision, speed and intelligence.
When Ronaldinho, Deco and Thiago Motta were squeezed out of the club, it was because Barca felt that their lifestyle, by then patently unacceptable, was increasingly tainting Messi's. Despite the way those seasoned Brazilian professionals looked after Messi while he found his way in the first team, their friendship and mentoring of their young apprentice was on the verge of having detrimental effects. Throw in the fact that Messi lost a lot of years when his strength and stamina should have been finding their foundations while his growth hormone deficiency went untreated, and it's clear how remarkable his current domination of the world game should be considered to be.
It's not, by any means, simply about his talent.
His attitude, his lifestyle, his will to score, his need to win and, above all by a long, long way, his incredible mental and physical toughness mark him out as someone, I think, pound for pound may eventually be considered as the most special, most complete footballer of all time.
That's an increasing belief -- not a statement, nor an abandonment of my principle that starting to call him the best ever now robs us of so much that is still to come. I've been watching him, interviewing him and thrilling to his exploits even before his first-team debut. It has been uplifting.
So here's to the first seven official years of a guy who is in the process of redefining what somebody can do with a football at his feet.
[+] Enlarge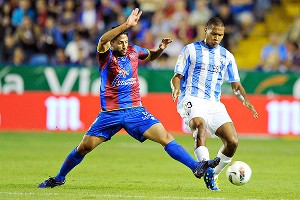 Jose Jordan/Getty ImagesLevante's midfielder Miguel Pallardo (left) vies for the ball with Malaga's Salomon Rondon, a match Levante won 3-0 to remain atop the table.
Levante the Great
But while we are touching on the fact that not everything has been perma-sweet for Messi in recent years, it's a coincidence that his worst moment, Spring 2008, coincided with the wonderful Valencian club, Levante, looking into the abyss and, apparently, preparing to jump.
Its debts were all-consuming, its players had, in some instances, gone nearly two years without pay, and it looked as though Levante might not exist much longer. Naturally, the club was relegated. Administration followed, and given how voracious football is and how little pity exists for the weaklings, Levante might have disappeared.
However, I was at the Ciutat de Valencia stadium on Sunday evening to watch Levante destroy multimillionaire Malaga 3-0 to make history by retaining top spot in La Liga for the first time in its entire history.
What's more, Levante did it with a starting XI that could boast the oldest average age (just under 32 years per man) in the entire history of Spain's Primera Division. And the cherry on the icing, I think, is that that average age per player hit the record because Malaga, from which Xavi Torres is on loan at Levante, wouldn't let the midfielder take his usual place in the heart of Juan Ignacio Martinez's team unless the impoverished Valencians paid the obscenely rich Malaga a 50,000 euro fee.
From the situation in 2008 when its debts were strangling the club to today, Levante's board -- headed by the dynamic and, to some Levante fans, heroic Quico Catalan -- is meeting the obligations set by administrators to pay back creditors and aims to be debt-free by 2014.
In the summer, Levante spent approximately 200,000 euros on refreshing the squad, but this season it beat Real Madrid. Its first-choice back five of keeper Gustavo Munua, Javi Venta, Sergio Ballesteros, Nano and Juanfran adds up to about 170 years on this Earth, yet Levante has conceded the fewest goals in La Liga this season.
When you meet its head groundsman, Raimon, who has a three-room museum to the club's colorful history in his hidey-hole under one of the stands ("my sanctuary") and who has worked there for a quarter century, or Emilio Nadal, the club's articulate friendly press chief who has been devoted to Levante since a child, it's hard not to be moved by the remarkable story which the club is creating.
Is the symbol of the club Sergio Ballesteros, a 36-year-old man-mountain of a central defender who looks like a well-fed nightclub bouncer but reads the game like Paolo Maldini? Or is it the ubiquitous plastic frogs that echo the club's mascot (granota means "frog" in Valencian) as a nod to when the stadium was in the old Turia riverbed and was plagued by green amphibians?
And let's not forget the remarkable former manager Luis Garcia, who led Levante from its worst situation to the second-highest finish in its history before leaving for Getafe in 2011. To his great credit, Martinez has adopted the if-it-ain't-broke-don't-fix-it motto.
For the moment, it is a thrilling and uplifting story. But Levante is such an irregular visitor to the top division that despite its co-leadership with Barcelona at the moment, the club's chief objective is not qualifying for European football next season but achieving another domestic first -- three straight years in the Primera. With all my heart, I hope that Levante manages it and shows the rest of Spain that sometimes, shrewd, low-cost signings and debt reduction are not incompatible with intelligent football and relative success.
Graham Hunter is a Barcelona-based freelance writer for ESPN.com who specializes in La Liga and the Spanish national team. You can reach him on Twitter at twitter.com/BumperGraham.
Spain writer
Graham Hunter is a Barcelona-based freelance writer for ESPN.com who specializes in La Liga and the Spanish national team.