Commentary
Taking the pulse of U.S. soccer
Updated:
March 29, 2011, 7:44 PM ET
By
Andrew Hush
| ESPN.com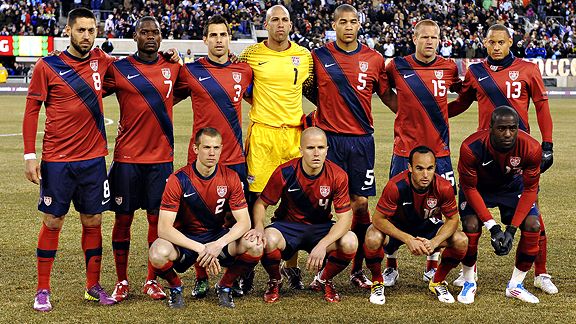 Timothy A. Clary/Getty ImagesWe polled experts and fans to find out what people think of the state of the U.S. men's national team.
At the start of this World Cup cycle, which will culminate three years from now in Brazil, I thought it would be an interesting exercise to take the pulse of U.S. soccer and, in particular, the men's national team. So I put five questions to former U.S. internationals and ESPN analysts Alexi Lalas, John Harkes and Taylor Twellman, ESPN.com writers Jeff Carlisle and Leander Schaerlaeckens, and fans, who gave their opinions in a live chat that took place during Saturday's game against Argentina.
What's more important this year -- performing well in high-profile friendlies or winning the Gold Cup?
Alexi Lalas: The Gold Cup is where this team will be judged in 2011. It's not the highest overall competition, but it is a tournament format and obviously leads to the Confederations Cup, which, as we saw in 2009, can provide an invaluable experience before a World Cup. There is also pressure on the USA to win the Gold Cup, and this team needs to be able to function under pressure and live up to expectations, which is an acquired skill in itself. Too often, friendlies feature one side with a different mindset and approach to the game. That taints the performances and makes it dangerous to relate it to how a team will perform in a World Cup.
John Harkes:It would be nice to have both; playing well throughout the year in friendlies will lend itself to a more consistent style of play. It also will build resilience which was evident against Argentina. Overall, it is imperative to win the Gold Cup -- that is integral to competing at a higher level with the Confederations Cup and preparing the team for a World Cup in Brazil.
Taylor Twellman: It's easy to argue that the high-profile friendlies are more important than the Gold Cup because you test yourself against quality competition. But winning the Gold Cup gets you into the Confederations Cup, which gives you a trial run in the World Cup host-nation country against top competition. So it has the slight edge.
Jeff Carlisle: The Gold Cup dwarfs friendlies, no matter what the opposition. The last cycle shows what a springboard it can be if you win it and reach the Confederations Cup, not just in terms of helping with logistics in the World Cup host nation but also by providing competitive games against quality opposition. Having said that, there is no question that U.S. Soccer has consciously upped the level of competition in friendlies. Bob Bradley has been a major driving force behind that.
Leander Schaerlaeckens: Winning the Gold Cup is paramount. Not so much for the value of being the North American champion but because it gains you entry into the Confederations Cup, which is the best possible dry run for the World Cup. It may not seem like it, but this is a big summer.
Fans: In a poll, 82 percent of fans said that winning the Gold Cup was a priority, compared to 18 percent who preferred to compete well against the likes of Spain, Argentina and Paraguay, all three of which are opponents the U.S. will meet in the first half of 2011.
Which young player(s) has the brightest future at this level?
Lalas: Right now, a player like Tim Ream is interesting to me because of his skill in possession. He's already shown a consistent ability to play smart and effective balls over distance out of the back. This is going to become more important as the U.S. starts to be able to maintain more possession against teams. Over the years we've shown we can defend well, individually and collectively, but we've lacked defenders who are actually able to initiate the attack through their distribution. Ream is young, but he possesses this quality, and I hope it's cultivated.
Harkes:Young players? Depends on what you define as young. I would say that Juan Agudelo has a future if he is correctly brought along. He has so much to learn and needs to add many different characteristics to his game, but he is an exciting prospect. I would add Maurice Edu, Stuart Holden, Teal Bunbury, and on the U20's there is Perry Kitchen, Sacir Hot, Zac MacMath, Conor Doyle, and Kelyn Rowe of UCLA. They are all good young players that if developed correctly, can make a difference at the senior level.
Twellman: How can you not say Juan Agudelo at the moment? Teal Bunbury also deserves some looks because the most important question surrounding this team is, who will score goals?
ESPN FC on Twitter
Don't miss a moment of the latest soccer coverage from around the world. Follow us on Twitter and stay informed. Join »
Carlisle: With Juan Agudelo, it is so hard to temper expectations because he has played only a handful of games as a pro. However, his finishing has been impressive, and he seems to have a good head on his young shoulders. He needs to deliver consistently with New York. I also like Teal Bunbury, who has a target forward physique about him. Elsewhere, I wonder whether Benny Feilhaber can come back. His club situation has been bad, but he still has bags of ability. Finally, given that one of Bradley's biggest challenges will be to revamp the back line, Ream is another one to watch.
Schaerlaeckens: That's tough to say. If I had to pick one, I'd say Mix Diskerud. Agudelo might be the popular choice, but strikers -- especially American ones -- tend to be fickle. I think Diskerud will have the longest career.
Fans: Forwards dominated this discussion, with a reliable goal scorer appearing to be the consensus need among supporters. Given that, it was not a surprise to see Agudelo's name pop up often in the conversation, both before and after his impressive display against Argentina. Beyond Agudelo, Bunbury was a popular choice, as was Omar Salgado. Jozy Altidore still has supporters, while many hoped for Charlie Davies to return to form. Interestingly, as often as individual names were suggested, the other dominant opinion was that the U.S.'s forwards, whoever they are, will be more successful when playing in a two-man front line.
Diskerud was a midfielder whose future was championed, while Luis Gil was called "the next big thing in U.S. soccer" by one fan. Among defenders, Timmy Chandler's performance instantly won him praise, and many agreed with Lalas that Ream is a potential star in the making. Among the others who garnered a mention were Eric Lichaj, Edgar Castillo and Anthony Wallace.
Who should be pushed off into international retirement?
Lalas: Nobody. We still don't have the depth to be moving players on. At the international level, I say squeeze every last ounce out of each player who can help.
Harkes:Not sure about the "pushed off" into retirement question. At this point, The U.S. team has a good mix of veterans and young blood; not many "older" players in the squad right now. I think it would be down to injuries, and not getting games as you get older that would determine the length of time with the senior U.S. team.
Twellman: Nobody just yet, but questions remain with Oguchi Onyewu coming off his injury.
Carlisle: The Gold Cup is important and has to be won, but you also have to start to blood youngsters. Eventually the cord will have to be cut from the likes of Carlos Bocanegra and Steve Cherundolo. I would not want to see a repeat of what happened in 2002, when Jeff Agoos was a starter despite being past his prime. I also wonder how Landon Donovan and Clint Dempsey will fare in the coming years. Although I expect them to be involved, they are starting to get older, which is another reason Stuart Holden's injury is a tough blow. It will be interesting to see what kind of cover gets established.
Schaerlaeckens: Jonathan Bornstein, Edson Buddle, Herculez Gomez, Ricardo Clark and Robbie Findley. None because of age; all because of inability.
Fans: A consistent theme in the responses to this question was the age that the U.S.'s first-choice defenders will be by the time the next World Cup begins. As a result, Cherundolo (who will be 35), Bocanegra (35), Jay DeMerit (34) and Onyewu (32) were among those whose names came up most often. Also drawing detractors were Altidore, whose ability at international level was questioned, and Jonathan Spector.
Of the players in the current pool, who will still be key men at the next World Cup?
Lalas: Donovan, Tim Howard, Michael Bradley and Clint Dempsey. They have the experience and confidence needed to hold the team together and be impactful at critical points of a game.
[+] Enlarge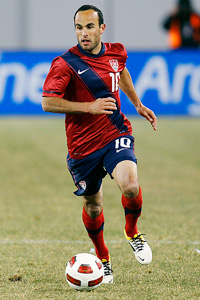 Jeff Zelevansky/Getty ImagesAlthough he's 29, Landon Donovan should have a big role to play in the 2014 World Cup.
Harkes:There are many players that could see themselves play key roles in 2014. Tim Howard continues to impress and take on a full leadership role with the team. He provides a solid foundation to build on. Carlos Bocanegra will be key, and will need to impose his leadership in the team. I believe Landon still has something to show in 2014; I just hope he is healthy. Clint Dempsey will play a role as will Michael Bradley. It will be interesting to see how Bob Bradley brings the midfield together. That is something that needs to be solved sooner, rather than later. Stuart Holden has been nothing short of excellent with Bolton and he needs to get time to play in the midfield with the U.S. He will also need to stay healthy. He can perform, as can Maurice Edu, at the highest level.
Twellman: Donovan, Dempsey, Holden, Bradley and Howard are the big five for me. Edu is also important.
Carlisle: Before his injury, Holden was establishing himself as a key player and giving Bob Bradley something to think about in central midfield. He has usually favored two destructive players in there, but it would have been interesting to see if Holden got a chance to shine in the position he plays for Bolton. The better bet would be that he is still wide, possibly with Dempsey pushed higher up.
Schaerlaeckens: Bradley will be crucial, as will Holden. I expect Dempsey, Donovan and Onyewu to still be strong presences.
Fans: Given that the discussion was taking place during a game, it was not surprising that many of the names mentioned were involved at new Meadowlands Stadium. It was, therefore, interesting to note that of those not playing, Holden's name was mentioned the most. Many hoped that he would be an automatic starter in central midfield after he returns to fitness.
Aside from goalkeeper, where Howard remains peerless, midfield appears to be the position in which fans are most comfortable. Bradley was identified by many as a key player, while Donovan and Dempsey are expected to still be important in Brazil.
Looking ahead to 2014, what is the minimum the U.S. should expect to achieve in Brazil?
Lalas: The quarterfinals should be the initial goal. However, if another golden pathway opens up to the semifinals, as it did in 2010, we must have developed the ability to capitalize on the opportunity. Getting out of our group has come to be expected, as it should be. Regardless of who is in with us, we can compete and produce results.
Harkes:The minimum is to get out of the round. That is always the case with every national side. We saw in 2010 that early success and advancing out of the first round is not an easy task. Nothing is guaranteed, as we witnessed with Italy (defending champs) and France! Disasters. There are so many variables involved; good coaching, the draw, availability of healthy players, depth in the team, and of course a wee bit of luck!
Twellman: I really think it is early to tell. Once we have gotten through Spain and the Gold Cup, we will have a better chance to assess where this team is and where it is going to be.
Carlisle: The goal has to be to get out of our group again. After that, of course, it would be good to go one step further, but so much will depend on the draw. The U.S. needs to establish a foundation whereby it routinely reaches the knockout stage. That will establish confidence and expectation, and mean that getting out of the group is not quite the big deal that it was in 2010.
Schaerlaeckens: I think another spot in the quarterfinals isn't unreasonable. I think that's what the team should shoot for.
Fans: The majority expect a repeat of 2002, with 48 percent of voters believing that the U.S. will reach the last eight in Brazil. Thirty-six percent predicted the second round as the point at which elimination would occur, while only 5 percent suggested the U.S. would fail to advance from its group. Meanwhile, at the opposite end of the optimism scale, 6 percent predicted a run to the World Cup semis, 3 percent tipped a final appearance and 2 percent predicted that America's skipper, whoever he may be, will lift the trophy on July 13.
Andrew Hush is an associate producer on ESPNSoccernet Press Pass, full episodes of which can be seen here. Follow the show at www.twitter.com/ESPNPressPass.