Commentary
Preview: Arsenal vs. Birmingham City
Updated:
February 26, 2011, 11:58 AM ET
By
Steve McManaman
| Special to ESPN.com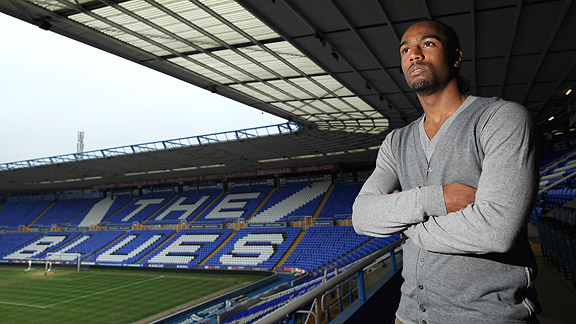 Richard Heathcote/Getty ImagesBirmingham's Cameron Jerome gears up for the Carling Cup final at Wembley Stadium. It'll be a big day for his team and for Arsenal.
On Sunday afternoon, Arsenal will play Birmingham City in the Carling Cup final at Wembley.
For the first time in a long time, it's an important cup competition. In the past, the Carling Cup has been looked down on, seen as a lesser competition -- one certainly less worthy than the FA Cup. But I think this year the big teams have all taken it seriously enough, which is why there are two Premiership teams in the final, including a club such as Arsenal.
Teams have started to value the Carling Cup because there is more competition for the big prizes than ever, and they all feel like they have to win something. I think that's why the Carling Cup has been elevated to a loftier position within the trophy hierarchy than in the past. Teams usually focused more on the FA Cup, but it's been relegated this year because its crucial rounds happen at the same time as the Champions League's do, making it less of a priority.
Arsenal has not won anything since the FA Cup in 2005. So it's really important for Arsenal to win anything at all to appease its restless fans. The Gunners just really need to win something, and the Carling Cup is a good chance to do that because Arsenal is the second favorite in the league and not a favorite in the Champions League.
On the other hand, Birmingham is the lesser team, the big underdog, and hasn't been successful for years and not challenged for any titles, domestic or internationally. So the Carling Cup means a great deal to the Blues. They haven't won a trophy in 48 years -- last winning the League/Carling Cup in 1963. Sunday will be a big day for their fans, the biggest in their history for a long, long time and thousands and thousands of them will travel with them. It's taken a long time for them to play at Wembley, so it's something they really have to enjoy.
Getting down to the nitty-gritty, the deal with this game is simple. As a neutral, it's all about Arsenal. That's because Wembley is a very nice pitch. It hasn't been used for a while, it runs very fast and it plays true. That's decidedly to the advantage of the the Gunners, because they have the better, faster and more technical team. If they play a perfect game, they should win quite comfortably. On the other hand, Birmingham is a dogged unit and works hard and fights and fights and fights. It might be on its game. It needs a little bit of luck maybe, and a set piece, a good save or two and some help from the post perhaps. But every underdog has his day.
Birmingham has to disrupt Arsenal as much as it can. You know who the dangerous players are for Arsenal and you have to make sure you have somebody no more than a yard away cutting them off when they get onto the ball. Simply put, it's about making the game hard, being aggressive, forcing the Gunners to go out of the way. There are 11 players on the pitch and you have to make sure you win your personal battle with the player on the other side of you. If enough players win their battle, they win the game. You have to try to find a way to make it a level playing field.
Arsenal has injury worries -- Robin van Persie's strained hamstring, Cesc Fabregas' knock from Wednesday's game against Stoke and Theo Walcott's twisted ankle from the same game. Manager Arsene Wenger has said that Fabregas has no chance of playing against Birmingham on Sunday, but the player's personal trainer claimed he would be fit to play. We will see. I will be surprised if Cesc misses the game. Sometimes they just say he's doubtful to have a bit of intrigue or put in the Birmingham players' minds that he might not play. It's a bit of gamesmanship, really.
But if those three don't play, Arsenal is in trouble. It will cut down its attacking options by 50 percent. If, for instance, Robin van Persie doesn't play, the Gunners will have to use Marouane Chamakh or Nicklas Bendtner. Good players, but they have less skill than van Persie does and aren't as good in the air.
So who'll win? My heart says Birmingham. But my head says Arsenal. So I'm calling it a 3-1 win for the Gunners.
Steve McManaman is a former England winger and a Liverpool club legend. Starting in 1990, he played in 10 seasons and 364 games (65 goals) for the Reds before joining Real Madrid for four years and ending his career with Manchester City in 2005. He is currently a commentator on ESPN's family of networks and a contributor to ESPN.com.
Soccer
Steve McManaman is an ESPN soccer analyst. McManaman, who played for Liverpool (1990-99), Real Madrid from (1999-03) and Manchester City (2003-05), was ESPN's main studio analyst during the 2010 FIFA World Cup in South Africa.