Commentary
Does Arsene know?
Updated:
August 23, 2011, 6:01 PM ET
By
Conor Nevins
| ESPN.com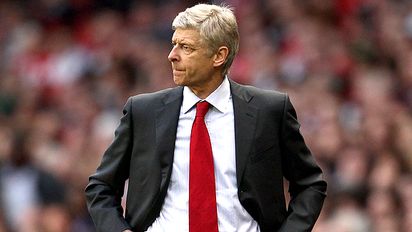 Julian Finney/Getty ImagesThere's plenty on the line for Arsene Wenger in Wednesday's match against Udinese.
There's more than just Champion's League millions hanging in the balance for Arsenal when it travels to Udinese Wednesday. Arsene Wenger's philosophy is coming into question like never before; failure to seal qualification into the group stages would cast a damning verdict on Arsenal's credentials as a member of Europe's elite.
That Arsenal is in this position is indicative of the schizophrenic nature of Wenger's side that has confounded its supporters and split opinion as to its true place in Europe's upper echelon. It flattered to deceive last season, once appearing as Manchester United's most credible title challenger before floundering just as quickly by season's end, finishing in fourth place and needing to qualify to gain access to the Champion's League slush fund that sustains Europe's elite.
Wenger has cut a forlorn figure on the sideline of Arsenal's games. His policy of promoting and developing youth -- if it's to be realized in the form of trophies -- requires continuity and stability. The economics of the market have conspired against him in this regard. Continuity and stability are luxuries in the modern game where top clubs reinvent their squads each transfer window and coaches are treated as accessories; fashionable one day, disposable the next.
The protracted saga of Cesc Fabregas' transfer to Barcelona finally reached its inevitable, if unsatisfying, conclusion. Samir Nasri is close to following him through the exit door to rival Manchester City, further heightening the sense of panic with little over a week left in the transfer window.
However, what's most frustrating to Arsenal fans is the team's inactivity in the transfer market. Defections and injuries have forced Wenger to field makeshift sides, with uninspiring results and time to bring in reinforcements dwindling. (The reasons for Arsenal's impotence in the transfer market remain ambiguous. By all accounts, the money is there to be spent; whether the purse strings are held tight by Wenger's doing or by the board's isn't entirely clear).
To be fair, no serious person is calling for Wenger to be replaced. There are no question marks as it relates to his competency. At the very least, however, a question mark is beginning to creep at the end of a familiar refrain among Arsenal fans:
"Arsene knows."
The answer, often given resoundingly in the affirmative, serves as a testament to Arsenal fans' unerring faith in Wenger's judgment and stewardship of the club.
"Arsene knows," they say. Do they still believe it?
Belief is dependent on the criteria by which one judges such things. What's the true measure of success for a top European club, if Arsenal professes to hold itself in that class? To Wenger, it's fair to surmise his approach to be three-pronged: winning trophies, financial stability and an aesthetically pleasing style of play. There's no question he's delivered on the latter two, but a six-year (and counting) trophy drought has frustration among supporters reaching a crescendo. The gap between Arsenal and the top teams in the Premier League appears to be increasing not narrowing.
Which brings us back to the importance of Wednesday's visit to Udinese. A lack of trophies can be alleviated by the annual prospect of playing in the Champion's League, which Wenger has delivered. Crashing out of the competition not only denies Arsenal a lucrative revenue stream but also makes it more difficult to attract the type of player Wenger desires to maintain Arsenal's style of play.
Wenger's adherence to his principles has earned him admiration, scorn and sometimes ridicule. His faith in his philosophy can appear at times messianic and delusional, but he's been vindicated time and again.
Principles can be intractable; so too can expectations. Arsenal fans have come to expect Champion's League qualification and a certain style of play. They also want to contend for trophies. Pretty passing doesn't win barroom arguments and balanced budget sheets don't look as good in a trophy case as trophies. Arsenal needs to exhibit a statement of intent, beginning with Wednesday's match against Udinese and continuing through the final week of the transfer window.
Does Arsene know this? For Arsenal's sake, he better.