Commentary
Brazil, FIFA fight over 2014 World Cup
Updated:
October 4, 2011, 10:14 AM ET
By
Tim Vickery
| Special to ESPN.com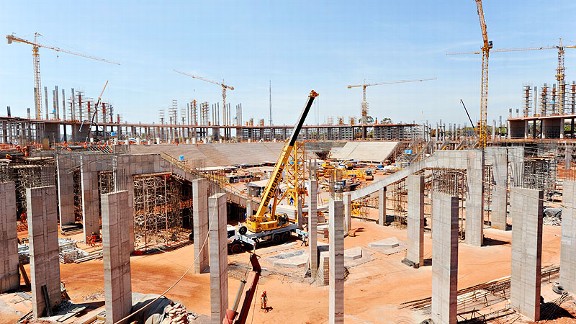 Evaristo Sa/AFP/Getty ImagesBrazil finds itself playing a bit of catch-up -- including stadium construction and renovation -- as the country prepares to host the 2014 World Cup.
RIO DE JANEIRO -- With fewer than a thousand days to go before Brazil 2014, the 20th World Cup, there is a standoff between two heavyweights -- Dilma Rousseff and Sepp Blatter, the presidents, respectively, of Brazil and FIFA.
At the heart of the dispute are the problems of staging the World Cup in a developing economy. For FIFA, the World Cup is low-risk -- it makes its money from the sale of TV rights. Meanwhile, it makes all sorts of demands on the host nation, and in a country such as Brazil there are many competing claims on the public purse.
If there is one country in the developing world with the leverage to stand up to FIFA it is Brazil, five times world champion and globally synonymous with the glamour of the game. Rousseff appears keen to use some of that leverage. FIFA has been anxiously waiting for Brazil to pass a law bringing into effect a legislative framework for 2014. Brazil has been in no hurry, and is unwilling to give FIFA all it wants; Brazilian law, for example, decrees that senior citizens should pay half-price for public events. Some of the country's 27 states extend the same right to students. FIFA wants no discounts. Brazil does not want to bend on this or on other points of conflict, such as the sale of alcoholic drinks inside the stadiums (banned in some states) or the punishment for those selling pirated merchandise (FIFA wants tougher penalties).
Rousseff is digging in her heels on the issue of sovereignty because the Brazilian state has already been forced into an uncomfortable position on preparation for the tournament. In theory, there was plenty of time for planning. In practice, it was wasted.
It was clear as far back as March 2003 that Brazil would be staging the 2014 World Cup. Blatter announced that under the (short-lived, as it turned out) rotation principle, 2014 would go to South America. CONMEBOL, the continent's football confederation, quickly announced that Brazil was its only candidate. So when Brazil was officially announced in October 2007, it was mere ratification. At this point, Brazil should have had its plans in place. Instead, it had not even named its host cities. Nor would it.
[+] Enlarge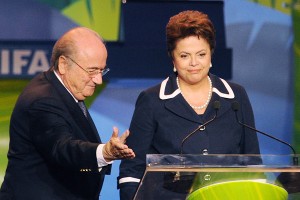 Antonio Scorza/AFP/Getty ImagesWhen it comes to the 2014 World Cup, FIFA's Sepp Blatter and Brazil's president, Dilma Rousseff, don't see eye-to-eye.
To understand why, you only have to take a closer look at the controversial Ricardo Teixeira, who has been president of Brazilian football's governing body, the CBF, since 1989. He also presides over the 2014 Local Organising Committee, an uncommon accumulation of powers. But he did not want to take the political heat for excluding cities from the party, so, unusually, the decision was passed to FIFA. Its choices were announced at the end of May 2009. Years had been needlessly thrown away. It is hard to escape the conclusion that Rouseff's predecessor, the charismatic President Luiz Inacio Lula da Silva, should take some of the blame. Once a critic of Teixeira, Lula became an ally, his efforts at playing the global statesman bolstered by a friendship with the effective owner of the Brazil national team. Not enough pressure was placed on Teixeira to name the host cities and speed up the planning process. From this point, the 2014 World Cup carried two certainties -- that it would cost the hard-pressed Brazilian taxpayer more than it should, while providing less than it should in return.
Costs spiraled, and the government had to pick up the bill. Teixeira's sales pitch had been that the money for stadiums would all be private. In the event, it is nearly all public. And it is hard to see how some of the stadiums, especially those in Cuiaba and Manaus, will be viable once the circus has left town.
With public money being thrown at stadiums and also at airport capacity -- the Achilles' heel of the 2014 World Cup -- a scale-back is already taking place on urban mobility projects, the area from which Brazilian society could most benefit from hosting the event.
But what of the tourist who flies in to enjoy the party? Brazil's crime rate makes security a legitimate concern. The country has a good track record of providing security for major events, though the nationwide scope of the World Cup will be an extra challenge. Expense is also a consideration. Brazil's currency, the real, has gained enormously in strength over the past few years. Sao Paulo and Rio de Janeiro were recently named as the 10th and 12th most expensive cities in the world. There might be a change by 2014 -- the exchange rate is making it difficult for Brazil to export manufactured goods -- but sound advice to potential 2014 fans would be to start saving up early.
It might also be necessary to bring a variety of clothes. This is another winter World Cup, but in a country the size of a continent where the season only really bites in the south. Temperatures in Porto Alegre and Curitiba could even be around freezing. Farther north, there are plenty of venues hitting above 85 degrees Fahrenheit.
Such vast temperature differences between host cities could well prove controversial. Those teams based in the south for their group games are likely to feel at a disadvantage if they have to move to the much hotter north for a knockout match. Amid all the fuss about human failings, it could be that the most criticized aspect of the 2014 World Cup is one laid on by Mother Nature.
Tim Vickery is an English football journalist who has lived in Brazil since 1994 and specializes in South American football.
Tim Vickery
South America correspondent