Commentary
Is the tide turning for U.S. soccer?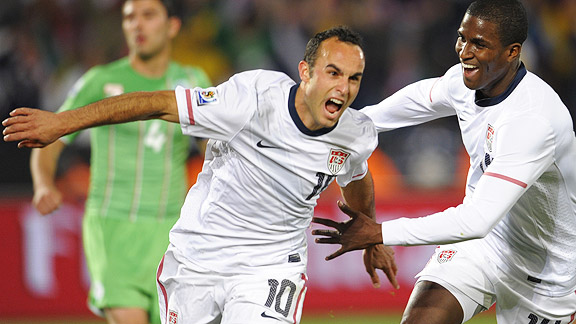 Timothy A. Clary/AFP/Getty ImagesLandon Donovan's goals have resonated in the U.S. for more than the obvious reason.
JOHANNESBURG -- When U.S. midfielder Landon Donovan scored his dramatic stoppage-time winner against Algeria, a goal that clinched the Americans' passage into the second round of the World Cup, it sparked raucous celebrations all over the country.
But amid the numerous YouTube videos of euphoric fans engaging in giant group hugs, the inevitable question arose: Will the team's performance push soccer into becoming a major force in the U.S., or will it sink back into its niche status until the next World Cup comes around?
That the U.S. team's exploits were a major stepping stone in the growth of soccer was evident beyond the YouTube tributes. The Americans' subsequent second-round matchup against Ghana drew a combined English and Spanish language television audience of 19.4 million people. Not only was that a record for a soccer game in the U.S., it was bigger than the average audience for a game in last month's NBA Finals.
"This World Cup has totally broken through, where our national team sort of became America's team," said Don Garber, the commissioner of Major League Soccer. "It's resonated more than the interest that Americans have with a great individual swimmer like Michael Phelps or a great skier like Lindsey Vonn. This is America's team and almost 20 million people got behind that team."
In many respects, the U.S. side was an easy team to like. The makeup of the squad was more ethnically diverse than previous incarnations, debunking the stereotype that soccer is a sport only for white suburbanites. On the field, the U.S. won its World Cup group for the first time in 80 years, delivering stirring comebacks in the process.
"This was a quintessentially American team," said Garth Lagerwey, the general manager of current MLS champion Real Salt Lake. "There's nothing more American than scrapping and fighting and clawing your way and rallying and never giving up. Those are qualities that lots of people can identify with."
Of course, the reality is that the passion for soccer has been germinating in the U.S. for a while. There are three television channels dedicated to soccer. MLS has been growing at an impressive rate and is set to expand to 19 teams in 2012. Exhibitions by foreign clubs continue to draw big crowds. When the World Cup hit with its drama, passion and controversy, it all amounted to something of a perfect soccer storm. As Garber put it, "All of those things came together to create excitement that was just unprecedented."
Yet ask any high-level soccer executive if the U.S. performance amounted to a tipping point of sorts for the sport, and an air of caution immediately enters the conversation. For all the flag waving that took place during the World Cup, the task of growing soccer in the U.S. remains what it always has been: a long, hard slog in crowded sports marketplace.
"I have long since given up on finding one single moment, or one single answer," said Kevin Payne, CEO of MLS side D.C. United. "This is a long process, becoming a world-class soccer nation. And the steps you take now in some ways become less dramatic. Now it becomes incremental and in some ways probably harder to move up to the next level of where we'd like to be."
A look at American soccer history shows numerous turning points. Hosting the1994 World Cup raised the interest level considerably, and the profits generated helped launch MLS in 1996. This foundation helped the national team by vastly increasing the pool of potential players, and in 2002 the team enjoyed its best World Cup performance in the modern era, reaching the quarterfinals courtesy of a memorable second-round win over bitter rival Mexico. In between there was the advent of the women's game along with national team's Olympic and World Cup triumphs.
That doesn't mean MLS and the U.S. Soccer Federation won't try to squeeze every last ounce of growth from the buzz that has been generated. There haven't been many times when the U.S. men's team has created positive World Cup memories, and the game's leaders recognize how rare an opportunity this is.
"Don't expect sold-out stadiums [a month] from now, but I think we're going to have a much bigger affect than we might have, say, coming out of an Olympics, I think we're going to see some uptick," said USSF president Sunil Gulati. "Part of that will be red, white and blue, but part of that will be the sport, and the sport part is what we've got to capture. We can't do anything about the nationalism. But I think we'll get some powerful effects."
In a bid to keep the national team in the public eye, the USSF has scheduled a high-profile friendly against Brazil on Aug. 10.
In MLS, French striker Thierry Henry is reportedly on his way to the New York Red Bulls, and Garber indicated that the league is poised to sign several more international stars. MLS will also try to maximize the presence of American World Cup players plying their trade stateside, with Donovan remaining the face of the league. Then there is the follow-up from the promotional programs that various MLS teams engaged in during the tournament.
"Harnessing that momentum on a week-to-week basis is obviously something we're very focused on," said Garber. "But it is more of a long-term project as opposed to something that we're expecting an immediate bump from."
Among the long-term objectives is improving the country's player development program. The USSF has formed what it calls the Development Academy, a national youth league composed of 77 clubs fielding teams at the U-16 and U-18 age levels. Every MLS club is participating as well, allowing youth players to graduate into the professional ranks. Former U.S. international Claudio Reyna was recently put in charge of a project to revamp the youth system at younger age levels with an emphasis on coaching education.
All of these initiatives are aimed at addressing what for Garber is the considerable challenge of making the level of play and the level of pay high enough to keep the best American players at home.
"I do believe that when we've reached that tipping point, whenever that tipping point is, it will be because most if not all of the top American players will be playing in MLS," said Garber. "And the only ones that won't be will be Messi-like superstars who are with super-clubs like FC Barcelona, Manchester United and Real Madrid."
In the meantime, the challenge of growing soccer in the U.S. continues. It's a task in which considerable progress has been made, but there are no shortcuts.
"I've never viewed [growth] as inevitable," said Gulati. "Not when Pele said it, not when David Beckham showed up, not when we hosted the World Cup. It's a long plan."
Garber added, "The water is rising, and we're a boat on that rising tide. We just need to be sure that we can connect the dots between all those other boats that are on the scene; people that care about the World Cup, people that care about the U.S. team, people that are excited about teams from their home country."
If that happens, then perhaps more U.S. World Cup celebrations will be in the offing.
Jeff Carlisle covers MLS and the U.S. national team for ESPNsoccernet. He is also the author of "Soccer's Most Wanted II: The Top 10 Book of More Glorious Goals, Superb Saves and Fantastic Free-Kicks." He can be reached at eljefe1@yahoo.com.
Soccer
Jeff Carlisle covers MLS and the U.S. national team for ESPN FC.