Commentary
5 reasons to watch MLS All-Star Game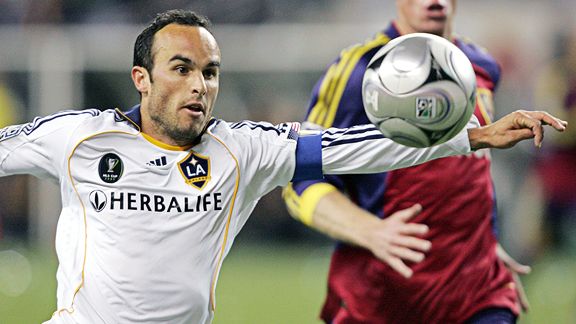 Scott Bales/YCJ/Icon SMILandon Donovan and MLS All-Stars will have something to prove against Manchester United.
HOUSTON -- There have been times when MLS All-Star Games have held about as much intrigue as a grass-growing contest. No disrespect to past opponents Fulham, Everton and Celtic, but those sides didn't exactly raise the collective pulse of the American soccer public.
Not so this year, as none other than English Premier League powerhouse Manchester United will provide the opposition for the cream of this year's MLS crop. Of course, the impulse is to think that United will wipe the floor with the All-Stars. But MLS has historically done very well against international opposition, and four years ago the All-Stars surprised powerhouse Chelsea, 1-0.
In other words, manager Sir Alex Ferguson's players might not have it so easy after all.
Here are some other reasons Wednesday's match will be worth watching.
1. Manchester United's quality
Granted, United will be without World Cup participants Wayne Rooney, Nemanja Vidic, Patrice Evra and Park Ji-Sung, who are all getting some much-needed R&R. And defender Rio Ferdinand is out with an injury. But United still will have plenty of quality players on display. Ryan Giggs, Paul Scholes and Nani -- who would have played for Portugal at the World Cup had he not been injured -- will all be available, as will up-and-coming talents like Danny Welbeck, Gabriel Obertan and Federico Macheda.
And the fact that United fell to the Kansas City Wizards 2-1 on Sunday should give the Red Devils an extra nudge of motivation.
2. The All-Stars have something to prove
Clearly, Wednesday's match comes with plenty of disclaimers. The All-Stars are in midseason form, while United is in preseason mode. As such, building fitness and avoiding injury will be highest on Ferguson's list of priorities.
That said, the opportunity to play a team of United's caliber is rare, especially when you consider that many of these MLS players will never come within sniffing distance of a World Cup. So the MLS All-Stars will be keen to make a good impression.
"It's a game where we're representing MLS and our club," said Real Salt Lake goalkeeper Nick Rimando. "We want to put MLS on the map, so we want to come out and beat these teams. I think that's where the competitive nature comes off with being an American and being an American league where we want to win every game."
Transatlantic showdowns
This year's All-Star Game between the best of MLS and Manchester United marks the sixth consecutive year in which a European club has ventured across the pond for the festivities. Here's a look back at the matches with some of the world's top squads:
July 30, 2005: MLS All-Stars vs. Fulham (Columbus Crew Stadium -- Columbus, Ohio)
After entering the break knotted at 1, MLS surged with a trio of second-half goals, including two in a four-minute span by former Columbus Crew forward Jeff Cunningham. Fulham's only tally came in the 36th minute on a penalty kick from Claus Jensen. The 4-1 MLS win also marked the return of U.S. star Brian McBride, who signed on with Fulham after eight years with the Crew.
Aug. 5, 2006: MLS All-Stars vs. Chelsea (Toyota Park -- Bridgeview, Ill.)
A depleted MLS squad was without Clint Dempsey, Landon Donovan and Eddie Pope, among others, but battled through 70 minutes of scoreless soccer before the Houston Dynamo's Dwayne De Rosario struck home the winner off a Ronnie O'Brien pass. The All-Stars held off the Premier League squad for a 1-0 victory, perhaps one of the biggest moments in MLS history.
July 19, 2007: MLS All-Stars vs. Celtic FC (Dick's Sporting Goods Park -- Commerce City, Colo.)
The first and only Scottish team to take on the MLS All-Stars, Celtic was fresh off a Scottish Cup championship and an appearance in the UEFA Champions League. The sold-out crowd at the Colorado Rapids' new home was treated to a 2-0 MLS win behind goals from Juan Carlos Toja and Juan Pablo Angel, two first-time All-Stars.
July 24, 2008: MLS All-Stars vs. West Ham United (BMO Field -- Toronto)
It was an international party at BMO Field for MLS, which received all three of its goals from foreign players: Christian Gomez (Argentina), Cuauhtemoc Blanco (Mexico) and De Rosario (Canada). England's David Beckham also started for MLS, which won 3-2 despite a pair of goals from West Ham forward Dean Ashton.
July 29, 2009: MLS All-Stars vs. Everton (Rio Tinto Stadium -- Sandy, Utah)
Everton finally accomplished what no other foreign team could do before: beat the pesky MLS. But the club needed an American to help do it. Tim Howard, playing for Everton, saved three shots in penalty kicks after regulation ended in a 1-1 draw, dealing MLS its first loss in six games against overseas competition.
--Alex Prewitt
3. The possible debut of Chicharito
One of United's biggest offseason signings was Mexican international forward Javier Hernandez, who scored twice for El Tri at the World Cup. "El Chicharito" (otherwise known as "The Little Pea") will train with his new teammates for the first time on Tuesday, and the hope is that he'll at least make a cameo in the All-Star Game. Given Hernandez's skyrocketing popularity in the Mexican community -- fans started lining up at 7 a.m. on Sunday for an autograph session in Houston -- you can expect that he'll get a rousing ovation come Wednesday. Yet Ferguson wants to make sure his young charge is ready.
"We'd like to use him part of the game," Ferguson said. "We're trying to integrate him into the team as quickly as possible. … But we want to have a chat with him to see what he's been doing physically, because I don't think it would be wise to play him without any physical preparation."
4. You can keep feeding your EPL addiction
For those North American fans whose club focus begins and ends with the English Premier League, July has been a special month, as there has been no shortage of EPL teams playing games in North America. In addition to United, Manchester City, Bolton Wanderers and Tottenham Hotspur have all played matches, and Wednesday represents yet another opportunity to feed your obsession.
5. Which All-Stars will shine?
For those fans who follow the domestic game as well, the thought of which MLS players will stand out is a major reason to tune in. Will Shalrie Joseph battle the likes of Scholes to a standstill? Will Edson Buddle give defender Chris Smalling all he can handle? There is also the benefit of knowing that a good performance by an MLS player could see him catch the eye of a foreign club.
"I think this game is very important for some players," Columbus attacker Guillermo Barros Schelotto said. "Maybe not for me, because I am 37 years old. But somebody can show something different for Manchester United or for somebody who is watching the game. For that, it is very important."
All-Star news and notes:
• In past tours, Manchester United has normally squared off against European opposition. But this summer's edition has seen the Red Devils face MLS sides Philadelphia and Kansas City as well as the All-Stars. Ferguson indicated that there was a simple reason for the change in approach.
"The progress is obvious," Ferguson said of MLS. "We've realized that in the game against Philadelphia and in [Sunday's] match against Kansas City. There is a massive improvement in the organizational [side], and the standard of play has certainly improved."
• With both the Los Angeles Galaxy and Toronto FC occupied by CONCACAF Champions League commitments on Tuesday, the roster flexibility of All-Star manager Bruce Arena has been compromised. Arena's roster choices could impact the race for the Supporters' Shield. Real Salt Lake manager Jason Kreis expressed concern earlier this week that the reduced numbers could mean that Real players Jamison Olave and Javier Morales will be forced to play the full 90 minutes in Houston just three days before a league match at D.C. United.
But All-Star assistant coach Dominic Kinnear insisted that Arena will do right by the players involved.
"It's a delicate thing [Arena] has to handle," Kinnear said. "He's been on the other side of it as well, so I think he'll be very careful with what he does with his players, but I think he'll be careful with the other players as well."
• Nothing haunts a manager in preseason like the prospect of injury, and already Ferguson is concerned about the state of midfielder Darren Fletcher and defender John O'Shea, who are both nursing unspecified ailments. Given that the Red Devils are facing a team with something to prove, Ferguson might be concerned that the game will be too aggressive and heighten the risk for further injury.
But Kinnear insists that the Red Devils have nothing to worry about.
"I don't think the tackles have ever been over-the-top," Kinnear said of All-Star Games past. "I think the intensity level has always been high, and I think there has been a matching amount of respect on both sides of the ball."
• Count Ferguson among U.S. manager Bob Bradley's legion of fans. When asked how he thought Bradley might do in charge of an EPL side -- Bradley has been linked with the vacancy at Fulham -- Ferguson said, "I like Bob, I like his approach. He's got a steely determination about him, and he's got a lot of detail in his coaching. He did a fantastic job. I am surprised that the [U.S. Soccer Federation] have not sprinted to his house and get him to sign a new contract."
As for the Fulham job itself, Ferguson added, "I don't think it's beyond his boundaries at all. I think he's very capable to take on a challenge like that."
Jeff Carlisle covers MLS and the U.S. national team for ESPNsoccernet. He is also the author of "Soccer's Most Wanted II: The Top 10 Book of More Glorious Goals, Superb Saves and Fantastic Free-Kicks." He can be reached at eljefe1@yahoo.com.
U.S. soccer correspondent
Jeff Carlisle covers MLS and the U.S. national team for ESPN FC.