Commentary
Will Andy Najar play for the U.S.?
Updated:
August 4, 2010, 3:25 PM ET
By
Brent Latham
| Special to ESPN.com
For American fans hoping to see D.C. United midfielder Andy Najar wearing the red, white and blue sometime soon, the player's representative has some bad news. But don't celebrate just yet, Honduran fans -- Najar has got some news for you, too.
Information about Najar has been somewhat hard to come by since the midfielder was handed a professional contract with MLS at the onset of the 2010 season. Those in the know have preferred to keep quiet about the background of the17-year-old, even as the young Honduran established himself as one of the few bright spots in an otherwise unremarkable campaign for the last-place United.
[+] Enlarge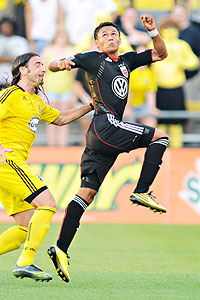 Jamie Sabau/Getty ImagesNajar has yet to commit his international future to Honduras.
That combination of on-the-field attention and off-the-field mystery has come to a head in recent weeks. Amid rumors of a pending stint with Arsenal, Najar's refusal to commit his international future to Honduras has raised concern in his native country. American fans have also been given reason to hope that the gifted midfielder might be considering representing the U.S.
But Najar's agent, Chris Megaloudis, who has worked with the player since the Honduran joined the youth ranks in D.C., said that while Najar is yet to make a choice on the international level, he definitely won't be suiting up for the U.S. anytime soon.
"Something that's been overlooked in all this -- Andy Najar is not an American citizen," Megaloudis said in a phone interview. "He is a Honduran citizen. He grew up watching the Honduran national team. If you ask him who his favorite player is, he'll probably tell you Wilson Palacios."
Najar is still years away from American citizenship, rendering speculation that he could soon represent the U.S. largely baseless. Megaloudis confirmed that Najar obtained his green card before signing for D.C., which made him a permanent resident. Though the agent refused to give specific details about the timing, Megaloudis suggested that Najar is much closer to the beginning of the extended citizenship process than a culmination -- and therefore eligibility for selection by the U.S.
While some countries have mechanisms for fast-tracking citizenship, the U.S. has only a single track to citizenship for resident foreigners. The standard process requires a green card-holder to wait approximately five years to apply for citizenship, which can then take several additional months, or more, to obtain.
"He had to have a green card to sign with D.C. United," Megaloudis said. "So he's less than five years away."
HOPE FOR U.S. NATIONAL TEAM?
There is still some hope for U.S. fans, though, derived from the same circumstances that are causing dismay in Honduras. Najar was reportedly included in a recent list of call-ups for a Honduran under-20 national team camp. But he has said he will turn down any international calls to focus on D.C. United. Najar went a step further by refusing to commit his international future to Honduras.
Echoing that stand, Megaloudis refused to rule out the possibility that Najar could one day play for the U.S. He said as long as Najar puts off his own personal version of "The Decision," he will be keeping his international options open.
"He's not ready to decide," Megaloudis said. Though recent FIFA rule changes allow switches of national allegiance under certain circumstances, playing in an official match with a Honduran youth team before obtaining U.S. citizenship would permanently bind Najar. But Megaloudis said that's not the main issue stopping Najar from accepting the Catrachos' invitation.
"He's not ready to play at the under-20 level because he wants to focus on his club career," Megaloudis said. "He doesn't want to play internationally right now. He needs to get a club season under his belt and then we'll sit down and talk about it. When he makes the decision that he's ready to play internationally, it may be for the Olympic team or at the full level. He'll make the choice at that time given the possibilities."
Such declarations haven't been nearly enough to satisfy folks in Honduras. Megaloudis described a media circus surrounding his young client, as Honduran newspapers and television continue to pursue Najar and his family in bids to extract clues about his story and international allegiance. A team of Honduran reporters and a cameraman were in D.C. in recent weeks to document the player's life.
"All this pressure from the Honduran media is not helping matters. Andy feels he's not ready to play at the international level," Megaloudis said. "Is he ready to contribute at the under-20s? Definitely. But he has too many things going on in his life right now, with DC United. He's also completing his studies. DC United was very insistent on that when they signed him out of high school."
In an interview with a Honduran newspaper last week, Najar revealed some details of his journey to the U.S. as an undocumented migrant. He refused once again to commit to Honduras, despite admitting that "his heart is telling him to join the Catrachos." But all the media attention, along with the rumors that Najar would be headed to Arsenal for a trial during the MLS offseason, has caused excitement in Honduras.
Megaloudis said that, as with stories of Najar choosing the U.S., there's little basis for the Arsenal rumor. "There's been no contact from a club like Arsenal," he said. "The idea of a trial is one of those things that got out in the Honduran media and got taken out of context. He'll be somewhere in Europe after the season, but there are still four or five months left and it's his first professional season. He may decide he needs to rest instead."
Any permanent move abroad would further dampen the chances of Najar lining up for the United States. To become an American citizen, he must meet physical presence tests for time spent in the U.S. during the five year residence period.
Nevertheless, Megaloudis said Najar will do what's best for his professional future. Unfortunately for Hondurans, a quick decision on his international allegiance doesn't seem to be part of the plan.
Brent Latham covers soccer for ESPN.com. He previously covered sports throughout Africa for Voice of America radio and now works as a soccer commentator for a national television station in Guatemala. He can be reached at brentlatham@ymail.com.
ESPN Insider
Brent Latham is a soccer commentator who covers the youth national teams for ESPN.com. Based in Guatemala, he has attended youth World Cups from Peru to Egypt, and places in between.