Commentary
MLS can't have it both ways
At halftime of last week's MLS All-Star game, commissioner Don Garber stated how important it was for an MLS club to win the CONCACAF Champions League. Earlier in the week, MLS' Board of Governors began discussions about going to a 34-game schedule next season. Given the historical performances of MLS teams in the CCL, it's difficult to see how Garber can have it both ways.
Okay, so MLS regained a smidgen of credibility on Tuesday when Seattle and Toronto survived tricky road encounters to qualify for the group stages of the CCL. If L.A. can catch a miracle in Puerto Rico -- a gargantuan "if" considering the Galaxy trail 4-1 on aggregate to the Islanders -- MLS could see five teams reach the group stage, since Real Salt Lake and Columbus automatically qualified.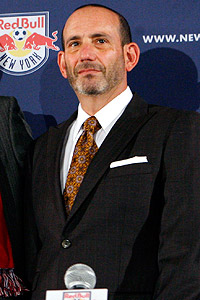 AP Photo/Mel EvansMLS commissioner Don Garber says it's important for an MLS club to win the CONCACAF Champions League. But will he make the scheduling changes to help the cause.
But in the past, MLS teams have performed poorly in CONCACAF's club championship regardless of the name or format. The only times an MLS club prevailed in the CONCACAF Champions Cup -- the precursor to the CCL -- have been when the entire tournament was held on U.S. soil. When forced to slog through a group stage or a two-legged affair, MLS clubs have only made it as far as the semifinals.
The reasons for this are legion. The tournament's knockout stages take place during MLS preseason, when teams are well short of top form. And the group stage happens in late summer/early fall, a critical and congested time of year. So if Garber is to be taken at his word, going to a 34-game schedule isn't exactly greasing the skids for the league's CCL participants.
"It's going to be hard," said Houston Dynamo manager, Dominic Kinnear, of the proposed schedule change. "If you play in international competition, you could be playing 40-plus games in a season, and that doesn't include U.S. Open Cup and playoffs."
On the one hand, going to a 34-game schedule makes sense. With Portland and Vancouver joining the league next year, an expanded setup will allow each team to have a balanced schedule, competing in home and away matches against every other club.
On the other hand, if MLS wants its teams to perform well in the CCL, the league needs to do something to give those clubs some help to combat the inevitable congestion that will take place. In Houston, Garber talked vaguely of expanding roster sizes, but without an accompanying increase in the salary cap, this is an empty promise since those additional spots will likely be used for low-wage players who wouldn't -- or at least shouldn't -- see the field in what is supposed to be the continent's premier club competition.
Another solution is for the teams involved in CCL to scrap the friendlies that take place against European clubs every summer. This would free up more dates on the calendar and allow players to get more rest. Unfortunately, this "solution" is more complicated than it sounds. Not only are the summer friendlies a valuable source of revenue for clubs in the short term, but they provide MLS teams with a valuable marketing opportunity to attract new fans.
Are the Galaxy really supposed to turn down the chance to play Real Madrid in front of 90,000 or so fans at the Rose Bowl? Didn't think so.
One alternative is for the league to be more proactive in terms of the CCL participants' schedules. Garber hinted that the league "needed to work with CONCACAF" to avoid a fixture pileup, but it would appear that there is plenty MLS could do on its own.
For years, the league has told everyone who would listen about how much of a headache it is to put the schedule together. No doubt, there are some challenges. But with 10 of the league's 16 teams now playing in soccer-centric venues -- and with D.C. United the primary tenant in its admittedly antiquated stadium -- those obstacles have diminished. If the league can shutdown for two weeks during the World Cup, it should have sufficient flexibility to give participating teams more bye weeks when CCL games are going on. (Of the four teams that have already qualified, Real Salt Lake, Toronto, and Seattle each have a single bye week the rest of the season. Columbus has no bye weeks during this time.)
That would likely result in more midweek games earlier in the year, when inclement weather can smother attendances. But it would also give CCL teams the chance to get some valuable rest ahead of these fixtures, which would allow managers the opportunity to put their best lineup out on the field.
This would also go a long way in helping Garber and the MLS get what they ultimately want -- an MLS club hoisting the CCL trophy.
NEWS AND NOTES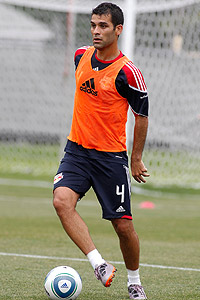 Mike Stobe/New York Red Bulls/Getty ImagesNew York Red Bulls head coach, Hans Backe, wants Rafael Marquez to play in midfield.
Marquez the midfielder: From the moment that Rafa Marquez was confirmed to be coming to the New York Red Bulls, the immediate question was: Where will he play? At Marquez's unveiling on Tuesday, Red Bulls head coach Hans Backe made it clear that the Mexican international's future, at least for now, will be in midfield.
"[Marquez] is the guy that can control and dictate the game from a center position," Backe said at Tuesday's press conference. "He wants the ball all the time. He used to play there and his distribution with short passes, long passes will help us enormously."
The biggest beneficiaries of Marquez's arrival should be strikers Juan Pablo Angel and Thierry Henry. When Henry arrived two weeks ago, his budding partnership with Angel was believed to comprise the most lethal strike force in MLS. But such talk ignored the not-so-small matter of who could be counted on to get them the ball in dangerous spots. Putting Marquez in the center of midfield alongside Joel Lindpere should solve that problem.
The news will no doubt be something of a disappointment to fans of the U.S. national team, who hoped that slotting Marquez into the center of defense would allow him to mentor young center back Tim Ream. But Marquez should still have plenty of opportunities to take Ream under his wing, and his acquisition will likely have a huge bearing on New York's bid to win the MLS Cup.
Bravo, not yet MLS-bound: One Designated Player deal that was supposed to be all but done was Kansas City's acquisition of Mexican international forward Omar Bravo. Even the official web site of Bravo's thought-to-be-former club, Chivas de Guadalajara, trumpeted the move. Yet on Tuesday the Mexican side backtracked, stating that Bravo would remain with them for another six months. Kansas City head coach Peter Vermes didn't deny his side's interest in Bravo, but said Chivas' announcement had been premature.
"We're still working through a bunch of stuff," Vermes said with regard to Bravo's possible acquisition. "Has there been talk? Yes, but it's nothing concrete."
One MLS coach, who asked not to be identified, said that Bravo had been sniffing around other MLS teams besides the Wizards, meaning the Mexican striker's ultimate destination is still up in the air.
Farewell Cletus: Los Angeles Galaxy attacker Clint Mathis announced on Tuesday that this weekend's match against Real Madrid will be his last. Given his persistent knee issues, Mathis' announcement wasn't a surprise, but for a performer who was once perhaps the most feared player in MLS, it's still a sad day.
To watch Mathis in 2000 and in the early weeks of 2001 was to witness some absolutely jaw-dropping performances. I'll never forget Mathis' swashbuckling goal against Dallas in 2001, which won him the league's Goal of the Year. It began with him embarking on a solo run inside his own half, and ended with a rasping shot from just within the box. Alas, he tore his ACL not long afterward, and while he scored a memorable goal for the U.S. against South Korea in the 2002 World Cup, he was never the same after that injury.
He proceeded to bounce around several clubs in Europe and MLS, and never rose above bit-part status. But even in his later years, Mathis was a player who you didn't dare take your eyes off of when he got the ball. There haven't been too many American performers you could say that about.
Mathis will be missed.
Jeff Carlisle covers MLS and the U.S. national team for ESPNsoccernet. He is also the author of "Soccer's Most Wanted II: The Top 10 Book of More Glorious Goals, Superb Saves and Fantastic Free-Kicks." He can be reached at eljefe1@yahoo.com.
Soccer
Jeff Carlisle covers MLS and the U.S. national team for ESPN FC.