Commentary
Tobin Heath eyes return to the Beat
Updated:
August 9, 2010, 9:37 AM ET
By
Jacqueline Purdy
| ESPN.com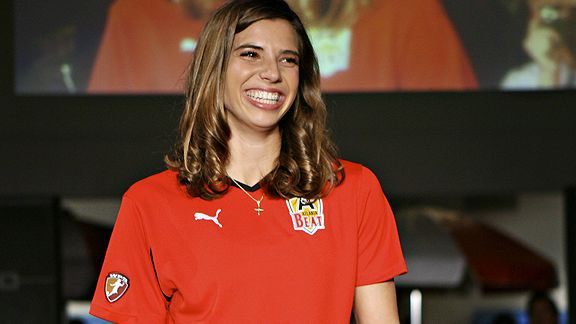 AP Photo/Mark StehleTobin Heath was all smiles before an ankle injury ended her season.
When the Atlanta Beat selected Tobin Heath with the No. 1 pick in the 2010 Women's Professional Soccer draft earlier this year, expectations for the expansion franchise were high. Heath was supposed to lead the team's midfield, but she suffered ligament damage to her right ankle in just her third WPS game and is out for the 2010 season. Before her injury, the 22-year-old former UNC midfielder was also breaking her way into the U.S. women's national team, and turned in one of the top highlights of 2009 with her double-nutmeg effort in a win over Canada.
The Beat struggled at the start of their first season, but have lately turned in good results, going 3-2-1 in their last 6 games. With 17 points, Atlanta is in last place in the seven-team league, but the standings are tight and a playoff spot is still within reach.
ESPN.com caught up with Heath recently to talk about her ankle and Atlanta's recent hot streak.
ESPN.com: How is your ankle?
Tobin Heath: Everything, the doctors say, is going according to the plans. I'm about eight weeks out of surgery and I just got my boot off, which is really exciting. So now I can start walking and it's nice to see some progress, because being casted for six weeks you can't really do much. Now I'm able to kind of get into my rehab and start really pushing it -- which is exciting for me, but it's not the same as being on the field.
ESPN.com: What are the next steps?
Heath: The next step is to start running and they [the doctors] say that I should be able to "run run" by the end of September, which is cool.
ESPN.com: What were your impressions of WPS in your three games?
Heath: Unfortunately, my rookie season didn't turn out as I would've hoped. But just being a part of it for a few games and getting an opportunity to watch and be a part of a team, even though I'm not playing, showed me a lot about WPS. It's definitely the best league in the world. It's so consistent. All the games are really tough, no matter who your opponent is. The best players are playing here as well. It's been enjoyable to be a fan of it, and also to be able to root for the team I'm on. I'm really pleased with WPS and the quality of players and the teams.
ESPN.com: What do you think of your team's recent turnaround?
Heath: We had a good stretch going for awhile. We were on a three-game winning streak and then we tied FC Gold Pride, who's No. 1 in the league right now. It's a really good thing for us, especially towards the end of the season. This is really the time that you want to peak. We're not giving up on playoff hopes. I know that each game is critical for us right now to be able to make the playoffs. A lot of other teams are in the same situation. It's kind of up to us right now. We have to turn it on all the way right now if we hope to play in the postseason. It's exciting because every game is really intense.
ESPN.com: Have you been at all of Atlanta's home games?
Heath: I've been at all the home games and I actually sometimes travel depending on what city it is. I've been trying to support the team as much as I can. Just let them know I'm there and [offer] encouragement for the sidelines. Any help, anything the players need, I'm always there for them. It's been a different role, but I've kind of embraced it.
ESPN.com: How hard is it to watch and not play?
Heath: It's really hard. It's really, really hard. I have to mentally prepare myself before the games. Kind of just relax and be like "It's out of your control right now. So, you might as well just make the most of what you've got right now." It's been really difficult, but I'm learning a lot from it, and I think it's going to make me have a huge fire lit under me when I do come back.
ESPN.com: What was it like when the Saint Louis players came in and how is it going for the team now? (After Saint Louis Athletica folded in May, Atlanta signed Hope Solo, Eniola Aluko, Lori Chalupny, Tina Ellertson, Aya Miyama and Carolyn Blank as free agents.)
Heath: It was a great addition for us. Obviously, it was unfortunate that Saint Louis folded, but for us as a team, getting the personnel that we did and the talent that we did, was obviously superb. It took us, I think, a few games to be able to mesh that with what we already had. So, at the beginning, it was a little rocky, but now I think we're starting to come together to form that perfect team.
ESPN.com: Have you been talking to U.S. women's national team coach, Pia Sundhage, at all while you're out? Do you know what your status is on the national team?
Heath: Pia was just extremely supportive of me. She basically said for me to do whatever I can for me to get back out on the field so that hopefully I can be a part of the roster for the World Cup. That's my goal right now -- getting healthy and back to the quality of play I was at right before I got hurt. Even better, actually.
News & Notes:
What's up with Lori Chalupny?
One of the biggest mysteries of 2010 has been midfielder Lori Chalupny's absence from the U.S. women's national team. After taking a break from soccer earlier this year with what was at the time said to be concussion-related issues, Chalupny has been back on the field in WPS. But she has yet to return to the national team, which she captained in 2009 while Christie Rampone was on maternity leave.
Chalupny began this season with Saint Louis Athletica, but signed with the Beat after the Athletica folded in May. After Wednesday night's 2-0 loss to the Boston Breakers, Chalupny confirmed reports that her headaches were said to be sinus-related.
"We think that they were," Chalupny said. "I've been feeling really good since then. It was back in, shoot, like March, that I was going through all that, but I've been symptom free and everything with my head is good."
Despite the diagnosis, U.S. Soccer has said that Chalupny has not been cleared to play for the national team by its doctors.
"I have [seen the U.S. Soccer doctors]," Chalupny said. "Just waiting to get clearance from them, but all the doctors in the WPS, from Saint Louis and now Atlanta, and some other neurologists as well have all cleared me."
Chalupny said she didn't know when she might receive the go-ahead.
"I really don't. I'm just kind of waiting to hear from them, I guess. Just doing my part and trying to play well, and hopefully I'll get the call."
Jacqueline Purdy covers women's soccer for ESPN.com. She also is an editor for ESPNRadio.com. You can reach her at twitter.com/jacquelinepurdy.