Commentary
For U.S. team, time to rebuild
EAST RUTHERFORD, N.J. -- The U.S. soccer team will start its four-year quest for worldwide respect anew with a friendly match against Brazil on Tuesday night.
The game is seen by many as a de facto victory lap to thank American fans for their unprecedented support during the World Cup and give the Yanks a homecoming. But, more than anything else, this affair offers a chance to pinpoint the U.S. team's many challenges that lie ahead.
"From the time a World Cup ends, you begin to go through the process of assessing where you are," coach Bob Bradley said at the pregame news conference Monday.
Where to begin?
At this summer's World Cup in South Africa, the U.S. won its group but also wasted a relatively open draw in the second round. A clear path to the semifinals had gaped invitingly, with only the plucky Ghanaians and Uruguay standing between the U.S. and the final four. That's why World Cup 2010 will be remembered more as a missed opportunity than a noteworthy accomplishment for the Americans.
[+] Enlarge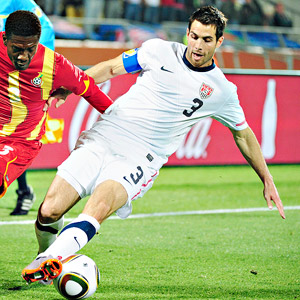 Stephane Mantey/US PresswireCarlos Bocanegra will be one of many U.S. players past their primes for the 2014 World Cup in Brazil.
The tournament exposed many deficiencies in the American team that must be addressed in the run-up to the 2014 World Cup in Brazil.
Bradley discussed his team's troubles with playing consistently and putting it all -- offense, defense, ball possession -- together at the same time. "There were moments in the past four years where defensively it was solid, but at the same time we can still improve and create chances," he said. "And then you can go through some games and you create a lot of chances, but you give up some goals that you feel that you could have done better with."
The U.S. has to improve "in every way," goalkeeper Tim Howard said. "There's probably a laundry list of things. We need to improve greatly. We've got a lot of work cut out for us."
According to Howard, the U.S. needs to learn to take the game to inferior opponents. "We need to start being able to dominate games that we should win," he said. "The Ghana game was a perfect example of that. That's a game we could have and should have won. We need to win those games."
The U.S. can start winning games like the one against Ghana if the front line can produce more goals. In South Africa, it was clear that the team's strike force is too inexperienced to pose much of a consistent threat.
What else is missing? An effective holding midfielder to play alongside box-to-box man Michael Bradley and more mental toughness for a rickety back line prone to lapses in concentration.
Although mending those flaws will be a handful for Bob Bradley -- or whoever replaces him if Bradley's contract isn't extended -- perhaps the toughest challenge facing the U.S. team is Father Time. By the time Brazil 2014 rolls around, many key defenders will be past their prime. Captain Carlos Bocanegra and Steve Cherundolo, who were excellent in South Africa, will each be 35 and Jay DeMerit just a year younger.
"At the moment, we feel all right," Bocanegra said. "Eventually, maybe Bob or a new coach will want to bring in new faces, try new players. And that's something you have to accept."
"It's impossible to say who will play in the back line four years from now," Cherundolo added.
The back line isn't the only concern when it comes to age. Of the team's key players, only Jozy Altidore, 21, and Michael Bradley, 23, will still be on the right side of their peak age four years from now.
Managing the U.S. team the next four years will be an exercise in shuffling players in and out of the squad, bringing in new faces and cutting older ones who've lost a step -- or two. For all intents and purposes, that game plan will begin Tuesday night. Yes, the match is a victory lap of sorts, but it's also the start of a new era.
Given that the U.S. is missing only a few core players, the match against Brazil should teach the Americans a lot about where they stand, especially with their back line. Even though Brazil is not at full strength, it will provide plenty of offensive panache, thanks to starlets Alexandre Pato, Neymar and Ganso, all of whom were included on the roster. The three likely will make up Brazil's front line in 2014, giving the U.S. an early look at the future.
Who will make that future trip for the U.S. remains to be seen.
Leander Schaerlaeckens is a soccer writer for ESPN.com. He can be reached at leander.espn@gmail.com.
Contributing writer, ESPN.com
Leander Schaerlaeckens is a contributing writer for ESPN.com. He has previously written for The Guardian, The Washington Times and UPI.