Commentary
Michael Bradley key to U.S.'s future
EAST RUTHERFORD, N.J. -- He bulled his way into vacant spaces, barreled into opponents taking too much time on the ball and strode wherever his long legs would take him. "That No. 4 must be the heart and soul of this team," a fan observed. It became ever clearer Tuesday night against Brazil that No. 4, Michael Bradley, the U.S. national team's breakout player of this summer's World Cup, will be the core around which the rest of the side orbits for the foreseeable future.
Bradley, U.S. coach Bob Bradley's 23-year-old son, was long waved off as a mere exponent of nepotism, even though he had made his U.S. debut under his father's predecessor. Tuesday night, it was plain to see once more that the younger Bradley is far and away the best midfielder the U.S. has within its ranks.
[+] Enlarge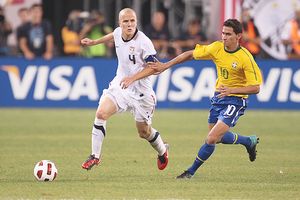 Fred Kfoury/Icon SMIThe U.S. team has a growing number of problems, but Michael Bradley isn't one of them.
Although the team has a growing number of problems, Bradley isn't one of them. On the contrary, he is emerging as a world-class box-to-box man. Bradley is hardworking and seemingly indefatigable, and his labor in the trenches often goes unnoticed. But it's his skill and effort that helped elevate the U.S. from a mediocre team into a competitive side in South Africa.
"He's a bigger and bigger player on the team," team captain Carlos Bocanegra said. "He has a good engine in midfield. He's aggressive, and that's what you need right down the center of the park. He's always had a mentality where he wants to be out there and work hard and do something for the team, and he's just growing and growing. I think he's going to be a big part of the team. He's somebody that puts it out there every time he's on the field. You need those guys on the field. He's got a good determination."
Bradley, who first represented the U.S. in May 2006 as an 18-year-old and is closing in on his 50th cap, always has seemed keenly aware of the implications of his name, pushing him to prove himself worthy of a spot on the team. "You come into the national team as a young player and you try to earn the respect of everybody, the teammates, the coaches, the trainer," Bradley said. "You do that with the way you play, the way you practice, the way you handle yourself in the hotel. You learn quickly that they're watching -- everything."
Bradley still has plenty of room for improvement. That was evidenced in the 2-0 loss Tuesday night when he briefly offered Ganso too much room to find Ramires, who set up Brazil's second goal for Alexandre Pato. But Bradley clearly is the best young player on the team and could well become its eventual leader. (He wore the captain's armband for a bit Tuesday night after Bocanegra and his deputy, Landon Donovan, left the field.)
"He came in very highly touted and with a lot of potential, and he's lived up to that," U.S. goalkeeper Tim Howard said. "He's grown, and he's got a great mentality. He's a strong character. He's going to continue to grow, and he's going to continue to be a leader for this team for a long time because of his age."
Bradley would welcome the challenge of leading the team. "You want to be a guy who's respected in the group," he said. "You try to do things the right way and earn the respect of people, so each time you raise the bar as high as you can on the field -- give more, do more. Even in the last cycle there were guys on the team who were older and guys on the team with more caps, but in my own way I try to do what I can to help guys and be a leader. As we go forward, I'll try to bring more of that."
Any coach worth his salt, whether it is his own father or his successor, will recognize Bradley's ascent for the U.S. team and give him the room to grow into his role. His rise has been so undeniable that even Bob Bradley, who seldom extols the virtues of individual players, couldn't downplay his son's increasing contributions.
"He continues to push to take a bigger role, to play an important role in the midfield, to be a two-way player, to be a leader," Bob Bradley said.
A leader the team can build around for years to come.
Leander Schaerlaeckens is a soccer writer for ESPN.com. He can be reached at leander.espn@gmail.com.

Contributing writer, ESPN.com
Leander Schaerlaeckens is a contributing writer for ESPN.com. He has previously written for The Guardian, The Washington Times and UPI.