Commentary
Can Castillo save his career in Chicago?
Designated players usually come to MLS to ease their way toward retirement, not resurrect their careers. Yet Mexican International Nery Castillo has arrived at the Chicago Fire knowing this may be his last chance to turn his once-promising career around.
This would have seemed unthinkable in the summer of 2007. When Castillo shredded the U.S. defense to set up Andres Guardado's goal in the Gold Cup final, it was thought that he would be tormenting international opponents for years to come. This line of thinking was reinforced a few weeks later at Copa America, when Castillo scored four goals, including a memorable strike in a 2-0 win over eventual champion Brazil. A 20 million euro move to Ukrainian powerhouse Shakhtar Donetsk followed.
That's when Castillo's world began to unravel.
Castillo has always been a mercurial figure, unafraid to flaunt a massive ego emblematic of attackers. While his personality was tolerated during a seven-year stint with Greek club Olympiakos, in 2007 it got him into trouble in the Ukraine at Shakhtar Donetsk. After his team won a penalty in a league match, Castillo famously pushed aside designated penalty taker Cristiano Lucarelli, only to miss the ensuing spot kick.
[+] Enlarge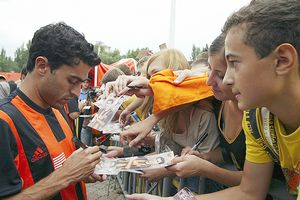 Alexander Khudoteply/AFP/Getty ImagesNery Castillo arrived at Shakhtar Donetsk after a successful run with Olympiakos, but his time at the Ukrainian club came to an abrupt end.
"I'm just a player who likes to take action," said Castillo in a telephone interview with the help of an interpreter. "That day, I just wanted to take the penalty. If I would have scored, nothing would have happened. But because I missed, things were worse."
That would be an understatement. His actions didn't go down well with manager Mircea Lucescu, and Castillo hasn't played for the club since. A loan spell with Manchester City was interrupted by a broken collarbone and the subsequent firing of manager Sven-Goran Eriksson. Castillo eventually returned to Shakhtar only to be loaned out to Dnipro Dnipropetrovsk, where he played sparingly.
But if that "one unlucky day" when he missed the penalty had far-reaching ramifications, it was nothing compared to the emotional hemorrhaging taking place in his personal life. After moving to Shakhtar, both his mother and father were diagnosed with cancer. His mother passed away in January 2009.
"It was really tough, and that was one of the reasons that I just couldn't play," said Castillo. "When I left for the Ukraine, after six months my mom started to get sick back in Uruguay, and I was going back and forth with the club in terms of me visiting her. They never let me go. I even missed my mom's funeral."
"

I was going back and forth with the club in terms of me visiting [my mom]. They never let me go. I even missed [her] funeral.

"

-- Nery Castillo on his mother's passing
Not surprisingly, the club's recollection of things is different. Shakhtar Donetsk CEO Sergiy Palkin insisted that part of the reason the club loaned Castillo to Manchester City in the first place was to make it easier to for him to visit his ailing parents.
"We always tried to give [Castillo] what he wanted," said Palkin via telephone. "For me it is a very big surprise for him to say we didn't let him go to his mother. We always wanted what is best for him; to let him go visit his mother, go visit his father."
While Castillo and Shakhtar disagree about the club's level of cooperation, what isn't in dispute is what followed after his mother died. Castillo ensured that his father received treatment in Greece, and was thus able to visit him more frequently. It wasn't enough to stave off his father's passing eleven months after his mother, but in this instance, the younger Castillo was able to attend the funeral.
The wounds, quite understandably, have been slow to heal. The bond Castillo had with his parents ran deep, as evidenced by their images tattooed across his chest.
"With my brother, my wife, and my daughter, we just try to spend time together and remember the best memories we have as a family," he said.
The turmoil in Castillo's personal and professional lives allowed him to fall into Chicago's lap. Shakhtar was loath to loan Castillo to another European club, and given the player's testy relationship with the Mexican media, heading to a Mexican side was out of the question.
That left MLS as perhaps the only option, and some long-term thinking by general manager Frank Klopas allowed Chicago to get its man. Back when Castillo was pondering his move to Manchester City, Klopas made his first attempt to bring him stateside.
"[Castillo's] name at that price level at that time didn't make sense for us," said Klopas. "When he was [in Manchester] we just wanted to go out and have a coffee, meet each other face-to-face, and in the back of our mind, we just said, 'Maybe, one day there might be an opportunity to bring in a player like this.'"
When the opportunity presented itself again, Klopas pounced while also mining his contacts back in Greece to make sure he knew what kind of person and player he was getting.
"Here is another chance, another opportunity," said Klopas. "I believe that this guy is committed. I believe he's a good guy because I've talked to him, and I've talked to people that know him. He's in a good place right now; he wants to play, to show the commitment that our organization has made in him. Time will tell, but I can tell you that he's here and he's committed 100 percent."
Now comes the tricky task of integrating Castillo into the team, which has also recently added another high-maintenance attacking player, Freddie Ljungberg. On the face of it, an offense featuring Castillo, Ljungberg, and Marco Pappa appears to provide the Fire with attacking riches, with any one of those players having the ability to play out wide or underneath a target striker such as Collins John or Brian McBride.
But the combination of Castillo and Ljungberg, in particular, seems a combustible mix, especially given the penchant of both players to run at defenses and take players on. With Chicago on the fringes of the playoff race, Castillo and Ljungberg could make the difference -- provided, that is, that they mesh and know when to put their personal ambitions aside for the greater good of the team.
"[Castillo and Ljungberg] are winners, so they're going to have egos, and look, they're going to push everyone else to win and have that same attitude," said Klopas. "Sometimes it's good to have players like that."
After being left off Mexico's World Cup squad, Castillo knows that getting back on the field and receiving consistent playing time is paramount, meaning he'll likely be on his best behavior. Of course, the rather lenient refereeing that tends to take place in MLS, which doesn't always protect skill players, will be another challenge.
"I believe that soccer is the same everywhere," said Castillo. "The referees and the rules are the same. Maybe the physical contact is not called as much as in other leagues, but I'm ready for it."
After what Castillo has been through in the past two years, there can be no doubt of that.
Jeff Carlisle covers MLS and the U.S. national team for ESPNsoccernet. He is also the author of "Soccer's Most Wanted II: The Top 10 Book of More Glorious Goals, Superb Saves and Fantastic Free-Kicks." He can be reached at eljefe1@yahoo.com.
Soccer
Jeff Carlisle covers MLS and the U.S. national team for ESPN FC.