Commentary
L.A. Galaxy aren't in crisis mode -- yet
Updated:
August 24, 2010, 12:25 PM ET
By
Jeff Carlisle
| ESPN.com
SANTA CLARA, Calif. -- Crisis? What crisis?
That was the attitude of Los Angeles Galaxy manager Bruce Arena following his side's 1-0 defeat to in-state rivals San Jose on Saturday. Never mind the fact that the loss dropped the Galaxy's record to a mediocre 3-3-2 in their last eight league games. Or that L.A. was undone by a defensive mistake straight out of a Sunday pub league, with goalkeeper Donovan Ricketts' failure to corral a routine cross allowing San Jose's Chris Wondolowski to slot home the game winner in the fourth minute.
[+] Enlarge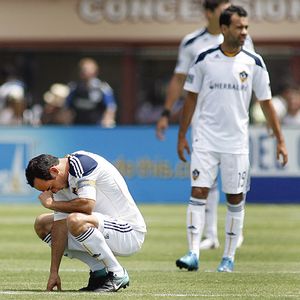 AP Photo/Dino VournasLandon Donovan and the L.A. Galaxy are suddenly down on their luck, but there's still time for them to recover their early-season form.
Really, there's nothing to worry about. Well, maybe nothing.
"We have to play better," Arena said, "but 21 games in, we still have the best record in the league, so it can't be that bad."
True, but lately L.A. has looked nothing like the well-oiled machine that ran riot through the season's first three months. Conference rivals Real Salt Lake and FC Dallas have made up considerable ground since then, and appear to have more depth than the Galaxy. As a consequence, such niceties as securing home-field advantage throughout the playoffs are no longer foregone conclusions.
But perhaps more troubling for Los Angeles is the manner of its recent struggles. Early in the season, the Galaxy's defense was near impregnable, earning shutouts in nine of its first 11 matches. But lately the L.A. back line has had trouble surviving the opening moments of games. San Jose needed just two minutes to break out ahead in a 2-2 tie back on July 22. Chicago blitzed L.A. for three goals in the first 19 minutes of the Galaxy's 3-2 loss a week later. The team was slightly more resolute in the first leg of its CONCACAF Champions League match against second-tier Puerto Rico, but L.A. still coughed up two first-half goals on its way to a 4-1 humiliation. Saturday's fourth-minute brain cramp was just the latest installment.
"It's unfortunate," said the Galaxy's Landon Donovan, "because it allows [San Jose] to sit in and play defense the rest of the game."
In the process, L.A. has shown some vulnerability. Against Chicago, the Galaxy looked completely flummoxed by the Fire's quick counterattacks. And for all the talk from Arena about how L.A. "gift-wrapped" Saturday's match to San Jose, it was far from one-way traffic. The game was relatively wide open, with the Quakes' high-pressure defense doing plenty to unsettle L.A.'s back line. While regular starters Gregg Berhalter and Todd Dunivant were missing on Saturday, such weaknesses have been evident regardless of who has been available.
There are questions in attack as well. On most days, the talent of Donovan and Edson Buddle is more than enough to get by. But Saturday wasn't one of them -- although given the number of chances L.A. created, it should have been. Donovan went some way toward getting back in the good graces of the San Jose fans he once spurned, failing to convert on several clear chances, including a first-half breakaway that was saved by Quakes goalkeeper Jon Busch. Buddle's failure to latch on to an Alex cross late in the match summed up his day as well.
The problem is that there appear to be few other players capable of picking up the goal-scoring slack when neither Buddle nor Donovan find the net. Forward Tristan Bowen, along with midfielders Juninho and Michael Stephens, have been solid contributors -- yet they've combined for just four goals. Come playoff time, one of these players will need to step up.
When it comes to solving these problems, Arena's options are fairly limited. Defensively, the hope is that the hiccups that have plagued the Galaxy recently can be worked out in training. In attack, David Beckham is targeting an Oct. 1 return from Achilles tendon surgery, and although it's never wise to count out the Englishman, his comeback is by no means assured.
Ironically, L.A.'s exit from the CCL could provide the biggest boost to the team's fortunes. Columbus, RSL and a resurgent Seattle side are all involved in the CCL group stages, and the six additional games on each club's schedule will no doubt take a toll and impact the race for the Supporters Shield. The Galaxy, by contrast, can focus solely on a ridiculously favorable league schedule that sees them play seven of their remaining nine games at the Home Depot Center. The lack of fixture congestion and travel should allow them to get more rest and push them closer to peak form as the postseason approaches.
"[Saturday's] a day where, if we're a little bit sharper, we don't lose the game, we get three points," Arena said. "We didn't, so there's a fine line."
It's one along which L.A. has the talent to walk successfully, but it is the team's ability to execute that will determine whether it can return to its dominant ways.
Jeff Carlisle covers MLS and the U.S. national team for ESPNsoccernet. He is also the author of "Soccer's Most Wanted II: The Top 10 Book of More Glorious Goals, Superb Saves and Fantastic Free-Kicks." He can be reached at eljefe1@yahoo.com.
Soccer
Jeff Carlisle covers MLS and the U.S. national team for ESPN FC.