Commentary
Ferreira, Shea lead Dallas' turnaround
Ten games into the season, FC Dallas looked like they were heading for one of those teeth-gnashing campaigns. FCD had a paltry 11 points, a total made even more unbearable by the fact the team was losing games despite dominating play.
But rather than implode, Dallas has turned its season around and finds itself just seven points back of Western Conference-leading Los Angeles, with a game in hand. Schellas Hyndman's side is unbeaten in its last 11 games and has gone nine games unbeaten on the road, tying a league record.
So how has Dallas come back from the dead? Like most winning recipes, there have been several key ingredients. In this case, a bit of Brek Shea, a double helping of David Ferreira and some psychological jiu-jitsu on the part of Hyndman have helped drive the side up the Western Conference table.
Hyndman's gambit consisted of instructing his side to break up the season into three 10-game segments. Simple as it may seem, the approach had the effect of keeping the team's focus on what could be, as opposed to what might have been.
"Our mentality was, 'Let's gain some ground here,'" said Hyndman. "Our goal was to shoot for 20 points [in 10 games], which was a pretty lofty goal because there were quite a few games on the road. And as it turned out, we hit 22 points. It was more just a psychology of refocusing, and then we were performing."
[+] Enlarge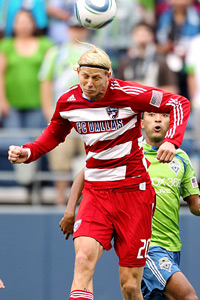 Otto Greule Jr/Getty ImagesBrek Shea has matured greatly for FC Dallas this season, aiding the team's attack in its recent run up the standings.
Indeed. The defense, long the team's weakness, tightened up considerably, allowing just seven goals during that second 10-game stretch. In attack, Ferreira was at the heart of everything that was good about FCD, and with six goals and eight assists he has entered the conversation for league MVP.
"I think the team understands his value now and is looking to play through him a little bit more," said Hyndman.
The rise of Shea has been telling as well, especially since few of the team's goals have been scored by whoever has been playing the lone striker role in Hyndman's 4-1-4-1 alignment. There have never been doubts about the talent of the former U.S. U-20 international. But Shea has matured greatly this season, and his five goals and four assists have prevented teams from focusing solely on Ferreira.
"On the field, [Shea] is understanding his role, understanding what to do in different parts of the field, not doing things in the middle third that he would do in the attacking third," said Hyndman. "I think part of that is the normal maturing that comes with responsibility. You have to take care of your lifestyle, you have to be fit, you have to watch what you eat. I think in all of those areas, there's definite growth in him."
Dallas' streak has come even as several key components have been sidelined by injury. A quad strain has kept Dax McCarty on the shelf for five games, while central defender Ugo Ihemelu has missed the last two matches because of a concussion. But stand-ins Eric Alexander and Zach Loyd have provided steady play in their stead, allowing FCD to become a deeper team in the process.
That increased depth will come in handy Saturday against Columbus, when Dallas will attempt to break the road unbeaten streak record it holds with the Crew. And don't expect FCD to simply try to hold out for a draw either. Dallas' streak has been fashioned by playing the same way on the road as at home.
But after missing out on the playoffs the last two seasons, Hyndman is keeping the big picture well within his sights.
"You always want to break a record," he said. "But at the same time, we just want to play well. That's as far as we want to push ourselves."
NEWS AND NOTES
Tchani's forward thinking pays off: For the New York Red Bulls, the focus over the last several weeks has centered on the play of new arrivals Thierry Henry and Rafael Marquez, with the latter performer's rocket-propelled goal against Toronto FC last weekend garnering even more attention. But just as important to the Red Bulls' recent play has been the emergence of Tony Tchani.
The rookie has complemented Marquez well in the center of New York's midfield since the Mexican's debut Aug. 8. Not only has Tchani provided mobility and steel in the center of the park, but he has also become a dependable option in building the Red Bulls' attack, taking some of the burden off Marquez.
[+] Enlarge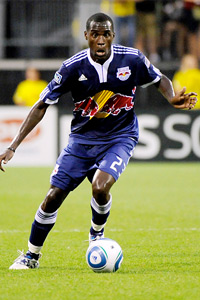 Jamie Sabau/Getty ImagesOvershadowed by new arrivals Thierry Henry and Rafael Marquez, the impressive Tony Tchani has added mobility and steel to the Red Bulls' midfield.
It's a role that coach Hans Backe could have scarcely imagined for his protégé at the beginning of the season. From the moment Backe laid eyes on Tchani, he realized that the midfielder was much too conservative when he had the ball at his feet.
"He was what I call an 'alibi' player," said Backe of Tchani. "He never turned [up field], never played the ball forward. He kept possession in a poor way."
Backe became so exasperated with Tchani's hyper-safe decision making that he hit upon a novel concept in training to change the player's way of thinking.
"I forbid [Tchani] to play support passes," said Backe. "Every time he did it I'd stop the game and give the ball to the other team. It was important because every time the ball went to him our attack would lose 20 yards."
It took some time for Tchani to rid himself of this bad habit, as well as his penchant for always playing the ball straight ahead, never diagonally. But in time the message sunk in and the improvement in his game has been evident, especially to Backe.
"Now [Tchani] can support the strikers in the attacking side of the game," he said. "There is also a better balance to his play where he can play wide or straight and we're not losing possession as easily."
A tale of two DPs: Chicago staked its playoff hopes -- not to mention a hefty chunk of its salary budget -- on designated players Freddie Ljungberg and Nery Castillo. Several games into the Fire's experiment, it's safe to say that the results have been mixed.
Ljungberg looks like a player reborn since arriving from Seattle. The Swede has been energized and, more importantly, has been wreaking havoc in the attacking third with his slashing runs, a far cry from the player who practically sulked his way out of the Pacific Northwest.
Castillo, however, remains a shadow of his former self and looks well short of match fitness. Given the long spells of inactivity that have plagued his career since moving to Ukrainian club Shakhtar Donetsk in 2007, this is not that surprising. But what is raising eyebrows is the way Castillo has struggled to connect on even the simplest of passes. And his not-so-wayward elbow to the head of New England defender Kevin Alston, one that somehow escaped the wrath of the league's disciplinary committee, speaks to a player well aware of how much he is struggling.
Castillo also looks uncomfortable stationed on the left wing and has often tucked inside to get the ball. That has been ostensibly Ljungberg territory. Would Fire coach Carlos de los Cobos juggle his attacking formation in a bid to better integrate Castillo into the attack, even if it means hampering Ljungberg's effectiveness? It's a tricky situation to be sure, one that will be watched closely as the stretch drive approaches.
The draft before the drafts: With two expansion teams, Portland and Vancouver, entering the league next season, the selection order of the SuperDraft, expansion draft and the other six player-acquisition mechanisms was determined last Monday. Vancouver, by virtue of winning a coin flip at halftime of last month's MLS All-Star Game, got to select which draft was its highest priority and thus obtain the first pick from that particular pipeline. The two teams then took turns to determine who would have the advantage in the other player-acquisition avenues.
According to both teams, the jewel of the player-selection mechanisms was top spot in next January's MLS SuperDraft of collegiate and youth players. This edition of the SuperDraft is expected to be very deep, and Vancouver chose precisely this option, giving the Whitecaps the first pick and the Timbers the second.
"We feel like we're going to get someone who can be a benchmark for the franchise," Vancouver director of soccer operations Tom Soehn said on a conference call with reporters. "The exciting prospects we know are going to be available led us to that pick."
Portland then chose the top spot in the expansion draft for players already in the league. Vancouver followed by getting the top spot in the league's allocation ranking, giving it the inside track on former MLS players as well as U.S. national team performers coming to the league.
So was there a winner and a loser on this day? Not really. Luck and timing can often play a huge part in acquiring key players. In 2008, San Jose chose Haitian international forward Peguero Jean-Philippe with its allocation pick. Jean-Philippe promptly reinjured a troublesome knee and the Quakes ultimately missed out on the next allocated player, one Brian McBride.
Jeff Carlisle covers MLS and the U.S. national team for ESPNsoccernet. He is also the author of "Soccer's Most Wanted II: The Top 10 Book of More Glorious Goals, Superb Saves and Fantastic Free-Kicks." He can be reached at eljefe1@yahoo.com.
U.S. soccer correspondent
Jeff Carlisle covers MLS and the U.S. national team for ESPN FC.