Commentary
And now for the really tough part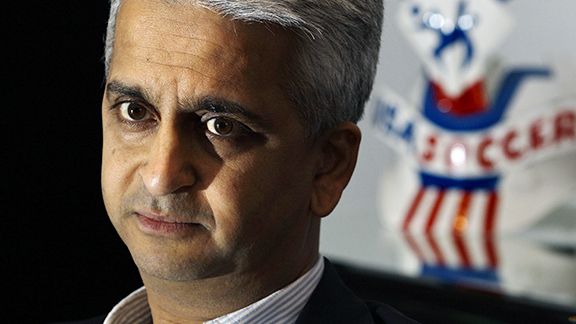 AP Photo/Elise AmendolaU.S. Soccer Federation president Sunil Gulati is putting all his eggs in one basket.
Who says history doesn't repeat itself? It did on Monday with the announcement that Bob Bradley has signed on for another four years as head coach of the U.S. men's national team.
The sense of déjà vu is almost overpowering. In 2006, U.S. Soccer Federation president Sunil Gulati went after Jurgen Klinsmann to be the U.S. manager, only to be rebuffed at the last minute. Instead, Gulati was forced to settle for Bradley.
Four years later, the situation is eerily similar. Klinsmann was known to be interested in the position, and it was reported Friday by ESPN that he had met at some point with Gulati to discuss the job. That had many observers, myself among them, thinking that Gulati would finally get the type of high-profile hire he has long desired to make. Yet just like four years ago, no agreement was reached, leaving Bradley to take the reins.
"We get a chance to build on everything that's happened over the four years, and build on our experience and performance at the World Cup," said Gulati during Tuesday's conference call with reporters. "I think Bob has done a great job of putting a group of players together, not just at the World Cup, but over the last three and a half to four years, and I'm looking forward to building on that."
Just how close Klinsmann came to getting hired on this occasion likely won't be known for a while. Certainly Gulati was in no mood to discuss the details of the process, or what other candidates he might have considered.
But multiple sources confirmed to ESPN.com that after hemming and hawing for months over whether to retain Bradley, Gulati underwent some kind of epiphany over the weekend and decided that maintaining the status quo was preferable to casting his lot with Klinsmann. Once that decision was made, a deal was quickly struck between Gulati and Bradley's representatives.
This all came as something of a shock to Bradley, who as recently as Friday was bracing himself for the possibility that he would be out of a job. He didn't get word of the deal until late Sunday night, at which point he was instructed to take the first available flight to New York, where his re-signing was made official on Tuesday.
Whether Gulati has once again stumbled into making the right choice remains to be seen. While Bradley came under intense criticism from some segments of the fan base for his tactics and player selection, he also repaid Gulati's faith in him by leading the U.S. to the 2007 Gold Cup title, the final of the 2009 Confederations Cup, and a second-round appearance at the World Cup. On that basis, Bradley deserved the chance to re-sign if that was what he wanted.
But the stakes have been raised. What was deemed acceptable in 2010 will be seen as failure in 2014. And the concern is that retaining Bradley is an invitation for staleness to creep into the program. In this instance, the tenure of Bradley's predecessor, Bruce Arena, whose eight-year reign from 1998-2006 remains the longest in U.S. men's national team history, is instructive. Arena's second World Cup cycle is widely viewed as a period of stagnation for the program, with his heavy reliance on veterans proving to be his undoing.
Other countries have experienced similar difficulties when coaches have stayed on too long. Consider, for example, Italy's Marcello Lippi and France's Raymond Domenech, both of whom failed to lead their teams past the group stage this summer in South Africa. But while Gulati admitted that this was a concern, it wasn't enough to prevent Bradley from being rehired.
"I came to the conclusion that [Bradley's] experience and the record over the last four years overcame any issues of staleness," said Gulati.
Clearly, the best antidote to this problem is the continued introduction of new players. It keeps veteran performers on their toes and injects energy into the program. Bradley's success in this area will ultimately determine how his second term will play out.
To Bradley's credit, he has consistently shown a willingness to bring in young blood, including Jozy Altidore, Maurice Edu, Michael Bradley, and up until the last World Cup qualifier, Charlie Davies.
"We brought some good players into mix, we got them experience; the balance that it had with players who had been there before with younger players I think was a good one," said Bradley. "We'll need to work in all those ways again. It's important to always make sure players in the national team program recognize the competitive part of it."
Continuing to inject youth into the team will be even more important given the advancing age of the back line, as well as attacking linchpins Landon Donovan and Clint Dempsey. For Bradley, it looks like the process has already begun, as evidenced by his decision to use the Brazil friendly earlier this month to give Omar Gonzalez his debut and get another look at midfielder Alejandro Bedoya. Bradley also indicated he intends to be proactive in his inclusion of young players and will not just wait for them to fall in his lap.
"We must work with MLS, we must work with our U-20s, our U-18s, our U-17s," said Bradley. "That sense of what we need to continue to do to raise the bar for our players, that is an incredibly important part going forward. We started a lot of good things, but to continue to make sure that our efforts are united, and that we are aware of how to do things better, so that we give ourselves that kind of chance going forward. Those are the kind of efforts and discussions that are ongoing, and will be important for the future of our national team."
Yet it's important to remember that these are things that Bradley has only so much control over. While the USSF has implemented several programs to aid player development, this is primarily the purview of professional clubs. Bradley has little influence over how players develop in MLS or with foreign clubs. He can only monitor the situation and nudge the process along by continuing to invite young players to national team camps.
Bradley is counting on the fact that this will be enough to take the team to the next level and meet increasingly demanding expectations. Otherwise, the disappointing showing at the 2006 World Cup is another bit of history that the U.S. could repeat.
Jeff Carlisle covers MLS and the U.S. national team for ESPNsoccernet. He is also the author of "Soccer's Most Wanted II: The Top 10 Book of More Glorious Goals, Superb Saves and Fantastic Free-Kicks." He can be reached at eljefe1@yahoo.com.
Soccer
Jeff Carlisle covers MLS and the U.S. national team for ESPN FC.