Commentary
What about Bob? It could be worse
Updated:
September 2, 2010, 2:45 PM ET
By
David Hirshey
| Special to ESPN.com
Now that Bob Bradley has been given a stay of execution by U.S. Soccer's Supreme Court, it's time to get over the fact that we won't have a certain former world-class diver and German national team coach on the sideline in 2014 and face the daunting challenges ahead.
How big a job will it be to take the U.S. team to the next level in four years? I say look at what Fabio Capello is up against in England -- and be thankful. Unlike Bradley, England's Italian coach has just two years left on his contract in which to erase his South African debacle from the public consciousness or be devoured whole by the flesh-eating English press.
So just how does Second Choice (I mean, Chance) Bradley stack up against Don Fabio? Let's break it down:
2010 WORLD CUP FINISH
Bradley: An agonizing second-round defeat by Ghana in extra time, with both goals coming from shoddy defending and the inability to handle the Black Stars' power and pace.
Capello: A depressing second-round thumping by Germany, displaying the weakness and frailty of the English "team" concept. Really, it was never a team but 11 grown men sulking around the field like high school nerds after having their lunch money stolen.
DEFINING TEAM TRAITS
Bradley: High work rate, fighting spirit, leaking early goals.
Capello: High work rate, fighting spirit, failing to live up to expectations.
PRIMARY MOTIVATIONAL TACTICS
Bradley:a 1,000-yard stare worthy of Plaxico Burress after his second appeal for work release was denied.
Capello: Instilling fear in his players (taking armband from John Terry, muzzling player mutiny in Rustenburg), getting up in his assistants' grills.
SARTORIAL CHOICES
Bradley: Matching sweatpants and sweatshirts, sometimes accessorized with a whistle around his neck.
Capello: Finely tailored suits, designer glasses, "jet black" hair. Speedos, on occasion.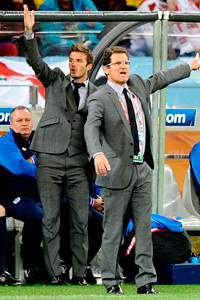 Jewel Samad/AFP/Getty ImagesWill Fabio Capello ever cut the chord with David Beckham?
SUPPORTERS FIND HIM
Bradley: Even-keeled, single-minded, loyal. Knows the U.S. system having been U-23 coach prior to taking over the senior reins from his mentor, Bruce Arena.
Capello: Fiery, "continental" thinking, a proven winner with five Serie A trophies at Milan and AS Roma, two La Liga titles with Real Madrid and a Champions League trophy with Milan.
DETRACTORS FIND HIM
Bradley: Cautious, rigid, boring.
Capello: Cautious, rigid, bullying.
RECENTLY LINKED TO
Bradley: Aston Villa but that was more of a fantasy job on his part rather than any serious interest on Villa's part, which ultimately stated that it wanted someone with EPL experience.
Capello: Inter Milan, but he was never going to walk away from the millions he would have left on the table had he resigned. In the end, the English FA decided not to call his bluff.
OVERLY DEPENDENT ON
Bradley: Landon Donovan, who came through spectacularly for him in the World Cup. He's the one man seemingly capable of lifting the team on the big stage. But Bradley needs a better supporting cast for Donovan.
Capello: Wayne Rooney, who failed spectacularly in the World Cup. With all its world-class pedigree (Steven Gerrard, Frank Lampard, John Terry, et. al.), England shouldn't have to rely on a single player to carry it, especially one with a bum ankle who hadn't scored since March.
[+] Enlarge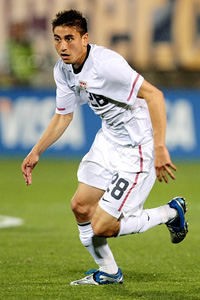 Fred Kfoury/Icon SMIAlejandro Bedoya has the skill set but needs to be battle-hardened.
'I CAN'T QUIT YOU' PLAYER
Bradley: Ricardo Clark. Despite a reasonable showing in the midfield against England, Clark usurped Bradley's pet defender, Jonathan Bornstein, as official U.S. whipping boy after his horror show against Ghana in which he was subbed out well before halftime. But can anybody who watched Bradley and Rico hug it out on the sideline be sure Bradley won't pick him again?
Capello: David Beckham. Ever since their torrid courtship at Real Madrid, Beckham's been hovering like a gnat around Capello's England camp despite his ever-increasing decripitude and ever-diminishing talent. In the World Cup aftermath, Capello looked to have swatted Becks away once and for all, but with the team fast approaching a crossroads, rumors of Beckham's recall for Euro 2012 suggest that the England manager hasn't learned from his mistakes. Deep down, the flame still burns inside Don Fabio, and as long as it does, England's chances of international success will continue to combust.
PLAYER WHO WILL BE AT THE CORE OF THE 2014 WORLD CUP TEAM SHOULD THEY STILL BE IN CHARGE
Bradley: Michael Bradley. His maturation has been impressive in the Bundesliga, and his combative personality can be infectious on the field. But he's never going to be the skillful fulcrum in the middle that the U.S. desperately needs. And as the Slovenia game showed, he's prone to stray far from defense and leave his team exposed to the counter.
Capello: No clue.
PLAYERS WHO SHOULD BE AT THE CORE IN 2014
Bradley:Alejandro Bedoya has the skill set but needs to be battle-hardened. And at the risk of getting all misty-eyd, let's not forget Charlie Davies. If he can regain his pre-crash form, he will wreck defenses with his speed and open up space for Jozy Altidore, who by then will surely have scored another goal in international competition.
Capello: Take your pick: James Milner in the middle, Adam Johnson on the wing, Blackburn's Phil Jones at the back. Rooney's still young and hungry enough to feed off this trio's relentless energy. Oh, and the scorching pace of Theo Walcott allied with his ever-improving decision-making, strikes me -- and every other Arsenal fan -- as a lethal attacking combination.
David Hirshey

For more from David Hirshey, check out his columns on all things soccer.
• The All-EPL Team, 2011-12
• Saying goodbye to Chinaglia
• Time to dethrone King Kenny Dalglish?
• In praise of Fulham
• The comeback artists
• Call it a comeback
• Death by Manchester
• The battle for third
• Spurs' title credentials
• EPL's best starting XI
• City handed first EPL loss
• Chelsea pushed to brink
• Fragile egos crossing
• City and United
• Is Newcastle for real?
• The bad-behavior derby
REQUISITE CLICHED QUOTE ABOUT THEIR VISION FOR THE FUTURE THAT IS IMPOSSIBLE TO PARSE
Bradley: "Technically, while we're not yet at the level of the top teams, we continue to be a team that is improving technically, and that shows in our ability to pass the ball well to creates chances. And to combine those things in an overall team concept."
CAPELLO: "I think the future is with the youth but after that, I will decide which players to choose."
FIRST REAL TEST
Bradley: The 2011 Gold Cup. Thanks to Mexico's resurgence this past summer, the U.S. can no longer afford to treat CONCACAF'S most important tournament as a runout for its fringe players as it did in 2009 when a collection of inexperienced American youngsters got pummeled 5-0 by El Tri's senior team. Bradley knows that if there's one thing that even the oh-so-forgiving U.S. Soccer Federation can't accept it's suffering further humiliation at the feet of its most venomous rival.
Capello: Tomorrow against Bulgaria with the start of qualifying for Euro 2012. Despite an easy group (Switzerland, Wales and Montenegro are the other juggernauts ), the pressure is on Capello to not only win it but to show that England is capable of great things at the tournament the Three Lions watched at home last time. Anything less and it's Arrivederci, Don Fabio.
David Hirshey has been covering soccer for more than 30 years and has written about the sport for The New York Times, Time, ESPN The Magazine and Deadspin. He is the co-author of "The ESPN World Cup Companion" and played himself (almost convincingly) in the acclaimed soccer documentary "Once in a Lifetime."