Commentary
Dollars and no sense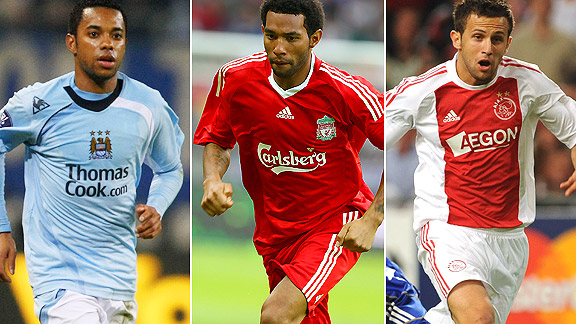 Bongarts/Getty ImagesBad business: Robinho to Man City, Jermaine Pennant to Liverpool, and Miralem Sulejmani to Ajax.
The dust has settled on the summer transfer window over in Europe. Although no Americans of note other than U.S. captain Carlos Bocanegra and winger DaMarcus Beasley changed teams -- to Saint-Etienne and Hannover respectively -- a flurry of other deals got done before Tuesday night's deadline.
As always, plenty of those transactions have little logical underpinning to suggest that they will benefit the acquiring club. A high percentage of transferred players are already considered failures at their new clubs. Yet in buying new players, clubs tend to throw caution to the wind. After taking a look at the most transfer-savvy clubs a few weeks ago, we dug into the transfer archives, wiped the cobwebs off some of the deals the world would rather forget and came up with this list of clubs that have a particularly poor record in the transfer market.
5. AC Milan and Manchester United
While Milan has deservedly gotten high praise for buying the golden Marco van Basten/Frank Rijkaard/Ruud Gullit trio of the late 1980s and early 1990s, as well as discovering Kaka, Andriy Shevchenko and Alexandre Pato, the club also has a knack for dropping huge sums on players who fail to make the cut and are often over the hill. The all-conquering team that went undefeated for the 1991-92 season would later feature Gianluigi Lentini, a winger who for a $20 million fee became the most expensive player of all time in 1992. Lentini flopped spectacularly. The club's history since then is scattered with expensive busts -- Ronaldinho, Alberto Gilardino -- as well as pricey prospects the club gave up on far too soon, including Patrick Kluivert, Edgar Davids, Yoann Gourcuff and Patrick Vieira.
Even Manchester United and its much-heralded manager Alex Ferguson are prone to the odd transfer doozy. In addition to a long list of expensive players who flamed out -- Massimo Taibi in 1999, Fabien Barthez in 2000, Henning Berg in 1997, Juan Veron in 2001, Diego Forlan in 2002, Kleberson in 2003, Eric Djemba-Djemba in 2003, David Bellion in 2003 -- you have to question the logic behind spending more on acquiring Louis Saha ($19.7 million) than on Cristiano Ronaldo ($18.8 million).
4. Ajax
In spite of having produced and cashed in big-time on youth-academy products or early acquisitions Zlatan Ibrahimovic, Wesley Sneijder, Thomas Vermaelen, Maxwell, Rafael Van der Vaart, Cristian Chivu, Ryan Babel and Nigel de Jong, Ajax is broke. That has much to do with one of the men who made the club great: manager Marco van Basten.
Without even finishing his first season, 2008-09, before resigning, van Basten managed to deflate the club's financial reserves as a consequence of a long string of disastrous transfer decisions. In order for van Basten to take the job, Ajax had to agree to the demand of the first-time club manager that he be given control over transfers and handed a budget of $44.8 million, which was much more than the club had ever blown through in a single transfer window.
Van Basten almost doubled the club's previous record-high payment for a single player (when it wisely bought Klaas-Jan Huntelaar for $11.5 million in 2006) by picking up Heerenveen's one-season wonder, Miralem Sulejmani, for $20.8 million just two years after the club had passed up the chance to sign him for $320,000. In addition to several other misfires, van Basten purchased hapless Argentine striker Dario Cvitanich for $8.33 million and injury-prone one-day fly Ismail Aissati for $5.12 million. All three have failed to cut it, with Cvitanich and Aissati already loaned off to other clubs.
That's not to say the club was much better at transfers before. Between the stunningly underperforming forwards Nikos Machlas, Georgi Kinkladze, Wesley Sonck and hopeless defender Ferdi Vierklau, Ajax spent a cumulative $28.7 million between 1998 and 2003, a whopping amount for a team in the Dutch Eredivisie.
3. Newcastle United
Another master of the bad transfer is Newcastle United. The newly promoted EPL side used to be an outside title contender until the bad transfers piled too high, became too heavy and sent the club crashing through the EPL floors and into the second-tier Championship.
Among the club's more glaring blunders were the decidedly mediocre Laurent Robert, brought in for $14.6 million; Hugo Viana for $13 million, who lasted all of 16 starts; Jean-Alain Boumsong for $12.3 million, the only time any of his six clubs even paid a transfer fee for him; Alberto Luque for $14.6 million, six whole league starts and the lone goal; and the very average Fabricio Coloccini for a whopping $15.8 million.
2. Manchester City
The purchasing power of City, thanks to the arrival in August 2008 of an oil-pumping family from Dubai, is formidable. But does might make right? In fact, it has fostered an environment in which the club typically overpays for players and makes no bones about discarding investments soon thereafter.
In just two years, the club has managed to acquire no fewer than 13 players for at least $18.5 million each, eight of whom cost at least $33.8 million. Of those, however, several delivered almost no return for the club. Brazilian striker Jo, bought for $27.7 million, was loaned out after just a year; Craig Bellamy ($21.5 million) was sent packing after 18 months. Robinho -- the most expensive player in British history at $50 million -- suffered the same fate, before recently being sold for just $27.7 million. Similarly, Emmanuel Adebayor, who joined from Arsenal for $38.8 million a year ago, is disenchanted by his scarce playing time.
1. Liverpool
The Reds have specialized in blowing money they don't have on players they don't need. At least some portion of the club's financial woes can be explained by a long string of disastrous -- and expensive -- acquisitions.
In June 2002, Liverpool bought El-Hadji Diouf from Lens for $15.4 million. Two completely forgettable seasons later he was loaned to Bolton, who took him on for free in 2005. Then arrived new manager Rafa Benitez, who was even more reckless in spending the club's money. First came feckless French striker Djibril Cisse for $21.5 million (return: 13 goals over two years before being loaned and then sold for $12.3 million less).
Then followed Jermaine Pennant, a gifted winger without much of a track record, for a $10.3 million fee. Pennant struggled with form, was cited for a domestic disturbance, loaned off to Portsmouth after two and a half years and allowed to leave for Zaragoza on a free transfer last summer. Next came a series of not-so-inspired signings such as Ryan Babel for $17.7 million (return: yet to become a regular), Robbie Keane for $31.2 million (return: a $12.8 million loss when he was sold back to Tottenham less than seven months later), Andrea Dossena for $10.7 million (return: 18 lackluster appearances in 18 months) and Alberto Aquilani for $30.7 million (return: just nine starts in one season because of an injury and incompetence before being loaned to Juventus).
Even those that do work out -- such as Glen Johnson, who came over from Portsmouth for $27.7 million -- are questionable, considering the absurd price tag on a late-blooming right back.

Contributing writer, ESPN.com
Leander Schaerlaeckens is a contributing writer for ESPN.com. He has previously written for The Guardian, The Washington Times and UPI.