Commentary
Rafa to the rescue
Updated:
September 9, 2010, 8:47 AM ET
By
Graham Hunter
| Special to ESPN.com
BARCELONA -- When Spain won the World Cup final at Soccer City in South Africa, the heavily guarded doors to the victorious dressing room were opened to allow entry for only six people who were not in the playing squad or members of the Spanish football federation.
As Xavi, Andres Iniesta, Sergio Ramos and the rest danced and sang, I was the one journalist in the inner sanctum, joined by my Australian cameraman, Spain's Queen Sofia, heir to the throne Prince Felipe and his wife, Letizia. The sixth person was Rafael Nadal.
He had tied a Spain scarf around his head. Draped over his shoulders, flowing like Batman's cape, was a long Spanish flag. And across each of those prominent cheekbones, which look as if you could park an SUV on them, was painted a red and yellow mini-flag.
[+] Enlarge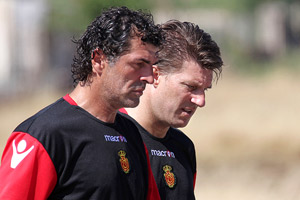 Jaime Reina/AFP/Getty ImagesMallorca's coach, Michael Laudrup, walks with (left) Miguel Angel Nadal, uncle of Rafael Nadal and member of Mallorca's technical staff.
In place of the growling, glaring tennis warrior we have seen trying to win the U.S. Open, Nadal was the picture of an awed little boy at Christmas. He couldn't believe his heroes had done it, couldn't believe he was truly with them.
It was a totally different picture three days earlier at a news conference to announce that Nadal and his family were taking partial control of a La Liga stalwart, the Mallorca football club. Nadal, who was born and lives in Manacor on the island, was the picture of a serious, even somber, businessman.
For this wasn't an occasion to celebrate but, rather, a chance to try and save a storied football club. If you're not familiar with Mallorca, imagine that Rhode Island ran a pugnacious, generally successful and occasionally winning NFL franchise -- but one that, through the fault of diverse investments of its parent company, was about to go bust.
Nadal was born on this gorgeous Mediterranean island, where the worst ravages of tourism have been contained to one or two areas, and where poets, scholars and party animals have, somehow, thrived shoulder to shoulder over the past century. The football team is a royal franchise, originally named after the then-reigning King Alfonso when it was founded in the early 20th century and currently the owner of the grand title Royal Sports Club Mallorca.
But Mallorca went from being a prince to a pauper over the past couple of years when the property company Drac, which owned the club, fell into the spectacular debt of more than $700 million. Unlike other struggling Spanish clubs, which have slipped further into debt due to increasing wage and transfer costs, Mallorca found itself in trouble as a result of its parent company's bad business decisions. Drac overstretched its leisure real estate construction prior to the financial meltdown -- and paid a hefty price.
[+] Enlarge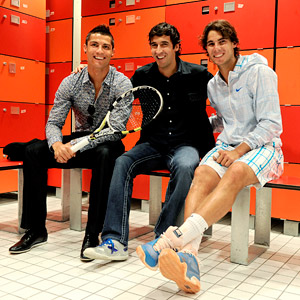 Jasper Juinen/Getty ImagesNadal might be a shareholder in Mallorca, but his heart lies with Real Madrid and the club's stars past, Raul, and present, Ronaldo.
The effect was that a club that won the Spanish Cup as recently as 2003 and, against all possible odds, just missed out on a fourth-place Champions League qualifying slot last season was on the verge of disappearing. In May, Mallorca entered into voluntary administration to help sort out its troubled finances.
Enter Rafael Nadal.
In July, the No. 1 tennis player in the world, along with his uncle Miguel Angel Nadal, an absolute giant of a footballer with FC Barcelona and Mallorca in his time, became shareholders at Mallorca. They bought 10 percent of the club when it was taken over for about $2 million by a consortium led by former coach Llorenc Serra Ferrer.
What's more, Miguel Nadal now is the assistant coach to head coach Michael Laudrup, with whom he played successfully for Barca. Those two men should be safe in their jobs for a decent time to come, whatever the club's results.
The irony of all this, of course, is that Rafael Nadal is no fan of Mallorca but an ardent supporter of Real Madrid. He is as passionate about Los Blancos as Jack Nicholson is about the Lakers and David Beckham is about Manchester United. At Wimbledon, Nadal is only too happy to wear all white. At the World Cup final, he wore a white shirt under his Spain top. Even at the news conference to announce his partnership with Mallorca, Nadal sported brilliant white pants. He's as Merengue as Raul, Iker Casillas and Alfredo di Stefano.
But Mallorca is Nadal's business focus now, and he already has gotten a first-hand taste of football politics. No sooner had Nadal taken partial control of his home club than UEFA, the European governing body, kicked the club out of the lucrative Europa League for which it had qualified by finishing fifth in La Liga last season. Mallorca failed to fulfill the admissions criteria because of debts and nonpayments to creditors.
"Well, if those are the criteria upon which UEFA is operating, then European competition will only comprise two or three clubs because the all the rest are in debt, too," Nadal grumbled, legitmately, through a spokesman at Mallorca football club.
Just to add salt to the wounds, Mallorca, this little club with debts of around $60 million and which is fighting for its very existence, managed to start its domestic season with a plucky draw with, yes, Real Madrid.
But many more challenges are still to come. This Sunday, Mallorca -- aka Nadal FC -- will travel to Sporting Gijon, which are managed by ex-Mallorca defender Manuel Preciado. Should Nadal make the U.S. Open final, it's due to start at precisely one hour into Mallorca's match at Gijon. It can't be easy being a tennis superstar, a Real Madrid supporter and a Real Mallorca shareholder.
But at least Nadal doesn't have to suffer the pain of conflicting interests until January 23. That's when Mallorca travel to the Bernabeu to face Real Madrid once more.
Graham Hunter is a freelance writer for ESPN.com who specializes in La Liga and the Spanish national team.
Spain writer
Graham Hunter is a Barcelona-based freelance writer for ESPN.com who specializes in La Liga and the Spanish national team.