Commentary
U.S. hopes 13 is lucky number
Updated:
September 8, 2010, 10:10 AM ET
By
Jeff Carlisle
| ESPN.com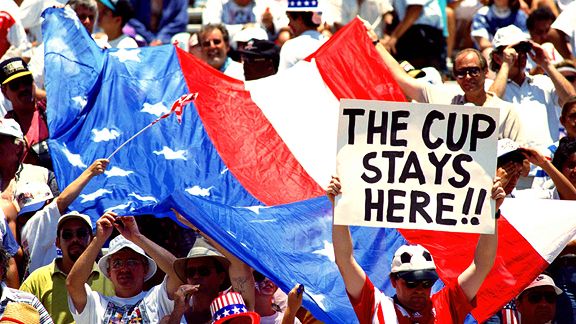 AP Photo/Eric DraperThe World Cup was a huge success in the U.S. in 1994. Will the country get a chance to host the tournament in 2018 or 2022?
Last week, an online petition created by the USA Bid Committee to support hosting the 2018 or 2022 World Cup surpassed 1 million signatures. Impressive for a nation that in some quarters still isn't considered a "soccer country."
Yet a vastly more important number to the U.S. is 13, which is the number of votes needed from FIFA's 24-man Executive Committee to secure the right to host one of the tournaments. And with FIFA conducting its official inspection tour of the U.S. this week, it's clear the process has reached a critical phase.
FIFA has sent a six-person delegation that will visit five cities in three days, the better to sample some of the proposed stadiums, training sites, FIFA Fan Fest venues, transportation, hotels and media facilities. The tour follows the submission of the U.S. bid book in May, a monumental document that laid out the bid's benefits in excruciating detail. But according to David Downs, the U.S. Bid Committee's executive director, what the FIFA delegation has to say about the bid will carry an extraordinary amount of weight as it relates to the eight other countries the U.S. is competing with.
"Let's face it, the FIFA Executive Committee members are not likely to have read all nine nations' 1,200 page bid books," Downs said in a telephone interview. "Ours is 1,200 pages, and I assume everyone else's was similar. It's just not going to happen. When this inspection delegation goes through and writes up their report, whether it's 30 or 40 or 50 pages long, their report is going to be taken seriously, and it may be the only thing that the Executive Committee has read that accurately assesses what every country has to offer."
In the case of the U.S., there's plenty to offer. The country has a slew of stadiums that would all but guarantee a record number of tickets sold. When combined with the transportation and hotel infrastructure, it's clear that little in the way of capital improvements would be needed to pull off an event as big as the World Cup. But Downs insists that the biggest benefits to the U.S. hosting the tournament are more long-term.
"I think we can honestly say that there are 100 million soccer fans in the U.S., but it's still only a third of the country," Downs said. "If we can ratchet that up by having a World Cup on the horizon eight to 12 years down the road, and turn that 100 million into 150 million, or dare I say 200 million, that is a gain that would have worldwide repercussions."
The U.S. bid does have its weaknesses, albeit minor ones. The size of the country, with its emphasis on air travel between cities, will limit the number of games fans can attend, although Downs said this could be mitigated with clever scheduling. There is also some sentiment that previous World Cup hosts such as the U.S. should be overlooked in favor of first-time host countries such as Qatar or Australia.
But perhaps the U.S.' biggest hurdle to landing the World Cup is the belief that the country is still not passionate enough about the sport to warrant being named host. It's a perception that seems incredible, even ridiculous, but one that Downs admits still needs to be addressed.
"I'm not sure everybody abroad has fully appreciated just how far the sport has come in the U.S. to date," he said. "And I'm not sure they fully appreciate how it would benefit the world of soccer if the U.S. goes to yet another level, which we believe would be the natural outcome of a World Cup here in eight or 12 years."
The last issue hints at just how political the process is regardless of how compelling a bid might be. But the U.S. is prepared to play the game. Downs indicated the bid committee would employ a strategy of equal parts humility and tenacity. While he stressed the U.S. is "not entitled to host because we have a great bid on paper," the U.S. Bid Committee does plan to visit as many FIFA Executive Committee members as it can in the coming months. CONCACAF has already pledged its three votes to the U.S. bid (there's no information on other votes pledged to other bids). This will allow the U.S. Bid Committee to focus on other confederations in order to acquire the remaining 10 votes needed. The U.S. will then deliver one final 30-minute presentation on Dec. 1, in Zurich, with the official decision being voted on the next day.
World Cup Voting
FIFA's 24-man Executive Committee will decide on Dec. 2 which countries will host the 2018 and 2022 World Cup. Each of the six continental confederations is represented, although clearly, the amount of power a given confederation wields is far from uniform. Here is how the votes break down.
UEFA (Europe):
Nine votes
CONMEBOL (South America):
Three votes
CAF (Africa):
Four votes
CONCACAF (Central and North America):
Three votes
Oceania (New Zealand et. al.):
One vote
AFC (Asia):
Four votes
But one area in which the U.S. bid will need to tread lightly is trying to land the 2018 tournament. There is broad sentiment that the right to host that edition of the World Cup should be given to a European country, with England and Russia seen as the favorites. The U.S. is the only non-European country still in the running. Can America use its position as leverage for possibly winning the 2022 bid, or does it risk alienating potential allies? This is especially pertinent since UEFA has more Executive Committee members, nine, than any other confederation.
"We've really put a lot of effort into [2018]," Downs said. "And until such time as someone says, 'Look, here's how you're hurting yourself by staying in 2018, and here's how you're helping yourself gain 2022 by dropping out of 2018,' then you won't see us do that. Obviously, if the right motivation comes along then by all means [we'll drop out]. And the right motivation could simply be FIFA saying, 'We want you to pull out of 2018.' But at the moment, they're actually comfortable with us being involved."
There are practical reasons for the U.S. to stay in the 2018 hunt, as well. The voting procedure for determining the winning bids, one made unique by the fact that two hosts will be named simultaneously, will not be approved by FIFA until late September or early October. Until that moment, it behooves the U.S. to stay the course and keep trying to win the hearts and minds of the various Executive Committee members, even those whose countries are also submitting bids.
"In our mind there isn't a vote that we shouldn't be seeking," Downs said. "Even though somebody might be beholden to their very own country that might be in the running for one of the World Cups, that country could be eliminated. Then that vote could be in play."
In the meantime, Downs, along with USA Bid Committee chairman Sunil Gulati, will try to make the best of impressions to the FIFA inspection delegation, which includes Chilean Football Federation head Harold Mayne-Nicholls and 2010 FIFA World Cup CEO Danny Jordaan. In the process, Gulati & Co. will be hoping to turn 13 into the luckiest number of all.
Jeff Carlisle covers MLS and the U.S. national team for ESPNsoccernet. He is also the author of "Soccer's Most Wanted II: The Top 10 Book of More Glorious Goals, Superb Saves and Fantastic Free-Kicks." He can be reached at eljefe1@yahoo.com.
Soccer
Jeff Carlisle covers MLS and the U.S. national team for ESPN FC.