Commentary
Wayne Rooney's path to redemption
Updated:
September 10, 2010, 2:59 PM ET
By
David Hirshey
| Special to ESPN.com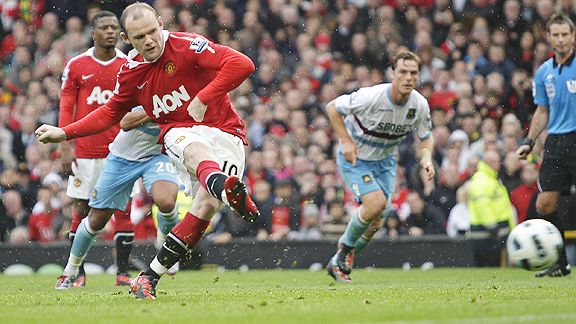 Ian Kington/AFP/Getty ImagesWayne Rooney is caught in an embarrassing scandal but has managed to keep his head in the game.
Say this much about Wayne Rooney: He's no Tiger Woods. Faced with equally lurid headlines that sent Woods scurrying into the witness protection program, Rooney held his oversized head high Tuesday and marched proudly onto the field in Basel, Switzerland, for England's tricky Euro qualifier. There, he did what he apparently does with $1,500-a-night escorts -- he scored. And not just any goal but his first goal for England in a year, and his first goal (other than a penalty kick) for anyone since the end of March.
If nothing else, that shows the difference of how two of the world's sports superstars respond to having the cuffs slapped on them by the morality police -- Rooney slots home Glen Johnson's cut-back in front of 40,000 fans while Tiger slinks off to a sex rehab clinic for 45 days.
Of course, Rooney didn't shank his SUV into a tree at 2:30 in the morning, but that doesn't mean his life hasn't been a car wreck this past week. Ever since the revelations of his private life were splashed across the front pages of two British newspapers Sunday, Rooney has been red meat for the ravenous tabloid press, which had been starved for a sex scandal since "love rat" Peter Crouch did his robot dance with a teenage prostitute over a month ago. Crouch's horndog antics came on the spiked heels of former England captain John Terry's extra-curricular activities and those of his Chelsea teammate Ashley Cole; the former's cheesy affair with Wayne Bridge's ex-girlfriend cost him his armband and whatever goodwill he had left among non-Chelsea fans, while the latter's wife divorced him after he was caught playing away one too many times.
A classy bunch, those English lads.
And yet, whenever one of these scandals surfaces, I find the gnashing of teeth a source of high hilarity. Should anyone other than Rooney's wife or his surrogate father Sir Alex (never mind the sexual escapades, those reports of Wazza smoking up a storm must have burst a blood vessel or two in ol' Purple Face) really care what he does when he's not wearing an England or ManU shirt? All that matters is how the tabloid frenzy affects his performance on the field.
[+] Enlarge
Laurence Griffiths/Getty ImagesOnce a Blue but now a Red, Rooney can expect a rough reception Saturday at Goodison Park.
That's why Rooney's steely-eyed response against Switzerland was so impressive. Here's a guy who dragged an epic scoring drought and the weight of England's World Cup expectations behind him like a Jabulani-and-chain all summer. Then, just when it appeared it would crush his bulldog spirit, he springs back to life in the face of a nationwide furor over his private life.
Actually, his rebirth began a few days earlier against Bulgaria, a game in which Rooney, no doubt aware that the tawdry newspaper allegations were coming, played like a man on a mission, spearheading England's attack and having a foot in all four goals. Still, his sublime playmaking aside, he failed to find the back of the net again, which is why his goal against Switzerland, a fairly routine finish, was so important. Not that he celebrated it with the kind of emotional, cathartic flourish you'd expect from a man who had gone scoreless for his national team for eleven games. No, for all the welcome relief he must have felt, Rooney knew that he had hardly wiped the slate clean with the public.
Unlike Tiger's mewling, red-eyed, carefully calibrated press conference that only served to assuage his sponsors, Rooney has obviously chosen a different route to redemption -- one that is filled with potential speed bumps like this Saturday's match, when Manchester United travel to Rooney's former club, Everton. It's one thing to deal with the kind of tepid epithets that the cuckoo Swiss fans in Basel hurled at him, but it's quite another to stand up to a torrent of venomous abuse from the Everton faithful, who still feel betrayed by Rooney's decision to leave his childhood club to whom he had pledged his loyalty by wearing a "Once a Blue, Always a Blue" T-Shirt.
Making his Premier League debut in 2002 at 16, he became a full-blown Toffees legend with a last minute, long-range surface-to-air screamer that ended Arsenal's 30-match unbeaten run. Not even his teenage hijinks -- he famously bedded a 48-year-old grandmother in a Liverpool massage parlor -- could dampen the love affair at Goodison Park. But that was before he succumbed to the money, glamour and trophy cases of Manchester United -- Once a Blue, Now a Red, it turned out -- and his homecomings ever since have not been quite as warm and fuzzy. When he first returned to his old stomping grounds, he was greeted with a glorious chorus of "He's fat, he's round, he'll shag your nan for 40 pounds. Wayne Rooney, Wayne Rooney."
David Hirshey

For more from David Hirshey, check out his columns on all things soccer.
• The All-EPL Team, 2011-12
• Saying goodbye to Chinaglia
• Time to dethrone King Kenny Dalglish?
• In praise of Fulham
• The comeback artists
• Call it a comeback
• Death by Manchester
• The battle for third
• Spurs' title credentials
• EPL's best starting XI
• City handed first EPL loss
• Chelsea pushed to brink
• Fragile egos crossing
• City and United
• Is Newcastle for real?
• The bad-behavior derby
And that's the height of Scouser wit compared to what he can expect to hear this Sunday when the Wayne Rooney Rehabilitation Tour rolls up to Goodison Park.
"There is a good chance he will get slaughtered [by the fans]," Everton and England defender Phil Jagielka said to the English press in the run-up to the game. But he also said, "I'm sure Wayne can deal with it. He is tough and will let his football do the talking."
And, if his new found mental fortitude is any indication, Rooney's answer will be found in the back of the net.
David Hirshey has been covering soccer for more than 30 years and has written about the sport for The New York Times, Time, ESPN The Magazine and Deadspin. He is the co-author of "The ESPN World Cup Companion" and played himself (almost convincingly) in the acclaimed soccer documentary "Once in a Lifetime."