Commentary
Real Salt Lake wants your respect
Updated:
September 9, 2010, 2:15 PM ET
By
Jeff Carlisle
| ESPN.com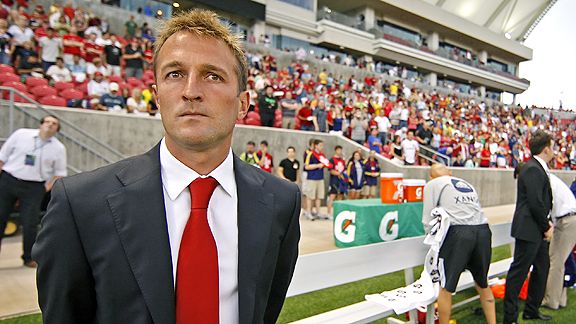 George Frey/Getty ImagesReal Salt Lake coach Jason Kreis is on a mission to prove last year's title run was no fluke.
Back when Real Salt Lake coach Jason Kreis was a player in MLS, he established plenty of goals (the kind you set, not the kind you score) for himself and his team. Winning the Supporters' Shield, emblematic of the best regular-season record, wasn't one of them.
"I can't remember even thinking about the Supporters' Shield as a player," Kreis said. "It wasn't a motivation in my mind. It was always, 'Let's try to find our form at the right time and get into the playoffs.'"
How times have changed.
Granted, MLS Cup remains the top priority for Kreis and every other manager in MLS, but now coaches are more aware of the Supporters' Shield trophy and what it represents. Part of this is thanks to the fact that, with expansion, more teams miss the playoffs. As a result, regular-season performance counts more than in the past. Going for the Supporters' Shield, and the home-field advantage that comes along with it, is an extension of achieving the consistency that is now required to reach the postseason.
But the unique circumstances under which Real Salt Lake won last year's MLS Cup also played a role in Kreis' newfound perspective. RSL snuck into the postseason as the eighth seed, then claimed the league crown on the back of two penalty shootout wins. Predictably, respect was hard to come by.
"So many people told me, 'Man you guys got on a great run at the right time,'" Kreis said. "That was doublespeak for, 'You got lucky.' It was easy to motivate the guys after the Cup. I told them, 'Wouldn't it be nice to put together a consistent run and play to our potential and really challenge for the Supporters' Shield?'"
RSL has done just that, as the club trails Los Angeles and Columbus by a single point, with Dallas four points out of the top overall spot. L.A. looked poised to run away with the crown for best regular-season record earlier in the year, but a sketchy 3-5-3 stretch in the second half of the season has seen the Galaxy fall back to the pack.
But L.A., despite its troubles, remains the favorite to claim the crown by virtue of a ridiculously favorable schedule. The Galaxy play six of their final seven games at the Home Depot Center. In other words, they are playing once a week. A cushy schedule indeed. Dallas, by contrast, has an even split of four home and four away matches to close the season. And, unlike Columbus and RSL, L.A. isn't burdened with CONCACAF Champions League commitments.
The tough thing for RSL and Columbus is the number of games left this season. Real has three home and four away MLS games. But it also has four CCL games, two of which involve travel -- to Panama and Toronto. Not easy trips by any means. Columbus has 12 games total for its run-in because of the Open Cup.
That's why Columbus coach Robert Warzycha, whose team will contest the U.S. Open Cup final against Seattle on Oct. 5, is circumspect about his team's Supporters' Shield prospects.
"It's about performing and about getting wins, and that's how we go," Warzycha said. "A trophy is a trophy so [the Supporters' Shield] would be absolutely nice. But more than anything, we want to get to the playoffs fresh."
Specifically, Warzycha felt the added burden of CCL games last season resulted in his team entering the playoffs tired, and sure enough, the Crew fell to RSL in the opening round. Warzycha has made more of an effort this season to spread out playing time as a result.
Whether he'll do that this weekend, when Columbus travels to Los Angeles in a top-of-the-table clash, remains to be seen. But the game, and the race for the top spot, should make for compelling viewing nonetheless.
NEWS AND NOTES
Together again:
After enduring a summer slump that threatened to undermine its playoff hopes, Colorado is scoring goals again. The Rapids tallied six times in their past two games.
Why the turnaround? You don't need to look any further than coach Gary Smith's decision to junk his lone forward alignment for a 4-4-2, a move that reunited last year's strike force of Conor Casey and Omar Cummings.
Casey and Cummings have combined for five goals in the past two games, pushing their season totals to nine and eight, respectively. Cummings has looked especially sharp now that he's been freed of the defensive duties he had out on the right wing.
[+] Enlarge
Marc Piscotty/Getty ImagesConor Casey and Omar Cummings have helped turn Colorado's fortunes around.
Of course, the question of why the two were separated in the first place has to be raised, especially when you consider that they combined for 24 goals last season. But, perhaps mindful of his team's struggles to score late last season, Smith felt that the team needed to have more possession of the ball, particularly on the road. Now his thinking has come full circle.
"It's just a matter of maybe forsaking a little bit more control over the game with that extra body in midfield, and being a little bit more aggressive," Smith said. "We were all finding that the side was playing well and we were creating chances, but there just weren't quite enough bodies in aggressive areas, the penalty box, getting on the end of crosses."
It should be noted that Colorado's resurgence came against Houston and Chivas USA, the two bottom teams in the Western Conference. A much tougher foe awaits this weekend, with the Rapids traveling to the East Coast to take on a revitalized New York side. Regardless, look for Smith to give Casey and Cummings another run-out up top.
Buddy, can you spare a center back?
Pretty much everything has gone right for Dallas in its 13-game unbeaten streak. Goalkeeper Kevin Hartman, 36, has turned back the clock, delivering some stellar performances. Brek Shea continues his ascension as one of the league's best up-and-coming players. Heck, even Jeff Cunningham, whose play personifies the word "streaky," looks to be finding a semblance of form.
But injuries have begun to erode what was once a deep roster. Take the center back position. Ugo Ihemelu is still recovering from a concussion suffered Aug. 8, and George John strained a hamstring this past weekend against Toronto. That has left Dallas relying on rookie Zach Loyd and new acquisition Jackson, both of whom are ostensibly outside backs. The good news is that Dallas is continuing to post clean sheets, but the injury bug that has bitten the FCD has coach Schellas Hyndman concerned.
"It's that continuity that we're missing, that coordination," Hyndman said of his back line. "One of the strengths of our team has been our back four, [where] we haven't made too many changes. Now we're making a lot of changes."
Hyndman indicated that John might be able to recover in time for Saturday's match against San Jose. Help also could arrive in the form of midfielder Daniel Hernandez, who was suspended against Toronto and could be drafted into the back, given his past experience playing the position. Kyle Davies, who suffered a broken arm and dislocated elbow back on Opening Day but hasn't played since, is another option. Or Hyndman could persist with Jackson and Loyd, both of whom have shown impressive versatility this season.
Whoever lines up in the back this week will face a difficult test, as Dallas faces an Earthquakes side bolstered by new signing Geovanni.
The importance of having Rafa:
New York manager Hans Backe got a reminder of what life is like without central midfielder Rafa Marquez in his side's 1-0 defeat by Real Salt Lake this past weekend. Marquez was away on international duty with Mexico, and, for the first 45 minutes, the New York midfield struggled mightily to maintain any kind of possession. This, in turn, put immense pressure on the back line.
"Without [Marquez], we had to defend all the time, so he's a key player, of course, just to organize the team when we're under pressure or one goal down," Backe said. "You can build up through him almost every time."
The silver lining is that, in the second half, New York competed on more level terms with the reigning champs. Central midfielders Tony Tchani and Seth Stammler began to assert themselves. They were aided by outside midfielders Joel Lindpere and Mac Kandji tucking inside and helping out on defense. The result was much more possession, and New York was denied only by some desperate defending by RSL.
"It was a good sign that we could compete with a team like Salt Lake," Backe said. "I think we are rather close with the best ones."
But certainly much closer with Marquez in the lineup.
Jeff Carlisle covers MLS and the U.S. national team for ESPNsoccernet. He is also the author of "Soccer's Most Wanted II: The Top 10 Book of More Glorious Goals, Superb Saves and Fantastic Free-Kicks." He can be reached at eljefe1@yahoo.com.
Soccer
Jeff Carlisle covers MLS and the U.S. national team for ESPN FC.