Commentary
An audience with King Henry
Updated:
September 15, 2010, 2:06 PM ET
By
David Hirshey
| Special to ESPN.com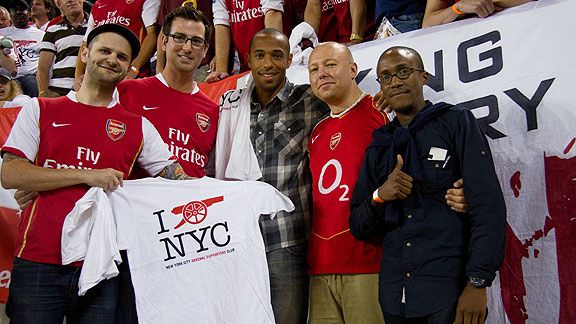 espn.comThierry Henry meets with Arsenal faithful in New York.
You'd think that a guy like Arsene Wenger, who prides himself on his team's nutritional regimen, would have figured out by now that he needs to feed his players more Flintstones' vitamins so that their bones, ligaments and groins are slightly less delicate than Wayne Rooney's marriage. I mean, here we are, little more than a month into the season, and the Gunners have Robin van Persie, Theo Walcott and Nicklas Bendtner -- essentially last year's entire strike force -- out for the foreseeable future.
Walcott was the latest marquee Arsenal player to go down in a forlorn heap just as Fabio Capello was set to anoint him as the future of England's next disappointing World Cup campaign. Add to that the seething frustration Arsenal fans still feel about Wenger's failure to bring in a goalkeeper who won't give fans an aneurysm every time he goes to catch the ball, and perhaps you can understand why this weekend was so uplifting.
Except for poor Abu Diaby, who was the victim of a thuggish over-the-ball challenge from Paul Robinson, Arsenal escaped relatively unharmed after a bruising battle with the Bolton Bully Boys. And by scoring four goals the Gunners also showed that they can cope without Van Persie and Walcott's firepower -- for the time being, anyway. Even Wenger had to smile as Alex Song cheekily chipped the Bolton keeper in the goalmouth when it would have been far easier to just try to slam the ball by him. It was Arsenal's 1,000th Premier League goal under Wenger and at least one ex-Gunner was impressed by it.
"That was a typical Arsenal finish," said Thierry Henry, who watched the game on TV before going out and scoring his second goal for the Red Bulls in their 3-1 win over Colorado over the weekend. "It was done with skill and style."
And who would know more about Arsenal's signature verve than the man who helped create it by scoring 226 goals in his eight glorious years at the club. " I wasn't just an Arsenal player," he said. " I was also an Arsenal fan."
There may be a pond between Emirates Stadium and Red Bull Arena, but you would have never known it Saturday when the largest-ever U.S. gathering of Gooners -- some 450 strong from England, Canada, California, Arizona, New Mexico, Florida and New York -- came to worship at the Thierry Henry shrine in New Jersey. Brought together by the Arsenal America supporters club, they turned an entire section of the arena into a raucous, chanting 90-minute Henryesque lovefest.
"You ask me what I miss most about Arsenal?" Henry said after the match as he ambled toward a corner of the stadium where his adoring subjects had waited patiently for an audience with the man they call King Henry.
"Them," Henry said, pointing to the crowd rapturously chanting "Thierry Henry! Thierry Henry! Thierry Henry!" "I miss them."
As the Gooner faithful made the time-honored "we're not worthy" gesture, Henry, regally dressed in a brown and white checkered shirt and designer jeans, bowed back.
"Thank you for coming out to see me," Henry told the Arsenal fans. "Arsenal is in my blood and it was sad day for me when I left the club."
Cries of "We love you, Thierry" rang through the stands and Henry waved a bit sheepishly. For the next 30 minutes, he spoke into a microphone, answering questions with a mix of graciousness and humor rare for a player of his stature. Imagine A-Rod giving up his Saturday night to hang with Yankees fans. Or Cheeseheads coming out to show Brett Favre some love in Minneapolis. In a sense, Henry is the anti-LeBron, a superstar who can go home again because he didn't burn it to the ground when he left.
"Is it true you'd take any job at Arsenal after your career is over?" someone asked.
"When I said I would be the water boy, I was joking."
"What's your favorite Arsenal memory?"
"I think it would have to be the last game at Highbury. When it ended, I just kept looking at the pitch thinking about how much time I had spent on it."
"What do you think of Tottenham?"
"I better not say"
"Who was the best Arsenal player you played with?"
"God, there were so many. Bergkamp, Pires, Vieira, Kanu, I was very lucky with my teammates. "
David Hirshey

For more from David Hirshey, check out his columns on all things soccer.
• The All-EPL Team, 2011-12
• Saying goodbye to Chinaglia
• Time to dethrone King Kenny Dalglish?
• In praise of Fulham
• The comeback artists
• Call it a comeback
• Death by Manchester
• The battle for third
• Spurs' title credentials
• EPL's best starting XI
• City handed first EPL loss
• Chelsea pushed to brink
• Fragile egos crossing
• City and United
• Is Newcastle for real?
• The bad-behavior derby
"How did you feel about Cesc [Fabregas] almost leaving for Barcelona?"
"As an Arsenal fan, I didn't want to see him leave. At the same time, you know at some point he's going to go home to Barcelona. But let's keep him as long as we can because he's the heart of the team."
"How do you like playing with the Red Bulls?"
"It's been surprisingly nice. The fans are very nice and there's a good bunch of players. Rafa [Marquez] and I are not 100 percent fit yet, but once the playoffs start we're going to push hard to win it all."
And then Henry looked up at the sea of red shirts and back-heeled another virtuoso performance into the net. " I know sometimes I was getting on your nerves, " he said plainly. "But I did my best to make you happy."
A huge roar went up and a small man stepped forward to present Henry with a gift. "I'm a graphic designer and I made this for you," he said to Henry. He produced a portrait of Henry's face he had etched.
It wasn't quite the same as Henry hoisting the FA Cup and EPL trophy at Highbury in 2003-04 to cap Arsenal's unbeaten, invincible season, but for the hundreds of Gooners who had come to Red Bull Arena to pay their respects, it was fit for the King.
David Hirshey has been covering soccer for more than 30 years and has written about the sport for The New York Times, Time, ESPN The Magazine and Deadspin. He is the co-author of "The ESPN World Cup Companion" and played himself (almost convincingly) in the acclaimed soccer documentary "Once in a Lifetime."