Commentary
Rolling out of control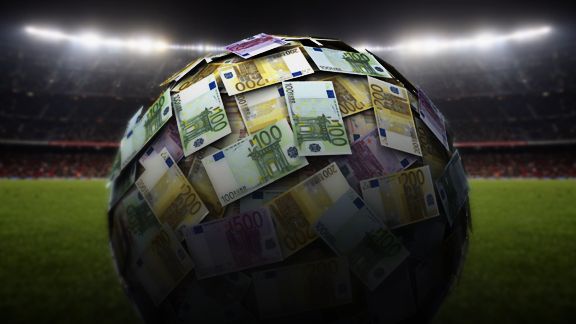 ESPN.com IllustrationHuge debt, cash crunches, mismanagement -- all the warning signs are there for an economic collapse among European soccer clubs. Something has to give. Or does it?
Real Madrid is broke.
It was broke before completing the two most expensive transfers ever in 2009, bringing in Kaka for $86 million and Cristiano Ronaldo for $123 million. And it was broke when setting the previous transfer records, buying Luis Figo for $57 million in 2000 and Zinedine Zidane for $71 million in 2001.
Real pulled off the Figo and Zidane acquisitions by selling its huge downtown training complex to the city of Madrid for $445 million. The president, Florentino Perez, used the cash to pay down $271 million in club debt and blew the rest on the players. After that, Real dug itself into a financial hole all over again -- a hole on which construction has yet to conclude.
Despite generating more than an estimated $500 million a year, which includes a TV deal worth more than $200 million annually, Real Madrid's debt is $414 million, according to the club's 2008-09 financial report.
Yet Real's spending hasn't stopped. Just this past transfer window, the club spent $114 million on new players and doled out what has been estimated to be around $126 million for buying out one coach and his staff and bringing in another.
Real's biggest rival is also broke.
Barcelona was broke before buying David Villa, Javier Mascherano and Adriano for $52 million, $28.4 million and $11.6 million, respectively, this summer. The club is so strapped for cash, in fact, that it took out a $195 million bridge loan to ensure that it could pay salaries.
Like Real, Barcelona also has a lucrative broadcasting deal, valued at more than $185 million a year, and brings in $293 million more in revenue. Yet like Real, Barcelona is in debt by $578 million.
But both teams show no signs of curbing their spending.
WARNING SIGNS
The 10 most indebted clubs in European soccer collectively owe $5.74 billion between them.
The 20 English Premier League clubs have a combined debt that has spiraled to $4.45 billion. Fourteen of them lost money in 2008-09, the most recent season for which numbers are available. The financial picture is even uglier in La Liga, in which last year's 20 teams tallied $4.65 billion in debt. Just three of those Iberian bastions of soccer achieved an operating profit: Barcelona, Real Madrid and little Numancia, which was relegated as a reward for its fiscal prudence.
Among 36 teams in the two professional Dutch divisions, only four are deemed financially sound by the Dutch soccer association. Twelve of them, including fabled Feyenoord, are having their troubled finances supervised by the league. As for the other 20 clubs, the league classifies as "worrisome" their state of financial affairs.
Indeed, there's serious cause for concern about the economic state of most European soccer clubs. Huge debt, cash crunches, mismanagement -- all the warning signs are there of an economic collapse, of the dominoes falling. Soccer is eating itself. Yet for all their financial troubles, clubs continue to spend money -- often lavish sums above market price -- on players. During this summer's transfer window, the 10 most spend-happy clubs dropped a combined $711 million on new players. Several of those clubs were also on another, more troubling list: the top 10 clubs with the most debt.
Something has to give. Or will it?
RISKY BUSINESS
Soccer clubs, especially those at the highest level, have developed an aversion to turning a profit, or even breaking even. After all, running a club like a proper business doesn't buy you wins. Many teams consider staving off bankruptcy as the only real long-term (or short-term) financial objective. And they'd sooner spend money they don't have on new players to try to strengthen their squads than worry about balancing the books. Losing money is worse than having it left over, because an operating surplus is equated to potential not realized. Besides, most clubs are savvy enough to know they can find a way out of paying the tab from their own pockets. A loan here, a local government bailout there; it all appears to work out.
"

In Spain, 85 percent of revenue is spent on player salaries. Some clubs, such as Atletico Madrid, Sevilla and Valencia, spent more on salaries than they earned in revenue in 2008-09.

"
Soccer clubs lack accountability or vision. Financial prudence might make the numbers-crunchers happy, but it usually leads to unspectacular player signings and mediocre results. One classic example is the way British entrepreneur Sir Alan Sugar ran Tottenham Hotspur. He bought the club in 1991 and ran it as a responsible business. During Sugar's 10 years at the helm as chairman, the Spurs never cracked the top six of the league and won nothing but the League Cup, much to the frustration of the fans.
Most other presidents and chairmen take the opposite approach -- buy now, ask questions later.
"Many clubs are run by people that are in it for the wrong reasons," said Graham Smith, a former professional player, licensed agent and now the president of First Wave Sports Marketing, which brings EPL clubs over to tour the U.S. "There are many instances of the chairman being bigger than the club, and it's all about him. Proper financial decisions are not made on sound ground but with an ego driving it along.
"They get sucked into the whole glamour bit. It's justified by having won what they set out to. And they are told by an agent or a coach that all they need is to sign a few of these great players and the money will come rolling in."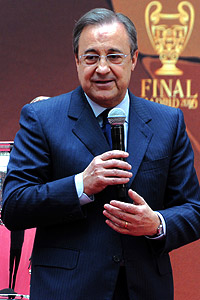 Javier Soriano/AFP/Getty ImagesReal Madrid president Florentino Perez has helped fuel the club's spending.
Examples abound: Florentino Perez; Atletico Madrid's now-deceased, spotlight-grabbing Jesus Gil y Gil; and AC Milan's Silvio Berlusconi, who has used the club to leverage a highly successful, if controversial, political career.
"I was on the board at Chelsea for five years [from 1985 to 1990]," Smith said. "And the people running Chelsea Football Club, had they been in any other industry, certainly an industry where profit was paramount, they would have been sent down the road, because they had failed miserably."
Part of the reason clubs are saddled with so much debt is simply because they overpay for players in the transfer market. Payroll is the other key element. In Spain, 85 percent of revenue is spent on player salaries. Some clubs, such as Atletico Madrid, Sevilla and Valencia, spent more on salaries than they earned in revenue in 2008-2009, the most recent season for which financial numbers are known.
The Guardian published a study, based on figures from June 1, 2008, to May 31, 2009, which illustrates that gross revenue and payroll were perilously close for many EPL clubs. Manchester City's gross revenue was $133 million and its payroll was $127 million. Blackburn Rovers took in $78 million and spent $70 million on salaries. Wigan Athletic's revenue and salary numbers were $70 million and $64 million, respectively. At Birmingham City and Wolverhampton Wanderers, the margin between turnover and the wage bill was roughly one and a half million dollars.
While the Premier League is engaging in risky business, the three tiers below the top -- the Championship, League One and League Two -- have agreed that each club's wages should not exceed 65 percent of gross revenue. "This is a voluntary, self-regulatory model, and it's working," said Simon Chadwick, a professor of sports business strategy and marketing at Coventry University in England. "But it is unlikely that the Premier League clubs will move toward this in the short term. Clubs are locked into short-term thinking, and there's no concern for the long-term. There's an emphasis on buying the best players, paying what you can afford them."
It must be said that some Premier League outfits keep their wages at or below 65 percent of gross revenue. Last year, for example, Manchester United was at 44 percent and Arsenal at 32.9 percent.
But in the cases where payroll comes close to outstripping income, there is a razor-thin margin for error for unexpected financial hits, such as a sponsor dropping out, broadcasters going bankrupt (as may happen in the case of Barcelona and Real Madrid) or ticket sales declining. When this happens, clubs are ill-equipped to pay off debt and end up digging themselves a deeper financial hole.
SEEING RED
[+] Enlarge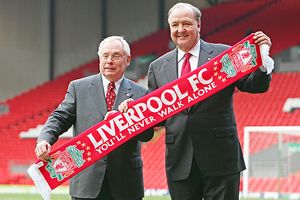 Paul Ellis/AFP/Getty ImagesTom Hicks and George Gillett bought Liverpool in 2007. Now the American owners are struggling to retain control of the financially troubled club.
Liverpool and Manchester United are on the brink of financial ruin. Each club was purchased by an American investor, who used the club as collateral for the necessary funds to acquire it. And each club has seen its economic fortunes take a dive.
Liverpool's owners, George Gillett and Tom Hicks, allowed their loans reach a level that was labeled 'toxic' by the Royal Bank of Scotland. Since their attempts to refinance have been futile, the pair might be forced to sell the club. The bank could also seize the club and do it for them. If Liverpool went into administration, EPL rules would dictate that the club be deducted nine points in the standings. In the meantime, the club's debt has swollen to $605 million, with an annual turnover of about $280 million.
The Glazer family ruined Manchester United's financial health and sent it into an interest-rate tailspin on the loans it took out to buy the club in a hostile takeover. The Glazers have borrowed from the club and charged it $20 million in fees to compensate the Glazer family for running the club, according to the Guardian. In other words, for the privilege of being owned by the Glazers, the club pays the family millions in salaries.
The Glazers are also experiencing financial trouble with one of their other businesses, First Allied Corporation, which operates malls. First Allied has seen nine of its 68 malls become insolvent, while another 29 are operating at under capacity. First Allied barely broke even last year, and if it fares any worse there's the possibility that the Glazers could borrow even more money from or against United to keep First Allied afloat.
SUGAR DADDY-NOMICS 101
The crux of soccer's debt habit is this: Clubs aren't nearly as good at generating income as they think they are. And too many operate on the assumption that debts incurred now will be easily cleared up when the cash starts rolling in.
"There's still a wild belief that the revenue streams of some of the larger clubs are still relatively immature and underdeveloped [in the global economy]," Chadwick said. "The counterargument to [curbing spending by clubs] is that we're now operating in a global sporting market and if we're looking at marketing places like China, European soccer is getting a lot of competition from the NBA, Formula 1 and tennis. There is a view that there shouldn't be regulation and clubs should be allowed to keep buying and paying accordingly, which enables them to build the brand and help soccer generate revenue in other parts of the world [which would alleviate debt]."
But the debt isn't going away. Yet Europe's top soccer clubs are flouting the failure that should befall them. They have discovered the secret to the eternal life -- maintaining their status as top clubs in Europe. In much the same way that America's financial institutions were deemed too big to fail, Europe's biggest soccer clubs have become economically unsinkable.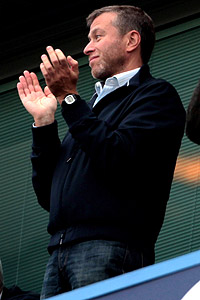 Phil Cole/Getty ImagesChelsea's Roman Abramovich has used his wealth to turn Chelsea's fortunes around.
"Irrespective of the liabilities that have been accumulated by many clubs across Europe, there is hardly any bankruptcy risk similar to what is faced by regular companies," explains economist Bernd Frick of the University of Paderborn in Germany. "Clubs will always find help from politicians either in their local community, in the federal, state or even in the national government.
"Nobody would care if similar-sized enterprises disappeared. But that's not the case with soccer clubs. The average German Bundesliga club has a turnover of 100 million euros -- that's less than my university."
And unlike Frick's university, soccer clubs enjoy the spotlight. "Attention from the media acts like a life insurance for soccer clubs," Frick said. "If the ceiling in your local kindergarten comes down and hurts some of the kids, even then it's pretty difficult to mobilize more than just 20 parents to march to the city hall. But if your local soccer club is threatened, everybody gets up to help the club."
It goes deeper than that, though. It's a romantic notion to think it's just the power of the people who help keep soccer institutions afloat. But politics, as always, plays a role -- a sometimes unsavory one at that.
"There's a politicized operating environment," Chadwick said. "And what we've tended to see with Barcelona and Real Madrid is that financial institutions that have a vested interested in their success will lend money on preferential terms that other businesses wouldn't receive. There are even rumors that some financial institutions and political organizations have helped write off debts. Clubs can build up huge debts and can then rely on political and local support to deal with the situation."
Valencia, for example, owes $635 million and hasn't a prayer of repaying it. But the local government has provided the club with get-out-of-jail free cards on a number of occasions, underwriting a $94 million loan in 2008. And the European Commission investigated whether the city of Madrid knowingly overpaid when it acquired Real's training grounds as a covert subsidy. In the Netherlands, several provincial clubs have been bailed out in similar ways.
If the government or local businesses can't be counted on, what's a club to do? Find a wealthy benefactor, of course, someone who can purchase the club, vouch for its debt and bankroll lavish spending. Chelsea's Roman Abramovich, for example, has injected about $1.1 billion to pay off debts and purchase players, an amount that probably will never be repaid to him. Manchester City's Sheikh Mansour more recently paid off $600 million of City's debt and then spent $537 million on new players in just two years.
While many top leagues are attractive to investors, the EPL -- which is the most popular soccer league in the world -- can count on being a stomping ground for rich investors with money to burn. "Whenever one is ready to sell the club, the next is standing at the door already," Frick said. Case in point: Mansour bought the club from Thaksin Shinawatra, Thailand's wealthy prime minister, who pumped a good chunk of cash into the club before his assets were frozen during a coup.
"The prevailing thinking in the Premier League is that there's always someone out there to underwrite the debt you have accrued," Chadwick said. And this isn't just a silver-bullet solution for the big clubs. Even Blackburn Rovers, a relatively modest club, has batted its eyelashes towards the fat cats and drawn in an investment group from the Middle East. The would-be investors have proposed taking over the club, paying off its $26 million debt and injecting more than $150 million to buy players, with $300 million more streaming into the club over the next decade and a half.
"There is this seductive appeal that soccer has," Chadwick said. "Many business people, sponsors, and investors don't think in a rational way when it comes to soccer. In Europe, the sport is deeply ingrained and therefore the popularity creates this inclination among financial and business people that they should get involved in soccer to be good fans, and build links to business people and the media…There's also a general view among sponsors and broadcasters that soccer is good business. If you're seen to be associated with football and providing revenues through a shirt-sponsorship deal, for example, it plays out very well to the market."
"

The prevailing thinking in the Premier League is that there's always someone out there to underwrite the debt you have accrued.

"

-- Simon Chadwick, a professor of sports business strategy and marketing at Coventry University
Maybe so, but the heaping amounts of debt are becoming hard to gloss over. And benefactors are as likely to get fed up and take off as they are to get bored and move on, leaving an insolvent mess in their wake.
Can soccer rely on them forever?
THE BOTTOM LINE
Very few clubs work without debt. "It seems to be an accepted part of the industry," said Chadwick. "It's a graver and graver situation. The natural laws of economics tend to suggest that clubs won't survive. And if you look at places like Belgium, what has already played out is what will potentially take place across Europe. And that is clubs closing down, even well-ranking, well-known clubs [KV Mechelen, in the highest division, went bankrupt in 2002]. What we're also seeing is clubs merging with one another because there's very little other option."
The economic policies employed in soccer would run any other industry into the ground. So it's a good thing soccer doesn't play by the same rules. But a day when banks, creditors, governments and rich men realize that lending money to soccer clubs is tantamount to setting it on fire is inevitable.
The powers that be are aware of this.
UEFA, European soccer's governing body, will implement its Financial Fair Play scheme by the 2012-13 season. It will ban teams that spend more than they earn from continental competitions. Clubs like Chelsea and Manchester City would be in danger of missing out on the tournament, the Champions League, that they spend so heavily to gain access to.
Yet a loophole remains: From 2011 through 2014, clubs can rack up $57 million in debt, so long as one owner takes shares in the club in return for the injection. From 2014 to 2017, $38 million more can be overdrawn on the same terms. But how benefactors who already own all of the club are to exchange it for shares is not addressed. And initial plans to tie spending to a percentage of revenue were discarded. This legalized debt-accrual really just means that clubs can -- if they're clever enough to siphon it through a single owner-figure -- keep living above their means for the foreseeable future, as their post-2017 fate is as yet undefined. As such, the noble resolution is toothless if manipulated properly.
Spending, in other words, will go on.
Leander Schaerlaeckens is a soccer writer for ESPN.com. He can be reached at leander.espn@gmail.com.
Contributing writer, ESPN.com
Leander Schaerlaeckens is a contributing writer for ESPN.com. He has previously written for The Guardian, The Washington Times and UPI.