Commentary
The reign of pain in EPL
Updated:
September 17, 2010, 6:43 PM ET
By
David Hirshey
| Special to ESPN.com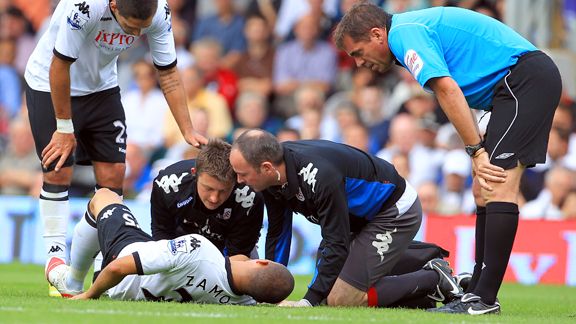 David Cannon/Getty ImagesBobby Zamora lies injured with a broken leg after being on the wrong end of a tough challenge.
Will the last player with two good legs in the EPL please stand up? Slowly.
If the high drama of Wayne Rooney and Man U's alarming tendency to leak late goals weren't sufficient to get the juices flowing in this new EPL season, another worrisome trend has surfaced -- one that threatens to kick, elbow, hack and gouge the very soul of English soccer.
Or to put it another way: Has the Prem turned into an abattoir of shattered tibias, fractured fibulas and shredded metatarsals? How long before special wings at hospitals are created for the purpose of reattaching EPL players' legs?
In the first few weeks of the season, the litany of players who have been on the wrong end of "accidental" challenges includes Fulham's Bobby Zamora, Everton's Jack Rodwell, Spurs' Luka Modric and Manchester City's Aleksandar Kolarov. And that's without even mentioning Arsenal's triage unit -- Eduardo's leg- and confidence-snapping injury in 2008, and Aaron Ramsey's limb-mangling assault in February -- because, as we all know, Arsenal players are asking for it with their intricate passing and insistence on keeping the ball on the ground.
I would also be remiss if I didn't cite Portsmouth's Kevin-Prince Boateng's flying leg whip that ripped Michael Ballack's ankle to pieces at the end of last season, which put the Chelsea midfielder out of the World Cup. Wait, there's more.
Does anybody remember the bludgeoning tackle that Man City's Nigel de Jong laid on Bolton's Stuart Holden that broke the American's leg in March?
"As soon as the game was over, I got hold of de Jong and I told him … he really must get this out of his system," said Bert van Marwijk, the coach of the Dutch national team, in a press conference. "A foul like the one Nigel committed on Holden can cost us the World Cup."
At least van Marwijk knows better than to say "Nigel isn't that kind of player." Indeed, de Jong may not have cost the Dutch the World Cup, but he did something far worse. With his sternum-rattling, card-free karate kick on Spain's Xavi Alonso in the final, he sent a message to his fellow soccer thugs: You can still do the crime without doing the time.
Don't get me wrong. I realize that soccer is a contact sport. I even accept that power and aggression are just as much a part of the game as speed and skill. But at the risk of going all Wengerish on you, I worry that the EPL will soon need a bionic limb factory if it doesn't clean up its act.
When was Lionel Messi's last serious cruciate ligament injury in La Liga? Or Wesley Sneijder's broken foot in Serie A? Or Bastian Schweinsteiger's torn ACL in the Bundesliga?
[+] Enlarge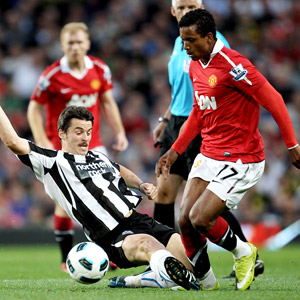 Alex Livesey/Getty ImagesLeg-crunching tackles from the likes of Joey Barton are a black mark on the EPL.
What is it about the English game that leads to such sanctioned violence? Perhaps it's symptomatic of the macho British culture, or maybe it's the only way some talent-shy teams can hope to remain seated at the EPL's top table. But regardless of its causes, the effects are manifest. We're now at a point where the hardest-working men on the field are the guys who carry the stretcher.
When an English referee, Howard Webb, allowed de Jong's criminal challenge on Alonso to go unpunished, can it really be a surprise that his fellow whistle-players in the EPL would show the same misguided leniency to players who are fond of what the British press call "a reducer" -- a hard send-a-message tackle, usually early in the game, that makes an opponent think twice about venturing into the defenders' zip code again?
Of course, sometimes a reducer takes the form of borderline felonious assault, like the time Man City's Ben Thatcher sprinted some 30 yards to crash his elbow into Pedro Mendes' skull when the Portsmouth player was going nowhere on the touchline. Such was the force of the blow that Mendes was knocked unconscious and went tumbling into the advertising placards.
In a rare show of moral authority, the English FA hit Thatcher with an eight-match ban, but that turned out to be an aberration; for the most part those charged with violent play are given much lighter sentences, with a two- or three-game ban the most frequent punishment.
No wonder some of the world's most gifted players have shunned the EPL in favor of the continent, where defenses may still be nails-hard but you have a better chance of ending the game with body parts intact.
Chelsea, Man U and Man City have tried to woo Ronaldinho, Kaka and David Villa at one point or another, but all have resisted their blandishments. True, Cristiano Ronaldo, Robinho and Fernando Torres have survived the rigors of the Prem, but of the three, two are back on the mainland, while Torres continues to struggle with the physicality of the English game. "The referees only give a foul when you are bleeding," the Liverpool striker said to the English media.
David Hirshey

For more from David Hirshey, check out his columns on all things soccer.
• The All-EPL Team, 2011-12
• Saying goodbye to Chinaglia
• Time to dethrone King Kenny Dalglish?
• In praise of Fulham
• The comeback artists
• Call it a comeback
• Death by Manchester
• The battle for third
• Spurs' title credentials
• EPL's best starting XI
• City handed first EPL loss
• Chelsea pushed to brink
• Fragile egos crossing
• City and United
• Is Newcastle for real?
• The bad-behavior derby
One wonders what Torres will say Sunday when faced with Manchester United's Nemanja Vidic at Old Trafford. It's no secret that the Spaniard has owned the Serbian in recent meetings, but we'd be derelict if we forgot the classic stadium song sung in Nemanja's honor:
Nemanja ohhh, Nemanja ohhh,
He comes from Serbia …
He'll f---in' murder ya!
After all, the fans love the menacing reputations of their players, but it does nothing to solve the bigger problem at hand: While the EPL still bills itself as the apotheosis of world soccer, we see far more guys like Sunderland's Lee Cattermole (two red cards this season), Bolton's Kevin Davies (led the EPL two years running for most fouls, and tops the table in 2010-11 with 16 in four games) and Wolverhampton's Karl Henry (broke Zamora's leg and even tried to "reduce" everyone's favorite thug, Joey Barton) roaming the field hell-bent on mayhem than we do playmakers like Cesc Fabregas or David Silva surgically dissecting defenses.
I highly doubt that EPL managers send their enforcers out on the field with explicit instructions to maim, but I'm sure they encourage them to "get stuck in." That can mean hard tackling or full-blooded commitment, but all too often these days their players take the phrase literally and get their studs stuck into the marrow of an opponent's bone.
So what is to be done to keep the Prem's more skillful players from becoming an endangered species? How about having the perpetrator spend the exact same amount of time on the sidelines as the player he put out of commission with his reckless tackle? That could prove to be a reducer of a whole different sort.
David Hirshey has been covering soccer for more than 30 years and has written about the sport for The New York Times, Time, ESPN The Magazine and Deadspin. He is the co-author of "The ESPN World Cup Companion" and played himself (almost convincingly) in the acclaimed soccer documentary "Once in a Lifetime."