Commentary
The other World Cup
Updated:
September 20, 2010, 11:52 AM ET
By
Dave Ungrady
| Special to ESPN.com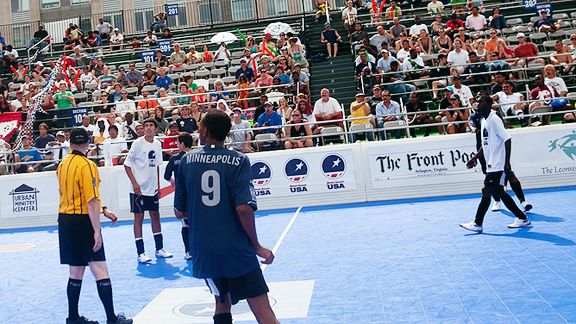 Brendan Hoffman/Getty ImagesIn August, Minneapolis played San Francisco in the Street Soccer USA Cup for a spot on the homeless U.S. World Cup Team.
The city of Minneapolis has enjoyed its share of soccer notoriety. From 1998 to 2003, the Minnesota Thunder won the USL A-League title once and were league runners-up three times. The Minnesota Lightning of the USL W-League won a division title in their second year in 2007. Both teams play home games at the National Sports Center in Blaine, Minn., which annually hosts the Schwan's USA Cup, the largest international youth tournament in the world.
A group of homeless players has more inconspicuously joined the list of nationally recognized soccer clubs from Minneapolis. The YouthLink team -- which is part of YouthLink, a transitional homeless facility for teenagers and young adults -- won the Street Soccer USA Cup, the annual national championships for homeless teams, in 2008 and was runner-up in the 2009 tournament. And this year, seven players from the club have been selected for the Homeless World Cup, which started on Sunday and will go through Sept. 26 in Rio de Janeiro, Brazil. They include three on the U.S. women's team, called the Lady Salamanders.
The Lady Salamanders will help make history, too, because it's the first time since the women's tournament began in 2008 (the men's started in 2003) that the U.S. will send a women's team to compete.
The three players from Minneapolis represent the largest number from one club on the U.S. women's team of eight players (only four players are on the field in this street soccer format). The squad was picked as all-stars from the 2010 Street Soccer USA Cup held July 30 to Aug. 1 in Washington, D.C.
The YouthLink women's team finished the tournament with a 6-3 record and in 11th place, but three of its members played well enough to earn the trip to Brazil. Two of the Minneapolis players are Somalia refugees who moved to the U.S. to escape a civil war that has afflicted their home country since 1991.
Deqo Shire, 17, moved to Minneapolis in 2004 with her family, but problems at home forced her to live with friends. She played soccer with her five brothers and friends in Somalia, although she says girls were discouraged to take part in the sport in her homeland. After leaving Somalia, Shire did not play the game for a few years until she became a part of YouthLink.
Her mission at the Homeless World Cup is as much about sending a message of inclusiveness as winning a world championship. "Some of my friends in Somalia are good players, but some of their parents will not allow them to play," she said. "I am so happy that I can play soccer. My hope is to take the Cup and show the world that we can play soccer."
Hani Haybe, 21, of Somalia and Jasmine Morris, 19, will also represent Minneapolis on the U.S. women's team. Morris left home two years ago due to conflicts with her mother's boyfriend and played soccer for the first time with YouthLink beginning in 2009. Morris said she was surprised to make the U.S. team for the Homeless World Cup. "I'm so excited and a little nervous. It's my first trip outside the United States."
The U.S. women's team got its nickname from Sheila Johnson, the president of the WNBA's Washington Mystics and the CEO of Salamander Hospitality, a hotel and resort consulting company. As the founding sponsor of the women's team and its advisor, Johnson is funding the team so it can compete in the Homeless World Cup.
The eight members of the U.S. women's team include 62-year-old Jessica Watson Crosby of Brooklyn, N.Y., who initially thought street soccer was a joke, and Lisa Wrightsman of Sacramento, Calif., whose serious approach to soccer contributed to personal struggles that led to her homelessness. Wrightsman is the second all-time leading scorer for Sacramento State University and has been playing soccer since she was a child. Problems from alcohol and drug abuse forced her from her home.
After she spent a week in jail for drug possession and trespassing, Wrightsman moved into transitional housing for the homeless and addicts. Wrightsman was named the women's Most Valuable Player at the Street Soccer USA Cup earlier this summer and is considered the U.S. team's most skilled player. As a younger player, she dreamed of someday playing in a World Cup, but not with a homeless team. "I'm honored, shocked, " she said of making the national team. "I've worked harder to do this than anything in my life."
Teams at the Homeless World Cup play two seven-minute halves per game with four per side on a walled field 22 meters by 16 meters. The women's tournament will feature 16 teams. All teams progress through three stages of group play and will compete for six trophies.
Erin Swenson, the coach of the U.S. women's team, is most concerned about player familiarity. "Our biggest challenge, and this is typical of all teams, is that most of the players have not played together," she said. "We have five women coming in from five different cities. We'll stress getting to know one another and putting a lot of emphasis on team-building."
Getting to know each other -- that's something the three players from the YouthLink team won't have to worry about.
Dave Ungrady is a writer based in Leesburg, Va., and the author of "Unlucky: A Season of Struggle in Minor League Professional Soccer."