Commentary
For Bradley, vote of no confidence
Updated:
September 21, 2010, 2:37 PM ET
By
Jeff Carlisle
| ESPN.com
Observers of the U.S. men's national team were treated to an example of chaos theory in action on Monday. Jurgen Klinsmann broke his silence, U.S. Soccer Federation president Sunil Gulati didn't and now manager Bob Bradley looks even more vulnerable than when he first took the job almost four years ago.
Speaking to Kansas City Wizards' color analyst Sasha Victorine last weekend, Klinsmann indicated that he and Gulati spoke over a period of three to four weeks about the national team's managerial position, a job that was -- and still is -- occupied by Bradley. According to Klinsmann, the talks broke down over the same issues that scuttled a potential deal four years ago.
In short, it was about control.
[+] Enlarge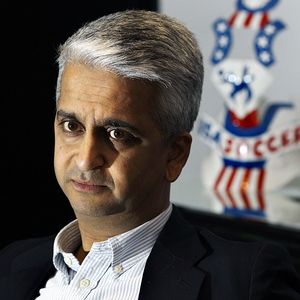 AP Photo/Elise Amendola"We felt now was the right time for us to make a change," announced U.S. Soccer president Sunil Gulati.
"We didn't get it to a positive ending because we couldn't put into writing what we agreed to verbally," Klinsmann said during an interview broadcast Sunday on the Kansas City Wizards' pregame show. "It's obviously always about authority. When you have conversations with a club team or a national team, it's who has the last word in what issues, and that's where we couldn't get into the written terms.
"Verbally we agreed on that the technical side is my side," Klinsmann continued. "And I should have a 100 percent control of it. Written terms, they couldn't commit to it. At that point I said, 'Well then, I can't get the job done because I have to have the last say as a head coach for my entire staff, for all the players issues, for everything that happens with the team.'"
To a degree, Klinsmann's revelations aren't that surprising. It's been known for about a month that the two sides had discussions, and the speculation over why they couldn't agree proved to be correct. But if Klinsmann's version of events is to be believed -- and in the absence of any comments by Gulati beyond a blanket "no comment", that's all we have to go by -- it's clear that Gulati's interest was no mere flirtation and that the talks were serious enough for the two sides to discuss the fine print on a prospective contract.
All of this has served to chip away at Bradley's position as manager. It's one thing to be Gulati's backup choice, as Bradley was in 2006, but to be the clear second option while already occupying the job is tantamount to a vote of no confidence.
The news has some far reaching and potentially damaging repercussions, too. It's common knowledge that some significant rebuilding work needs to be done to the national side with the aging backline requiring special attention. Will Bradley make the hard decisions to go with younger players in the short-term, or will the lack of conviction shown by Gulati cause him to stick with veterans longer than he should?
History has shown that Bradley will make the hard choices, albeit when he feels the time is right. But if in doing so the U.S. fails to win this summer's Gold Cup, a title that in 2007 proved to be a springboard for future success, the pressure on Bradley will no doubt increase, and Gulati may feel compelled to act.
Of course, there are those who would celebrate if Bradley were to be ousted, the theory being that the U.S. would have plenty of time to find a suitable successor. This line of thinking is highly dangerous. To see how such instability can undermine a qualifying campaign, one needs only look at Mexico's qualifying odyssey for the 2010 World Cup in which it burned through managers Hugo Sanchez and Sven-Goran Eriksson before settling on Javier Aguirre. True, Mexico eventually qualified for South Africa, but it was much harder than it should have been.
Let's face it, while Gulati may be adept at navigating the corridors of power in FIFA, his record in terms of organizing a job search doesn't impress. His decision to say nothing about his interest in hiring Klinsmann has served to only make an awkward situation even worse. For that reason, there is little confidence that Gulati would make an astute selection when there's less time to decide, especially with his favorite backup option no longer part of the equation.
Jeff Carlisle covers MLS and the U.S. national team for ESPN.com. He is also the author of "Soccer's Most Wanted II: The Top 10 Book of More Glorious Goals, Superb Saves and Fantastic Free-Kicks." He can be reached at eljefe1@yahoo.com.
U.S. soccer correspondent
Jeff Carlisle covers MLS and the U.S. national team for ESPN FC.