Commentary
Battle of the blues
Updated:
September 24, 2010, 1:59 PM ET
By
David Hirshey
| Special to ESPN.com
At last there's a good reason to wake up at the crack of dawn on Saturday -- other than my usual stack of Stella Artois-flavored pancakes. Finally, we have an English Premier League match that really matters.
Call it the Money-Is-No Object Game or the I-Have-More-High-Priced-Mercenaries-Than-You Bowl, but when undefeated and untested Chelsea swaggers into Eastlands to meet a Manchester City team with enough talent and confidence to beat anyone in the Prem, attention must be paid.
It's a classic matchup of nouveau riche (Chelsea, owned by the Russian oligarch Roman Abramovich who arguably began the trend of wildly overpaying for players) versus nouveau richer (Manchester City, which got a geyser of Arab oil money that raised the ante to new heights of fiscal lunacy).
The dramatic cash flow shift was reflected on the field last season when the light blues of City twice defeated their darker-hued rivals, even though Chelsea eventually went on to win the EPL title. Despite Man City's two wins against the champions, the club went trophy-less and gagged its way to a fifth-place finish behind perennial underachievers Arsenal and Spurs.
This year is different.
No less a bastion of frugality than Manchester United's Sir Alex Ferguson, who spent $11.6 million on Bebe, a 20-year-old Portuguese striker he had never seen play, accused City of "kamikaze spending." City fired back by decorating buses in downtown Manchester with the words, "This is gonna be our season."
Whether the buses are correct remains to be seen, but right now City is one of only three teams that stand a chance of keeping Chelsea from making a mockery of the title race. And the other two, Arsenal and United, don't visit Chelsea at Stamford Bridge until Oct. 3 and Dec. 18, respectively.
Not that Chelsea seems worried. Already four points clear after just five games, and boasting a gaudy plus-20 goal difference, the Blues' early-season invincibility -- albeit at the expense of teams with a combined record of 6-14-5 -- could morph into a victory lap before Thanksgiving.
So how will it play out? Let's break it down geographically.
[+] Enlarge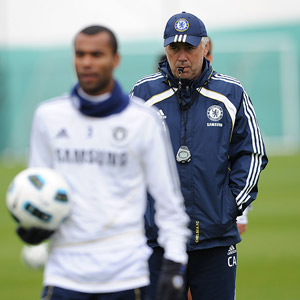 Darren Walsh/Chelsea FC/Getty ImagesCarlo Ancelotti has gotten the Blues off to a perfect start. Can City stop them?
A Little Piece of Italy
Chelsea's manager is a calm, well-fed Italian import who's quick with a self-deprecating joke about his appetite: "I was looking at Yuri Zhirkov and all I could see was a rib-eye steak," Carlo Ancelotti wrote in his autobiography. By contrast, the man in charge of Man City, Roberto Mancini, is tense, stylish and forever pleading for patience from the fans. He may get it from them, but not his bosses, who expect an immediate return on their prodigious investment.
So while Ancelotti is secure in his job, Mancini feels the pressure of being in charge of one of the world's most free-spending teams and has resorted to ordering his players to not complain publicly about their lack of playing time. (Arrivederci, Robinho. Ciao, Craig Bellamy and Stephen Ireland.) Worse, Mancini hasn't been able to field a full team because his expensive signings keep getting injured -- seven regulars, including Mario Balotelli, Jerome Boateng and Aleksandar Kolarov are on the DL -- a situation that a former Man City fitness coach, Raymond Verheijen, blamed on players being overworked in practice.
Meanwhile, Ancelotti has Chelsea playing with a joyful flair rarely seen in the Jose Mourinho/Avram Grant/Luiz Scolari years, and Abramovich couldn't be happier with the high-scoring entertainment on display. Even Mancini is impressed, or at least canny enough to lower expectations for Saturday's game. "They are probably going to win the Premier League easy," he said of Chelsea in his prematch press conference, no doubt hoping that the Blues will look past City to Arsenal next week.
Advantage: Chelsea
Ivory Coasting
Outside of North London and Manchester, there is probably no place on earth eagerly awaiting this weekend's clash more than Abidjan, the largest city and former capital of the Ivory Coast. That's because loyalties are divided between those Ivorians supporting their countrymen who play for Chelsea -- Didier Drogba and Salomon Kalou -- and those who are rooting for Manchester City's brotherly tandem of Kolo and Yaya Toure.
For his part, Kolo likes his team's chances of being the first EPL opponent to take points off Chelsea this season because he feels the back line, which he anchors, has improved from last year when City beat the Blues twice. "We don't concede many goals because we are really tight as a unit," Kolo told the English media, forgetting the farcical mix-up with his goalkeeper Joe Hart that gifted Blackburn a goal in a 1-1 draw with City on Sept. 11.
Probably City's most daunting task will be trying to contain Drogba, who has scored five goals so far this season. He's even added a new dimension -- the role of playmaker, with five assists, tying him with United's Nani for most in the league. "He's had to change his game," Toure said. "He knows he needs more help from his teammates now."
David Hirshey

For more from David Hirshey, check out his columns on all things soccer.
• The All-EPL Team, 2011-12
• Saying goodbye to Chinaglia
• Time to dethrone King Kenny Dalglish?
• In praise of Fulham
• The comeback artists
• Call it a comeback
• Death by Manchester
• The battle for third
• Spurs' title credentials
• EPL's best starting XI
• City handed first EPL loss
• Chelsea pushed to brink
• Fragile egos crossing
• City and United
• Is Newcastle for real?
• The bad-behavior derby
The question is who will help Toure and his teammates cope with Drogba's power, not to mention the resurgent form of Florent Malouda and Michael Essien. With all the injuries in the back -- Mancini says he is down to three fit defenders for Saturday -- the answer is probably nobody.
Advantage: Chelsea
Old England vs. Young England
As fashionable as it is to bash Man City for their "Real Housewives"-like penchant to drop a bundle on high-end foreign goods, it's worth noting that the heart of the team figures to be propping up the English national team well into the next decade. Much like Chelsea's venerable Three Lions core of Frank Lampard, Ashley Cole and John Terry, City's foundation is built on Gareth Barry, Adam Johnson and James Milner, an impressive array of homegrown, two-footed talent that has infused the England team with a vitality it's lacked for years, even if none of them exactly distinguished themselves in South Africa.
It doesn't stop there. City's Micah Richards (when not hurt) is working hard to become a national team regular, while Joe Hart's form between the posts -- except for that one recent brain freeze -- should see him installed as England's keeper for many years to come. Meanwhile, Lampard's midfield dominance is hamstrung by injury (he'll miss both this weekend and the Arsenal game because of a rehab setback), and John Terry and Ashley Cole are dogged by their off-field hijinks.
Advantage: Man City
So which team will have the other singing the blues? I'm going with the Chelsea Express to keep rolling along 3-1, but for the sake of the Prem -- and neutral fans everywhere -- I hope I'm wrong.
David Hirshey has been covering soccer for more than 30 years and has written about the sport for The New York Times, Time, ESPN The Magazine and Deadspin. He is the co-author of "The ESPN World Cup Companion" and played himself (almost convincingly) in the acclaimed soccer documentary "Once in a Lifetime."