Commentary
Living on the edge
Updated:
September 27, 2010, 7:29 AM ET
By
Jeff Carlisle
| ESPN.com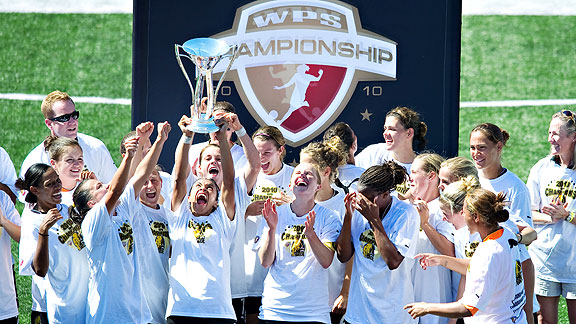 Todd/ISIPhotos.com As WPS celebrates the end of its second season, the question remains: Will the league survive and thrive in the coming years?
HAYWARD, Calif. -- It's not often that a simple pregame ceremony can act as an apt metaphor for an entire league. But that's exactly what happened before Sunday's WPS championship game between FC Gold Pride and the Philadelphia Independence.
Outgoing commissioner Tonya Antonucci was in the process of handing over the reins -- in this case a soccer ball -- to incoming CEO Anne-Marie Eileraas, only for a gust of wind to knock over the WPS sign in the background. The two of them quickly picked the sign up. It summed up the entire year -- the WPS has been knocked down a few times, but it's still standing.
That was also evident in a championship game that drew 5,228 fans to Pioneer Stadium on the campus of Cal State East Bay, with the Gold Pride's Marta leading her side to a comprehensive 4-0 victory.
But whether the WPS will continue to survive remains very much an open question. The league saw two franchises go under this year, but is set to add another franchise next season in western New York. Playtex has signed on as a national sponsor, but attendance was down 18 percent this season. The players have also formed a union.
It's enough to wonder why Eileraas would want the job in the first place, but at halftime of the game the league's new leader was upbeat.
"2010 was a galvanizing year for us," Eileraas said. "It was a test of our business model, of our teams, of our organization. I have to say coming out of that, I couldn't be more positive about WPS…Our model has proven that it's flexible and strong enough, and stable enough to withstand the challenges that a lot of young leagues have in their first years."
Eileraas admitted that the league has learned some hard lessons. In a bid to avoid a repeat of this season, when St. Louis Athletica folded in the middle of the campaign, teams must now set aside a reserve fund to ensure that enough money is on hand to finish out the year. The league plans to perform more due diligence when it comes to bringing on new investors, which was another factor in the demise of the St. Louis franchise.
"We've got two seasons under our belt," Eileraas said. "Now we have a much better idea of what it costs to start a team, to run a team, to run the league itself, to right-size the league to the key functions it needs. I just think we've learned so much more. We know what questions to ask."
For that reason, the league is moving forward to add additional teams in 2012, with Dallas and Southern California high on the list. "Adding another team on the West Coast is a high priority for us," said Eileraas. "We want more teams in other areas, too, but the Southern California market is just such a wonderful one for WPS."
But even if those processes are smoothed out, Eileraas and the league's board of governors will need to find ways to increase attendance for the existing teams. Eileraas cited an increased number of games, too many of which fell in midweek, as the primary cause for fewer fans turning out.
"The number of people who actually bought tickets and came to a game is pretty stable year-over-year," Eileraas said. "But on a per game basis, with the longer season, meant lower per game numbers, which just looks bad. And I think [there was] a general sophomore slump -- the novelty factor just wore off."
Next year's women's World Cup looms as both a blessing and a curse. On the one hand, the tournament looks poised to give WP' players priceless exposure. On the other hand, the fact that the World Cup falls in late June and early July, smack in the middle of the league's season, causes scheduling and logistical problems. Eileraas conceded that WPS will "go dark" for at least a portion of the tournament, but many of the league's international players are expected to miss a significant chunk of the season.
As for the players' formation of a union, while it likely won't result in any kind of work stoppage, it is another challenge that has to be addressed. Eileraas indicated that agreeing on a collective bargaining agreement will be a key focus of the league now that the season is over. And she expects any issues to be resolved "well before the start of next season."
Chicago Red Stars defender Natalie Spilger, who was on hand to receive the league's Sportswoman of the Year Award, indicated that the union isn't asking for much, just that the league not make unilateral changes that impact players negatively.
"One of the big issues this year was extending the season without additional pay," said Spilger. "That extension goes into the actual fall time period, so a lot of players who haven't graduated aren't able to go back to school. Players who relied on income from coaching college seasons weren't able to get it because it was announced really late. No one wants to see anyone upset, and I think having the union is one way to do what's best for all parties involved."
Spilger is cautiously optimistic over the league's future.
"I think things will definitely stabilize, but they might be below player expectations," Spilger said. "I think a lot of talk that's going along around salary cuts -- you kind of expect salaries to be at a certain level and for it to dip down in the third year will be something of a disappointment. But I think it's more important to be sustainable."
That was Antonucci's mantra from the moment she began working to bring back a women's professional league. Now it will be up to Eileraas and the league's owners to ensure that WPS continues.
Jeff Carlisle covers MLS and the U.S. national team for ESPNsoccernet. He is also the author of "Soccer's Most Wanted II: The Top 10 Book of More Glorious Goals, Superb Saves and Fantastic Free-Kicks." He can be reached at eljefe1@yahoo.com.
Soccer
Jeff Carlisle covers MLS and the U.S. national team for ESPN FC.