FC Gold Pride wins WPS championship
Updated:
September 26, 2010, 8:04 PM ET
Associated Press
HAYWARD, Calif. -- Christine Sinclair scored twice, Marta had a goal and two assists, and the FC Gold Pride defeated the Philadelphia Independence 4-0 Sunday to win the Women's Professional Soccer championship.
Kandace Wilson also scored for the Pride, who won their first WPS title in the league's second season after finishing in last place in 2009.
"It means a lot to our organization," Pride coach Albertin Montoya said of his team's one-year turnaround. "Last year we were lacking a little bit of firepower at the top and this year we worked hard at putting together a team that we felt could do it. This is special."
[+] Enlarge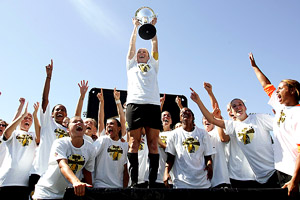 Andy Mead/YCJ/Icon SMIFC Gold Pride's Rachel Buehler hoists the WPS Championship trophy Sunday. Gold Pride beat Philadelphia 4-0 in the championship.
Philadelphia, which played two games this week to reach the championship game, was no match for the faster, more rested Pride. The Independence managed only three shots on goal while losing to the Pride for the fourth time this season.
"Definitely [fatigue] was a factor, but at the same time it comes down to us deciding to fight," Philadelphia forward Danesha Adams said. "For us to even get here was a big accomplishment because people predicted us to be in last place, and we proved everybody wrong. We want to be that team on the podium ... but today they were the better team."
Sinclair had 10 goals in the regular season and was second on the Pride in scoring behind Marta before getting two goals against the Independence in front of a near-capacity crowd of 5,228 at Pioneer Stadium.
Sinclair's first score capped a frenzied 30 seconds when the Pride peppered Philadelphia goalie Val Henderson with five quick shots. Henderson twice made deflecting saves on shots by Marta and had another save before Sinclair got in front of Estelle Johnson to find the open net.
"We knew they would come in with some momentum and it was important for us to get ahead early," Sinclair said. "Last year we did not have a bad team, I just thought we were unlucky. Today we got it done."
Wilson made it 2-0 at the 29-minute mark when she raced down the right wing and took a long pass from Marta, danced around Philadelphia defender Allison Falk then fired a line shot past Henderson. Wilson nearly had a second goal in the 88th minute when her shot glanced off the cross bar.
Marta, a four-time FIFA Player of the Year who led the WPS in scoring for a second straight season, assisted on Sinclair's second goal in the 53rd minute to give FC Pride a 3-0 lead. Marta, the Brazilian-born star who played last season for the now-defunct Los Angeles Sol, scored the final goal with one minute remaining and was chosen the MVP of the game.
While the Pride received a bye into the championship game after winning the regular season title, the Independence had to win twice to get there. They beat Washington 1-0 in the first round and needed overtime to edge Boston 2-1 on Thursday.
With little rest, Philadelphia struggled to get its offense going.
The Independence managed only one shot on goal in the first half and two in the second. Their best chance to score came late in the second half when Adams shot from 15 feet sailed wide right of the net.
"We played the exact same way we played them last time," Montoya said. "It's our style and we were going to go at them. It's fortunate that they probably had heavy legs, but we worked hard to get that bye and you have to take advantage of it."
Philadelphia was attempting to become the first expansion franchise to win a WPS championship in its inaugural season.
The championship game marked the end of commissioner Tonya Antonucci's tenure with the league. Reports circulated that she was being forced out by the league's owners, but Antonucci announced this month she was leaving for personal reasons. WPS general counsel Anne-Marie Eileraas will take over as chief executive officer.
Antonucci was honored at halftime and thanked by Gold Pride owner Brian NeSmith.
The WPS lost two of its original teams, Los Angeles and St. Louis, because of financial difficulties. But the league recently awarded an expansion team to Buffalo.

Copyright 2010 by The Associated Press