Commentary
Can Man City go all the way?
Updated:
September 27, 2010, 4:55 PM ET
By
David Hirshey
| Special to ESPN.com
I blame Togo. Had the African nation not fielded a fake team in a friendly earlier this month, I doubt the idea ever would have occurred to the managers of Chelsea, Arsenal, Spurs and, to a lesser extent, Manchester United, which seemed content to offer up only one impostor, some fellow masquerading as Wayne Rooney.
Just how bad was it for the top teams -- the "Big Four" that compete in the Champions League -- this past weekend? Chelsea, United, Arsenal and Spurs managed 1 point from a total of 12 overall, playing mainly the lesser jewels in the EPL crown.
Surely this was the weekend the Prem was the victim of a vast cosmic joke in which great players such as Didier Drogba, Michael Essien, Andrei Arshavin and Rooney were replaced by their doppelgangers, perfect simulations undetectable to the human eye -- until they actually started playing, that is.
So what happened to the class of the Prem?
How Man City manhandled Chelsea
It's true that City handled Chelsea quite comfortably in both fixtures last year, and everybody was calling this the Blues' first real test of this season. But I refuse to believe we saw the real Chelsea on Saturday. Didn't the Blues drop half a dozen goals on West Brom -- the very same Albion that steamrolled faux Arsenal -- and hadn't they scored 15 more en route to a 5-0 record that triggered the terrifying thought that they might run the EPL table by Thanksgiving?
So for the love of all things named Mourinho, how do you explain Chelsea's being unable to notch a single, solitary goal on a Manchester City team that started an untested 12-year-old at right back (OK, Dedryck Boyata is 19) and a center back (Kolo Toure) so decrepit that Arsenal considered him to be past his sell-by date before the 2009 season?
Are you telling me that an irresistible force such as Drogba, who had five goals and five assists going into the Man City game, couldn't escape the attention of fellow Ivorian Toure for 75 minutes and put at least one in the net?
And wouldn't you have thought that of the two Italians on the sideline, it would be Roberto Mancini rather than Carlo Ancelotti who would lose his cool in a volatile match? When your high-flying team has scored 21 goals in five games, why use Essien in a mostly defensive role when you already have John Mikel Obi and Ramires to screen a back four that had been breached only once this season?
So how ironic was it when Ancelotti's cautious game plan was torn to sorry little pieces in the 59th minute by a swift and deadly City counterattack? It began with James Milner picking the pocket of Brazilian Ramires, Frank Lampard's hapless replacement in midfield, and finding Yaya Toure -- who turned in another impressive, assertive display -- just a bit upfield. His pass released Carlos Tevez just inside the Chelsea half with acres of space in front of him. The Argentine sniper, who recently was named City's captain by Mancini, ran straight at Ashley Cole, tormenting the England defender harder than his wife's divorce lawyer before firing the ball through Cole's backpedaling legs and into the far corner of the net.
Tevez then stripped off his jersey to reveal a handwritten birthday message for his mother, thus missing the glorious opportunity to scrawl "Thank you, Sir Alex" as a rebuke to United manager Ferguson for letting him hop the crosstown bus a little more than a year ago.
Perhaps he lacked the linguistic skills to pull that off as his English seems limited to "Gary Neville is a wanker."
And lest anyone forget how Man City has become an instant threat to the Holy EPL Trinity of Chelsea, United and Arsenal, the home fans reminded the visiting supporters at the end of the 1-0 statement win with an eloquent chant of "We Are F---in' Loaded."
[+] Enlarge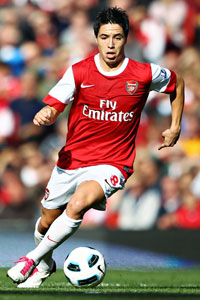 Julian Finney/Getty ImagesSamir Nasri was the one bright spot in an otherwise poor Arsenal performance.
Why the Baggies bagged the Gunners
"I didn't recognize my team," Arsenal manager Arsene Wenger said in his postmatch news conference after the Gunners, a unit known for slick interplay and tippy-tappy passing, more closely resembled a team of disinterested, pedestrian cloggers for the first 80 percent of the game. At which time, of course, they found themselves down 3-0 to the Championship/Premiership yo-yo known as West Brom.
"Something is unexplainable in such a poor performance," said Wenger, who for once didn't even try to pillory the ref or blame the Gunners' woeful effort on their opponents' "bad tackling." Arsenal, not the recently promoted Baggies, appeared to be the team that had made the leap from the Championship and was struggling with the superior pace and technique of the EPL.
And although it's conceivable that some of the players in Arsenal colors were, in fact, the genuine article -- Samir Nasri, for instance, bore more than a passing resemblance to himself -- you can't tell me that any Premier League team with title aspirations would consciously choose to employ a blind bottle-blond mole rat for a goalkeeper.
Manuel Almunia was once again hapless, and even the fact that he saved a penalty didn't redeem another atrocious performance. What made it that much more painful for the Gooners faithful is that in a week in which Arsenal announced record-breaking profits, fans are stuck watching the poor man's Robert Green between the posts because of Wenger's stubborn unwillingness to break the piggy bank for a top-class keeper.
At the same time, it would be unfair to put all the blame on the Spaniard because he might as well have had a bunch of training cones in front of him for all the protection his defenders gave him. I'm not sure what inspired Wenger to field an all-French defense; then again, I'm not sure why anybody, anywhere, would use the words "French" and "defense" in the same sentence. But the Arsenal back four of Bacary Sagna, Sebastien Squillaci, Laurent Koscielny and Gael Clichy made West Brom's attack look like the fabled Brazilian juggernaut of the 1970 World Cup.
Not that the rest of the Gunners covered themselves in glory until Nasri scored two Arsenal-worthy silky goals to desperately rally the team in the final 15 minutes. It was never going to happen, though, without the vision and skill of injured Cesc Fabregas, who is to Arsenal what Wayne Rooney is to Man U -- the heartbeat of their respective teams.
[+] Enlarge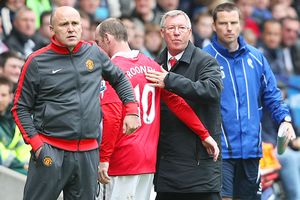 John Peters/Man Utd/Getty ImagesManager Alex Ferguson has been protective of his star forward, but does Wayne Rooney need a change of scenery?
Rooney ruined in Manchester?
Even the eternal excuse maker, Sir Alex, finally acknowledged this week what had been apparent for more than a month to every other sentient observer of the Prem: Rooney is no longer Rooney. It's clear that the combination of too many matches, the absence of Cristiano Ronaldo, the nagging injuries and the reported $1,500 per night dalliances has reduced the man known as Shrek to the donkey role. Last week, it was Dimitar Berbatov who eclipsed him with a masterful hat trick against Liverpool; on Sunday, it was Nani who formed the menacing focal point of United's attack in a 2-2 tie against a team the Red Devils manhandled in 10 of their past 11 meetings. In fact, had Michael Owen not risen from his grave on the Man U bench to glance in a looping header from Nani's free kick in the 74th minute, United would have thrown away the game, albeit one in which they were never ahead.
David Hirshey

For more from David Hirshey, check out his columns on all things soccer.
• The All-EPL Team, 2011-12
• Saying goodbye to Chinaglia
• Time to dethrone King Kenny Dalglish?
• In praise of Fulham
• The comeback artists
• Call it a comeback
• Death by Manchester
• The battle for third
• Spurs' title credentials
• EPL's best starting XI
• City handed first EPL loss
• Chelsea pushed to brink
• Fragile egos crossing
• City and United
• Is Newcastle for real?
• The bad-behavior derby
How much of United's recent malaise can be attributed to Rooney's disappearing act is open to debate -- the back line, of course, is leaking goals at an alarming rate -- but for the first time, I heard the United fans at my local pub utter words that were once unfathomable:
"They should get rid of him," a guy sitting next to me at the bar said.
"He needs a change of scenery," said another longtime Devils worshipper. "And I'm sure Barcelona would be happy to give it to him," a reference to yet another story in the English tabloids that Barca was monitoring Rooney's contract talks. Although it's true that United could badly use the $40 million cash infusion Rooney certainly would command, I can't see paternalistic Ferguson giving up on his prodigal son -- at least not until he hits him in the head with a flying boot during a halftime rant.
David Hirshey has been covering soccer for more than 30 years and has written about the sport for The New York Times, Time, ESPN The Magazine and Deadspin. He is the co-author of "The ESPN World Cup Companion" and played himself (almost convincingly) in the acclaimed soccer documentary "Once in a Lifetime."