Commentary
Wynalda ends up in unlikeliest of places
Updated:
September 28, 2010, 8:48 AM ET
By
Jeff Carlisle
| ESPN.com
Eric Wynalda is finally getting his shot at club management. It's just not happening where he thought it would.
Mexican third tier side Murcielagos F.C. announced on its web site Monday that Wynalda has been named the club's President of International Development. According to Wynalda, a former U.S. international player, the gig will require him to serve as the team's de facto general manager, overseeing a playing staff of roughly 50 players, many of them teenagers.
[+] Enlarge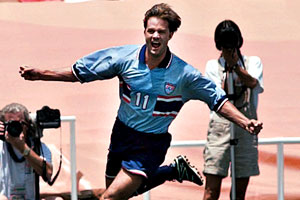 AP Photo/Eric DraperThe mouth that roared: Eric Wynalda celebrated his goal against Mexico in 1996.
"It's an arrangement that will be similar to [the U.S. U-17 national team setup in] Bradenton," said Wynalda over the phone. "It will just be south of the border, and we're going to pay them [the players] to be there.
"It's a great option for some of the talent in America to expedite their career. There's also a lot of talent in the region and we're constantly being scouted by the bigger clubs like Club American and Chivas de Guadalajara."
If it seems like Sinaloa is an odd place for a former U.S. international to end up, well, it is. Wynalda has been itching to break into the coaching ranks for some time, but hasn't found any takers. A stint on the staff of U.S. U-20 head coach Thomas Rongen didn't lead to a full time position. His attempt to join the full U.S. national team as an assistant ended with the same result. And with no offers forthcoming from MLS, Wynalda thought he had no choice but to cut his teeth south of the border, even if it meant taking on an upper management role.
"My decision is to either continue to scream at the rain, or go to work," he said. "I've decided to go to work."
Wynalda met the club's owners Miguel and Elias Favela in January during his stint with the U-20s. They soon discovered that they shared a common view for how the game should be played and run. The Favela brothers are ambitious as well, with their stated goal being to ultimately reach the Mexico Primera Division.
"The owners have taken a huge step, and they have the resources in place to make this happen," said Wynalda. "It's exciting to be a part of a group with big plans."
The Favela brothers initially hired Wynalda as a consultant, and after acting on some of his personnel suggestions, "The Bats" won their first three games of the current season. That left the club convinced that the chance to take advantage of Wynalda's expertise was too good to pass up.
And Wynalda definitely has something to offer. His experience as a player in Germany, Mexico, and the U.S. gives him a breadth of knowledge needed to succeed either as a coach or general manager. He's also one of the U.S. game's more insightful commentators.
But there's the rub: While Wynalda has opinions to spare, he has run into trouble for his bluntness and ruffled the feathers of the soccer establishment he was trying to win over. His hope is that success with Murcielagos will ultimately allow people to see something beyond the messenger. He's not holding his breath however.
"I think the one thing I learned in Europe is that there is a right way and a wrong way to do things," Wynalda said. "I always felt that experience should be shared and would help this country get to better heights. It behooves us to learn from their mistakes made overseas, and not make the same mistakes. I've never understood why that is viewed as a bad idea."
At least now Wynalda will get the chance to prove that he is right.
Jeff Carlisle covers MLS and the U.S. national team for ESPNsoccernet. He is also the author of "Soccer's Most Wanted II: The Top 10 Book of More Glorious Goals, Superb Saves and Fantastic Free-Kicks." He can be reached at eljefe1@yahoo.com.
Soccer
Jeff Carlisle covers MLS and the U.S. national team for ESPN FC.