Commentary
The good and bad of La Liga
Updated:
September 30, 2010, 12:51 PM ET
By
Graham Hunter
| Special to ESPN.com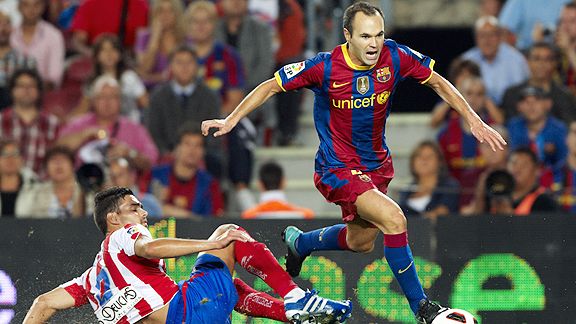 Manuel Queimadelos Alonso/Getty ImagesTurf Wars: The Camp Nou field has come under fire for falling apart and being hazardous during play.
BARCELONA -- Valencia on top of the league, Real Madrid misfiring, Lionel Messi brilliant when not being kicked, underdogs showing snarling teeth. It's only Week 5 but already we've learned a thing or two about La Liga this season.
Good times for … promoted teams
Hercules should have found carrying the world on its shoulders a crippling weight. Instead, the team has become the torch bearers for fellow promotion winners Levante and Real Sociedad. So far this season, Hercules dumped Barcelona at the Camp Nou 2-0 and defeated Sevilla by the same score. Throw in Levante drawing 0-0 with Real Madrid and Sociedad running the legs of Jose Mourinho's team in a narrow 2-1 defeat and beating Villarreal, and it's clear: La Liga's little guys shouldn't be underestimated.
But perhaps we need to balance romance and cynicism, at least when it comes to Hercules. The club is embroiled in a controversy that has cast a shadow over its recent accomplishment. In the summer, a judicial investigation into alleged political corruption, which had state permission to tap the phones of certain individuals, stumbled upon conversations in which Hercules' majority shareholder Enrique Ortiz, one of the targets of this bigger political investigation, was allegedly talking about buying off players to help secure his club's promotion last season. Cadiz FC registered a formal complaint. But the Spanish Football Federation was not able to investigate because the authorities in Alicante, who have much bigger targets than little Hercules, refused to hand over the tapes, which were subsequently leaked to the media.
Good times for … creative players who thrill us
The thuggish attack by Tomas Ujfalusi on Messi threatened to ruin the entire Spanish season. For a moment, it was 1983 all over again when the Butcher of Bilbao, Andoni Goikoetxea, broke the ankle of Messi's forefather at Barcelona, Diego Maradona. But this time the football gods were smiling on us. Not only is Messi almost fit again, referees have been jolted into action to protect the league's playmakers from vicious tackles.
Ujfalusi, for one, was correctly sent off and banned for two matches (which should have been four). And the immediate action taken in the red cards shown to Ernesto Galan of Espanyol for his lunge at Cristiano Ronaldo on Matchday Four, plus the sending off for Fernando Amorebieta (the eighth red card of his career) after fouling Andres Iniesta on the weekend, shows that Spain wants to protect the players who take risks, show creativity, beat their man and win games. In other words, the players that make us fall in love with soccer in the first place.
Ten out of 10 for the authorities.
Bad times for … the guys who look after the pitches at Camp Nou and Bernabeu
Real Madrid's pitch looks, and plays, like the Mojave Desert, while Barcelona's sacred Camp Nou, the place where Pep Guardiola's team tries to produce the best football on the planet, performs like a badly laid carpet on a wooden floor, folding up into chunks of lumpy turf when players try to change direction or stop.
What's going on? At the Bernabeu, an oil spill from a tractor sparked a fungal attack that killed large stretches of grass. It's a bit more complicated at Barca. For one thing, there's speculation that the company hired to tend to the field is working less because of financial cutbacks. Another issue: The grass is specifically blended to deal with a heavy, wet and cold winter. But after an unusually hot and humid summer, the turf has become borderline hazardous in shaded areas.
It's time for Barca and Real to forget about the sponsors, stars and TV contracts and get back to basics: One round ball, 22 players, a ref, two goal frames and -- oh, yes -- flat grass. Now that the nights are getting cooler, the people responsible for these playing surfaces should be made to sleep outdoors until they get it right.
Bad times for ... anyone who crosses Jose Mourinho
Ah, the Special One. Here's just a sampling of his body of work in this, his first season in La Liga:
• Pedro Leon was dropped from Real Madrid's Champions League squad this week for disobeying team orders. "Unless Pedro Leon works the way I want him to then he won't play for this team," Mourinho is quoted as saying by Madrid's official website.
• On the subject of Leon, Mourinho hammered journalists for "making Pedro Leon sound like he is Zidane or Maradona."
• In press conferences, Mourinho has criticized other teams for either "not knowing how to play against Barcelona" or "turning out reserve sides against Barcelona."
• Mourinho has hit out at referees for not giving Ronaldo enough protection.
• And Karim Benzema was hung out to dry in a press conference for "being half asleep at a ten o'clock training session," Mourinho said.
You would be forgiven for thinking that Mourinho is in a perpetual state of fury. But this is Jose -- He needs conflict like a Ferrari needs high octane fuel. If there isn't any conflict, he creates it. And loves every minute of it.
Good times for … Real Madrid castoffs
It's good business to buy your players from Real Madrid, especially if those players are out of favor with the club.
Last season's Champions League final featured five footballers who Real Madrid, in its wisdom, treated like rejects and booted out the back door. Most notable were two Dutchmen: Arjen Robben, who singlehandedly dragged Bayern Munich to that final, and Wesley Sneijder, who was the UEFA Player of the Season at Inter.
This season another of Real Madrid's Dutch rejects is performing well at Schalke in the Bundesliga. Klaas-Jan Huntelaar has three goals in three games to add to the five he tallied in the last two internationals for the Netherlands. Tossed aside by Madrid, looking like a goal machine at Schalke.
Huntelaar's form should not obscure the fact that Real legend Raul finally scored his first competitive goal for the German side. It came in the 87th minute to rescue a point at Borussia Moenchengladbach. After a start of six straight defeats in competitive matches, Schalke needed Raul as much as Raul needed a goal.
Graham Hunter is a Barcelona-based freelance writer for ESPN.com who specializes in La Liga and the Spanish national team.
ESPN.com freelance columnist
Graham Hunter is a Barcelona-based freelance writer for ESPN.com who specializes in La Liga and the Spanish national team.