Commentary
And the award should go to...
Updated:
September 29, 2010, 7:26 PM ET
By
Jeff Carlisle
| ESPN.com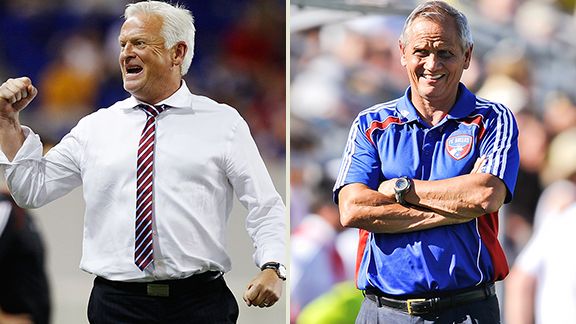 Betty ImagesIt's a tough call, but one of these coaches deserves the honor of being called MLS Coach of the Year.
With the MLS regular season poised to enter its final month, the MLS Coach of the Year appeared to be a two-horse race between New York Red Bulls manager Hans Backe and FC Dallas coach Schellas Hyndman. But if the developments of the past few weeks are anything to go by, Hyndman is the one who should end up walking away with the award.
Of course, the honor has almost always been about which coach improved his team the most from the previous season. The past two winners -- Sigi Schmid in 2008 while with Columbus, and Bruce Arena last year with Los Angeles -- both took their teams from non-playoff participants to, at minimum, the MLS Cup final.
Such a criterion explains why Real Salt Lake's Jason Kreis isn't in the running despite the fine job he has done in turning the reigning champs into a much more consistent outfit. It also causes a respectful nod to be directed toward San Jose's Frank Yallop, who has managed to transform the Quakes from one of the worst sides in MLS to a likely playoff participant.
But if one were to look purely at distance covered, Backe and Hyndman are the top candidates. And at first glance, it looks as though Backe should get the nod. The Swede took over a dreadful New York side that finished dead last in the league in 2009, and not only does he have them on the cusp of a postseason berth but the Red Bulls may well have some part to play in the race for the Supporters' Shield.
Dallas, meanwhile, missed out on a playoff spot on the last day of the 2009 regular season and finished that campaign strongly enough to think that postseason qualification was well within its abilities. But there are campaigns in which the path a coach navigates can be more revealing, and such is the case here. Without question, Backe, with the considerable help of assistant Richie Williams, had excelled in retooling the New York roster, especially in grabbing rookies Tim Ream and Tony Tchani in the January SuperDraft. But he also has benefited from adding two designated players to his team in Rafa Marquez and Thierry Henry. And although integrating such players into a roster during the season poses its own set of challenges, rare are the situations in MLS when a coach can count on such an infusion of talent.
[+] Enlarge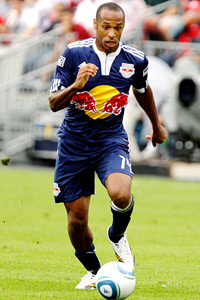 Abelimages/Getty ImagesRed Bulls coach Hans Backe has had the benefit of DP players such as Thierry Henry.
Hyndman has had no such luxury, tweaking his roster the old-fashioned way and acquiring important pieces through the draft, trades and the occasional free-agent signing. Yet the amount of depth he has managed to accumulate has been impressive. This was never more evident than when FCD took the field this past Saturday against Kansas City. Dallas was missing six starters in various stages of recovery from injury, and nearly all of them are critical components of the side, including center backs Ugo Ihemelu and George John, goalkeeper Kevin Hartman, and holding midfielder Daniel Hernandez.
Yet rookies Zach Loyd and Eric Alexander continued to excel, with Loyd looking composed in the back while Alexander has emerged as a solid two-way presence in the center of midfield. And new signing Jackson has proved to be one of the gems of the summer transfer window, filling in capably in a variety of roles. All three players helped FCD secure a 3-1 win that extended the team's unbeaten streak to an eye-popping 17 games.
That pothole-ridden path to success speaks well to Hyndman's ability to build a roster as well as improvise. And it's precisely the reason he'll be taking home some hardware at season's end.
Jeff Carlisle covers MLS and the U.S. national team for ESPNsoccernet. He is also the author of "Soccer's Most Wanted II: The Top 10 Book of More Glorious Goals, Superb Saves and Fantastic Free-Kicks." He can be reached at eljefe1@yahoo.com.
Soccer
Jeff Carlisle covers MLS and the U.S. national team for ESPN FC.