Commentary
Something to shout about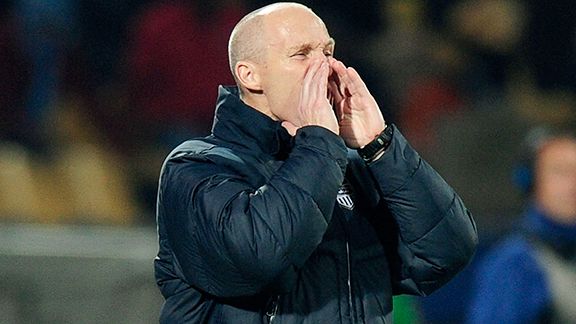 Stuart Franklin/Getty ImagesWith a new deal in place, Bob Bradley will be guiding the U.S. men's national team to the 2014 World Cup in Brazil.
On the surface, it would appear Saturday's match between the U.S. and Poland is just the latest in a long line of friendlies for manager Bob Bradley. Yet given the changes that have taken place since the last time Bradley led out the U.S. team, this weekend's encounter will be anything but routine.
For one, Bradley has signed on for another four years with the U.S. team. And as is so often the case, the beginning of the World Cup cycle reveals that the U.S. manager has plenty of work to do in reshaping his squad. For another, Bradley must labor in the shadow of Jurgen Klinsmann, who essentially was the first choice of the U.S. Soccer Federation to lead the team after South Africa.
Will Bradley succeed against such a backdrop? The U.S. manager chatted with ESPN over the phone about the challenges that lie ahead.
Q: You've got four friendlies post-World Cup -- one in August, and three coming up -- which is a bit of a departure from what has been done in the past. What was the thinking behind that?
A: As you begin a World Cup cycle, the idea of looking hard at what has taken place, having discussions with players about the future, making sure that now we're sort of saying, "Look, here are the things we've talked about for four years, and let's start refocusing ourselves." And that happens when you have games and certainly when you have the chance to come together as a group. It's not just the match. It's the chance to have these kinds of discussions face to face. We all recognize that we have these games [versus Poland on Saturday, versus Colombia on Oct. 12 and versus South Africa on Nov. 17] to finish out 2010.
The last fixture date [involves] going back to South Africa, which is sort of a statement that we appreciate what has taken place in South Africa the last two summers.
And we know what happens in 2011 -- the January camp, certain fixtures and then it all leads towards the first big event of the cycle with the Gold Cup next year.
Q: As you look back on the last World Cup cycle, what kind of lessons do you take away from those experiences?
A: When I look back, there's two years at the beginning of establishing a foundation, of challenging players with new roles, of making decisions about some players who are young but, given time, are going to be important contributors. And [those decisions get] put to the test in the last two years. In our case, the last two years were not only the final round of qualifying, but also Confederations Cup and the World Cup. Plain and simple, I think that we were able to compete at a high level. The vision of what kind of team we could be at the World Cup gets put to the test every time you step on the field. And I think that we had strong performances as a team.
I know that all of us have heard from so many people since we've been back, people who appreciated the team and the way we played. The other part to it is that there's a sense within the team of "How far can we take this?" That's what soccer is. On any given day, how does it play out? Do you finish your chances? Do you make a save? Do you get a break?
So do we feel that there's more for us [to achieve]? Sure. But again … the way we've competed and played these last two years is something that people really have shown a lot of respect for.
Q: Just looking at the team, it seems like quite a few young midfielders got some good experience during the last cycle and the last World Cup -- players such as Benny Feilhaber, Jose Torres, Stuart Holden and Michael Bradley. Looking ahead, will you try to tweak your lineup to get more of these guys on the field, or is it more complicated than that?
[+] Enlarge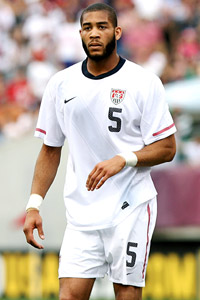 Andy Mead/YCJ/Icon SMIBradley hopes the Gooch will be in the mix going forward.
A: When you look back over the last four years, you try to take into account your players and figure out the best ways to take advantage of your team. And so when you look at different things, the ability to have tactical flexibility and then think of different ways that it can work with certain guys on the field, that's always a part of our thinking.
Q: What are your general impressions of the guys who are playing in Europe, particularly those who are playing a lot, such as Stuart Holden, Feilhaber and Clint Dempsey, as well as guys who aren't, such as Oguchi Onyewu?
A: At any given moment, you look around, whether it's in Europe or MLS, and you try to assess players' form and fitness. So at the start of the season in Europe, still pretty clearly, Timmy Howard, Clarence Goodson, Carlos Bocanegra, Steve Cherundolo, Benny, Michael, Clint and Stuart are all playing pretty important roles with their teams. We've had a chance to watch all of those guys, and we feel good about that part.
With regard to Gooch, he worked very hard to get himself back for the World Cup. But the injury he had, oftentimes people talk about needing a full year [to recover]. So his knee, in the lead-in to the World Cup and during the World Cup, was still not 100 percent. Ivan Pierra, our trainer, has made the rounds through Europe this week. [Onyewu] feels the knee is much better than it was in May and June. Obviously, we all recognize that this hasn't led to playing for AC Milan yet. We're excited to have him [on the team], so we can see him in training and hopefully use him in these games.
There's always a challenge when guys haven't been playing, and when they come in, we still need to see where they are in terms of form. You have to see how they're playing. But nevertheless, the reports are of him being in training every day for the last six to seven weeks, the reports that the knee is feeling better, now is a good chance to size that up.
Q: Talk about the makeup of the roster for these games.
A: I understand it's crunch time in MLS. I've had conversations with people at different clubs. As a staff, we watch all of these games. So we know exactly where things stand in terms of home-field advantage, Supporters' Shield, making the playoffs, not making the playoffs, every part of it. There are five MLS games on Saturday, another on Sunday. There's one on Oct. 12, when we play. … We have a lot of respect for MLS. MLS is so important to the national team, and the respect that we have for each club and what they're trying to accomplish, [that's why] our rosters for these two games are almost entirely from Europe.
Q: What's your assessment of the team right now, especially with the defense? Obviously, guys like Steve Cherundolo and Carlos Bocanegra are over 30.
A: But here's what I think is important there, and both Carlos and Steve are good examples. They came out of the World Cup. Both were important players, and now with St. Etienne and with Hannover, Carlos and Stevie have had really good starts.
What we've got to balance when we talk about where we are in the next cycle is, on the one hand, you have a view towards 2013 and 2014. And potentially guys that are still going to be important, there's always going to be guys that, as you move forward, you're not certain where they'll be at that time.
[+] Enlarge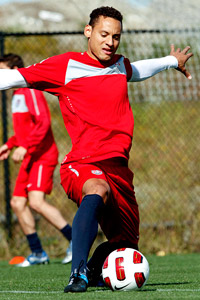 AP Photo/Charles CherneyJermaine Jones is set to make his U.S. debut.
But that gets balanced with where guys are in the moment, what's coming next. I think that's where we are, and I think you have to be able to do both. Again, we talked earlier about Gooch. Gooch is 28 years old. We've always believed with the work that he's put in that his knee was going to be 100 percent again. So we continue to believe that he's at an age where, going forward, he's someone we're going to be counting on.
Now, that still needs to be put to the test in every camp and game.
Beyond that, on our radar screen, there are some younger players, some younger defenders. We saw Omar Gonzalez go 90 minutes against Brazil. I've talked publicly at times, someone like Tim Ream, for a first-year MLS player, has had a good year. So going forward, we've got to find the right moments to look at some different guys and yet at the same time balance that with what comes next.
Q: There are some young players like Danny Mwanga and Tony Tchani who are not U.S. citizens but are far enough along in the process that they could become citizens during the next cycle. Have you spoken to them about possibly being involved with the national team?
A: Those kinds of discussions are always ongoing, and I don't think it's proper to get into specifics. But nonetheless, our awareness of players across the board and their situations is important.
Q: Where do you see Jermaine Jones fitting into things?
A: As people know, Jermaine joined us for a few days in Amsterdam [in March]. I've certainly gotten to know him in the last few years. When his injury didn't come around, ultimately he had his surgery [in the U.S.] and was even around Home Depot doing some of his rehab. So this is a first opportunity to bring him in. We discussed his situation with regard to the Brazil game, but at that point, his season was just beginning with [his club team] Schalke. He actually hadn't played a game in a long time, and since then, he's not starting every game. But he's still clearly in the mix of things at Schalke, so we're excited about having him in.
"

I've never gotten caught up with much of what goes on around [outside the team] because it's stuff that's out of your control.

"

-- Bradley on the Jurgen Klinsmann revelations
Q: What kinds of things do you like about his game, and how do you see him helping the team?
A: Let's give it time. But certainly, when you look at his experience and the kinds of games he's played in, his all-around ability in the midfield -- we're excited to see where it all fits in.
Q: The U.S. player development system has undergone some major changes in recent years. I'm thinking specifically of the Development Academy and the fact that MLS teams are now investing a lot more in their youth programs. Have you noticed a change in the quality of player being produced, or is it still too soon to see the fruits of those changes?
A: It's too soon. I think when we talk about youth development in the U.S., there's a lot to it. The types of discussions that are going on, quite frankly, are not new. What is new is that in the past … there were so many different efforts going on. Maybe the same discussions, but not everybody that should be involved was involved. I think [now] there is a greater push from U.S. Soccer to tie more of this together, whether you're talking the top down or bottom up, to ensure that going forward we are finding our talented players and doing the right things with them so that they can get to the highest levels.
Q: Were you stung by the revelations of the Jurgen Klinsmann situation?
A: Over the years, but especially the last four years where I've been in this job, it's pretty clear how I choose to go about things. I'm one that focuses on the job and the work and the team. Those things come first. I've never gotten caught up with much of what goes on around [outside the team] because it's stuff that's out of your control. In different situations, when different people make comments, it's just been my way that I'm not getting into that. Part of that goes with the territory when you're the national team coach. It's the way that I've handled things and I'm going to continue to handle them.
Q: You also spoke after the World Cup about your aspirations of coaching in Europe. Is that something that is still on your mind, and will you continue to explore opportunities?
A: For sure, it is something that I would like to do in my coaching career. I don't go talking about this stuff all the time. But in the process of when I was asked these questions, I think I was very up front in the sense that, again, it is something I would want to do. I think that with the way our team has played the last couple of years, with the respect that has been gained internationally, it does mean that your name can be part of the conversation. But at the same time, just like the way it's been for American players, for American coaches, getting that foot in the door will still take time.
Jeff Carlisle covers MLS and the U.S. national team for ESPNsoccernet. He is also the author of "Soccer's Most Wanted II: The Top 10 Book of More Glorious Goals, Superb Saves and Fantastic Free-Kicks." He can be reached at eljefe1@yahoo.com.
Soccer
Jeff Carlisle covers MLS and the U.S. national team for ESPN FC.