Commentary
Write off Ronaldo at your own risk
Updated:
October 5, 2010, 2:08 PM ET
By
Graham Hunter
| Special to ESPN.com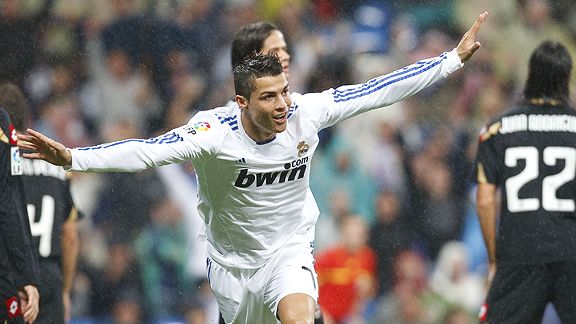 Elisa Estrada/Real Madrid/Getty ImagesFlying high: Cristiano Ronaldo got his game in gear Sunday, finding the back of the net twice.
BARCELONA -- Spain might be the footballing home of the world champions and European champions, but the past few weeks have proved that the country has more than its fare share of opportunistic observers who are too quick to rush to hostile judgment.
Case in point: Many have been describing Cristiano Ronaldo as a flop at Real Madrid. Bernabeu fans were whistling at him from his first home game, and Iker Casillas' journalist girlfriend, Sara Carbonera, called him "egotistical and individualistic." El Confidencial's Jose Felix Diaz reckoned that "He's a great athlete but, football wise, he uses his physical gifts poorly." ABC argued that "Ronaldo and Higuain are playing like little kids, having a spat and are more dependent on their own play than trying to help the team."
Ridiculous. You could cite more, but why bother? At the time of this writing, Ronaldo and Real Madrid ride high in La Liga and sit top of their Champions League group. This past weekend, Ronaldo celebrated a scintillating two-goal performance in Madrid's 6-1 undressing of Deportivo La Coruna.
Days before that breakout game, I told my editor here at ESPN that it was time to make the case that Ronaldo will show his critics. So here goes: Five reasons you should never write off CR7.
1. Some people never learn not to judge a book by its cover
God gave Ronaldo smoldering good looks. The Portuguese also benefits from that wonderfully colorful Mediterranean manner of expressing himself. Unfortunately, many people think his "pretty boy" image and penchant for melodramatics -- the waving of his arms and growling Iberian curses into the night air -- mean he is self-obsessed or arrogant, that Real Madrid games are all about him. Not so. Up close, Ronaldo is funny, intelligent, loyal and talented.
"People judge my life with different eyes than other footballers" Ronaldo told Intereconomia in May. "But it is almost always the case that when they meet me they change their impression of me entirely."
2. Cristiano Ronaldo has a punishing work ethic
"Everything Sir Alex Ferguson promised me about Ronaldo is true -- he's a brilliant, brilliant professional," Real Madrid manager Jose Mourinho told former FC Barcelona and England striker Gary Lineker on Thursday.
From the moment Ferguson taught Ronaldo that the "diving" culture is unacceptable, he has worked on his physique to be able to withstand bodychecks and fouls. Ronaldo's pace is natural, but he develops his explosive power by swimming, gym weights and sprint sets. First to training, often last to leave, Ronaldo also epitomizes the difference between training and practice. He trains to be fit, to learn the coach's tactical wishes and to forge partnerships with like-minded players in his squad. But he practices free kicks, headers and shooting over and again, whether with his teammates or on his own.
3. Ronaldo's personal goal is to become the best player ever
It's an admirable goal, but Ronaldo's honesty is too often mistaken for arrogance. I guess if Ronaldo were a U.S. sportsman and openly declared -- as he has regularly done in Europe -- that he won't rest until he is considered the best footballer of all time, most would applaud his hunger and ambition. In Europe, we tend to want our greats to be self-effacing and humble. Why? Great is great, and Ronaldo is willing to work like a beast until he reaches his potential. His fellow players and those who coach him love that.
4. Those who took cheap shots at him chose the easiest time to do so
Real Madrid is a difficult club to be at when things are absolutely perfect -- in other words, when the team is not only winning but winning with flair -- but the Santiago Bernabeu has been in a state of flux. Ronaldo's two seasons at Madrid have seen different coaches in charge, about a dozen changes in coaching staff, another dozen new players and a steady stream of injuries to key players. His World Cup was tiring and disappointing, his preseason included a tour of the U.S., and early in the season he suffered an injury that kept him out of action for two weeks. Until last weekend, Ronaldo was playing on a pitch that wasn't good enough for a soccer game between state penitentiary inmates.
Off the field, he has a new baby son and no partner. The little one is most often in Portugal with Ronaldo's mother, and the two of them have been harassed from pillar to post by voracious paparazzi.
Yet through all this, Ronaldo has kept his focus on football, working hard and preparing to hit his form again.
5. Sometimes statistics don't lie
Ronaldo was hammered for his goals-to-chances ratio before Sunday's win, but his critics just got it wrong. OK, Ronaldo was off his game a bit, but when he shot at goal 52 times for only two tallies, what too many forget was that he had created the majority of those chances by himself. Last season, he hit 32 goals in 33 games. So far this season, he has scored with a header, a penalty, a free kick, with his right foot and his left. Two players have been booked for fouls on him and one sent off, and 284 of Ronaldo's passes have successfully hit their destination in the first eight games. Not too shabby for someone who will only get better -- as long as he stays fit.
[+] Enlarge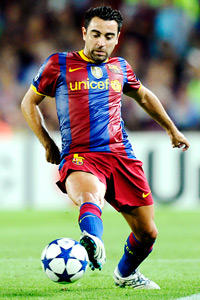 Pierre-Philippe Marcou/AFP/Getty Images"Though others have won more club trophies this year, this is a prize for the best football," Xavi said of being a finalist for the Ballon d'Or.
News and notes
Storm clouds for FC Barcelona and Spain
Sometimes football has an early warning system, and in Spain it's time to take note. Xavi Hernandez has been rested by the world champions and by Barca as a preventative measure because he is suffering acute Achilles pain. The last time he missed a game for his country, in 2006, Spain lost at home to Romania. It was the only home defeat of the past four years.
This season, Barca has given up a remarkable five points in three home games, the defeat and draw coming when Xavi either didn't start or didn't play. In my opinion, Xavi is the greatest footballer Spain has produced, but he is 31 and eventually his brilliance will diminish. How will Barca and Spain win without his skill at conducting the orchestra? Dealing with that enormous challenge needs to start now.
Jose Mourinho gets one right … and one wrong
Before the season started, the Special One complained in a news conference that "the rest of the La Liga teams don't know how to play against Barcelona like I do." Which Hercules, with a 2-0 away win, and Mallorca, thanks to a 1-1 draw at the Camp Nou, have gleefully proved to be wrong.
But Mourinho also told a colleague of mine that the title, in his view, will be decided by the net result of the two El Clasico matches between Barca and Madrid in November and April. For a whole heap of reasons, the gap between the Spanish champions and the Special One's men in white seems to have narrowed. Barca won 1-0 and 2-0 last season. If Mourinho can change that sequence, the title might indeed be his.
Graham Hunter is a Barcelona-based freelance writer for ESPN.com who specializes in La Liga and the Spanish national team.
Spain writer
Graham Hunter is a Barcelona-based freelance writer for ESPN.com who specializes in La Liga and the Spanish national team.