Commentary
Going out with a bang
Updated:
October 7, 2010, 1:57 PM ET
By
Andy Brassell
| Special to ESPN.com
Euro 2012 will be the end of an era, as the final competition will expand from a 16- to 24-team tournament for the 2016 edition in France. This writer for one will be sad to see the old format go, with its snappy, exciting nature and quick turnarounds.
All the more reason, then, to enjoy the current qualifiers. And it looks as if they're going out in a blaze of glory. Only two rounds in and already teams are battling to stay alive in the competition. The high stakes and small margins for error mean that football associations may be less inclined to let an unfavorable situation slide in the hope of things picking up.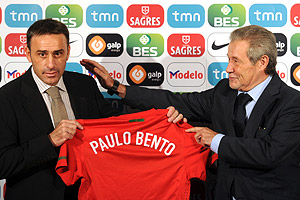 Francisco Leong/AFP/Getty ImagesTough ask: Portugal's new captain Paulo Bento takes over a side already a quarter of the way through its campaign.
Accordingly, Portugal, Serbia and Wales go into their games on Friday and Tuesday with new coaches. While they were hired for different reasons, these men all find themselves in tricky situations they'll have to navigate to reach Poland and Ukraine in 20 months' time.
Portugal is perhaps in the tightest spot. The first two qualifiers last month against Cyprus and Norway yielded a meager point, with the team laboring under the shadow of its suspended coach Carlos Queiroz's ongoing battle to save his job. After the eventual sacking of the former Real Madrid coach and a ludicrous attempt to recruit the current incumbent at the Bernabeu, Jose Mourinho, on a temporary basis, Paulo Bento is now the permanent replacement.
The ex-Sporting Lisbon coach has little room to maneuver in the five-team group. Portugal is already five points behind leaders Norway and two behind Friday's opponent Denmark, despite the fact that the Danes have a game in hand. The Quinas had their struggles in booking their places at both Euro 2008 and World Cup 2010 before recovering to qualify. But in a five-team qualifying group (as opposed to eight for the Euro 2008 qualifiers), Bento takes over a side already a quarter of the way through its campaign.
Wales had a much tougher prospect ahead in its own group, matched up with England, Montenegro, Bulgaria and Switzerland. Any early optimism was flattened by the opening-match 1-0 loss to Montenegro in Podgorica, which precipitated the exit of manager John Toshack.
Under-21 coach Brian Flynn has stepped up on a caretaker basis for the reception of Bulgaria in Cardiff, on Friday, followed by the trip to Basel to take on the Swiss. The 54-year-old has considerable young talent at his disposal, but little in the way of experienced quality.
Captain Craig Bellamy will sit out these two games, as he returns from a knee problem, while injured Robert Earnshaw will also not be available. Simon Davies and Danny Gabbidon have hung up their international boots, so Stoke's Danny Collins has been recalled to add some know-how to the squad.
Unlike Portugal and Wales, Serbia is in a six-team group and has taken a passable four points from its opening brace of games, even if the home 1-1 stalemate against Slovenia disappointed last time out. But much like Portugal, Serbia's handling of the head coach position was totally fudged post-World Cup.
The experienced Raddy Antic was scapegoated for the team's failure to get past the group stage in South Africa, before the Serbian FA (FSS) reluctantly decided to keep him on after he offered to take a substantial pay cut. But he was finally fired after the Slovenia game, with Vladimir Petrovic swiftly appointed in his stead, having been in charge of Romanian side Timisoara for just three months. Petrovic has stuck with largely the same squad that served his predecessor (making just three changes from September's games in a 23-man group). A home game with Estonia on Friday will act as a prelude to Serbia's confrontation with its real group rival, Italy, in Genoa on Tuesday.
Suffice to say, these three coaches face tough tasks, but there is room for cautious optimism -- not just for the Euro 2012 qualifying campaign, but also for others. Flynn and Petrovic have both coached their respective countries' under-21 sides. Flynn guided the youngsters to the brink of earning a place at next year's European Championship, only for them to fall short when they lost to Italy 1-0 in Pescara last month. But Flynn will soon have the fit-again Aaron Ramsey of Arsenal -- potentially the jewel in Wales' crown -- to call up and join the likes of Chris Gunter, Joe Ledley and the in-form Gareth Bale.
Petrovic guided his own side to the final of the 2004 European Under-21 Championship with a squad that included current stars Milos Krasic (Juventus) and Danko Lazovic (Zenit St Petersburg). With younger standouts such as Zdravko Kuzmanovic and Gojko Kacar supplemented by experienced Champions League performers such as Manchester United's Nemanja Vidic and Chelsea's Branislav Ivanovic, Petrovic's avowed strategy of "evolution, not revolution" makes perfect sense.
For his part, Bento went straight into coaching work at Sporting's academy after ending his playing career. The players produced by the Lisbon club over the years are a who's-who of Portuguese football, with Luis Figo, Cristiano Ronaldo, Nani and Simao just a few of its alumni. At Sporting, Bento's closeness to the production line led him to build a side around graduates such as Joao Moutinho. And the new man in charge has already shown his unwillingness to hold a grudge, picking Carlos Martins and Miguel Veloso, two players he crossed swords with at the Alvalade, for the Euro 2012 campaign.
Portugal, Wales and Serbia resume their qualifying campaigns with fresh eyes at the helm. Even if Bento, Flynn and Petrovic fail in their qualification objective, there's enough goodwill behind them to give them a boost for future campaigns.
Andy Brassell is a freelance soccer writer for ESPN.com.