Commentary
Will Bradley experiment with lineup?
Updated:
October 8, 2010, 11:47 AM ET
By
Jeff Carlisle
| ESPN.com
The new World Cup cycle may have officially kicked off with last August's match against Brazil, but with Bob Bradley signing on for another four years as national team manager the journey to 2014 will for all practical purposes begin with Saturday's friendly against Poland.
This friendly is part of the cycle that possesses its share of intrigue. It's a time for experimentation, and the opportunity exists for Bradley to think more long term. Younger players judged to lack sufficient experience for a World Cup are now in the mix, and older players gamely hang on to convince the U.S. manager they still have something to offer.
That said, for those players familiar with Bradley and his methods, little has changed.
"It's obviously not as intense as a pre-World Cup training camp or anything like that," said U.S. defender Steve Cherundolo of the week's preparations. "But I would say it's like a normal friendly. Guys are still training hard, and there's still a game to be played on Saturday and goals to be scored. So I think everybody is obviously concentrating and taking it seriously. It's probably more along the lines of business as usual."
[+] Enlarge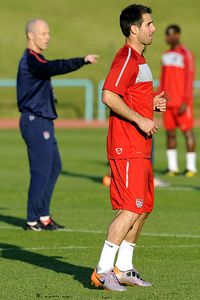 TIMOTHY A. CLARY/AFP/Getty ImagesU.S. veteran Carlos Bocanegra is now 31 years old, yet remains part of Bob Bradley's team setup for the near future.
Such a comment will no doubt set off alarm bells among those concerned that Bradley's return for another four years signals an onset of stagnation within the program. But the U.S. manager insists that such challenges are part and parcel of coaching.
"You can be new on a job, and based on how you do things two weeks in, if you don't do things well, guys will already be tired of it," Bradley said. "So you get put to the test every day in terms of how things get done. You can run some good training sessions, and if you get into a particular camp and on the first day or two of training if the choices of what you do, how long you do it, the flow of training, if things aren't good, then immediately, within the group, it will be noticed. This is what coaching at a high level is all about."
There are some wrinkles about the U.S. roster to be sure. For the first time in recent memory, Saturday's team sheet will be comprised entirely of European-based players. That means the attacking lynchpin, Landon Donovan, will not be taking the field, leaving the likes of Stuart Holden and Benny Feilhaber to try to pick up the slack. The long-awaited debut of center midfielder Jermaine Jones also looks set to take place.
The biggest question marks surround the U.S. defense, or at least they should. Both Cherundolo and Bocanegra are 31 years old and can't be realistically expected to play significant roles in 2014, but both are on the squad and look poised to play significant minutes. Bradley has insisted that a balance between the short and long term must be achieved. At present, it looks like the U.S. manager's focus is more immediate, although the roster contains some potential for experimentation. Aston Villa defender Eric Lichaj will be looking to see some time at one of the outside back spots, while Maurice Edu, who played a bit of center during his senior international career and with the Olympic team, could move into the back. Then there is defender Oguchi Onyewu, who will be aiming to convince Bradley that the injured left knee that limited his effectiveness at last summer's World Cup is now 100 percent.
Whether this roster will be enough to keep Poland in check is difficult to say. Under head coach Franciszek Smuda, the team is winless in its last six games, but they probably deserved better in their two most recent matches, a 1-1 tie against Euro 2012 cohosts Ukraine and a 2-1 loss to Australia.
[+] Enlarge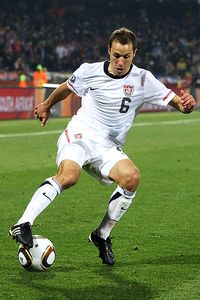 Ian Walton/Getty ImagesU.S. defender Steve Cherundolo has competed against members of the Polish national team on the club level in Bundesliga play.
"They have a difficult stretch behind them and in front of them because they don't have too many games lately where they are playing for something, so it's difficult to get results," said former Poland captain and current Philadelphia Union head coach Peter Nowak. "They started with a very offensive approach from the beginning from [Smuda]. They got some results early, even playing 4-3-3 versus Spain. They got smacked 6-0, and it didn't work out very well. Now he is tweaking the system coming back to 4-2-3-1 or straight up 4-4-2, basically trying to get more people in the midfield to avoid the mistakes they make and then also to clog the midfield as well."
Smuda's task has been made more difficult by some injuries to his backline. Werder Bremen left back Sebastian Boenisch is out for the next four to six months with a knee injury, and center back Grzegorz Wojtkowiak is out because of injury, too. Add in that Dariusz Dudka was not released by French club Auxerre and Smuda will be forced to chop and change his defense.
Poland will be missing top striker Ireneusz Jelen because of injury, but fortunately for the White Eagles they have some alternatives in attack, courtesy of the Borussia Dortmund duo of right midfielder Jakub Blaszczykowski and forward Robert Lewandowski.
"Blaszczykowski on the right is a handful," said Cherundolo, who has faced off against the Pole in the German Bundesliga. "He's tricky, with good pace; a good passer of the ball. He doesn't score a whole lot, but he sets up a lot of goals and he's a handful for whoever plays left back."
Lewandowski has been limited to a super-sub role for Dortmund so far this season, but has two goals to his name and scored for Poland in the aforementioned loss to Australia.
"I watched him when he was a young kid playing for Lech Poznan," said Nowak of Lewandowski. "He's a big kid, with very good speed, a nose for goal, and good touch. But he's inconsistent like all of these young kids. Sometimes, he does have a great game, and sometimes he looks like he's never played soccer. But he has the potential to be a good one. He has a good head on his shoulders. He not only believes in himself but he is very humble."
Even with Blaszczykowski and Lewandowski helping the team to carve out chances, the finishing touch has largely been missing, making the absence of Jelen even tougher to swallow. Ebi Smolarek or Andrzej Niedzielan, whose eight goals currently leads the Polish Ekstraklasa, will play in his stead.
Regardless, it will be up to the U.S. to try to impose their game on their opponents, who can expect considerable fan support from Chicago's sizable Polish-American community.
"I think our team does a pretty good job of, in a short amount of time, of putting eleven on the field that connect well with each other," Cherundolo said. "Our style of soccer is fast and physical. We want to keep the tempo high and create mistakes."
The White Eagles will be hoping to grab their first win of this World Cup cycle, too.
Jeff Carlisle covers MLS and the U.S. national team for ESPNsoccernet. He is also the author of "Soccer's Most Wanted II: The Top 10 Book of More Glorious Goals, Superb Saves and Fantastic Free-Kicks." He can be reached at eljefe1@yahoo.com.
U.S. soccer correspondent
Jeff Carlisle covers MLS and the U.S. national team for ESPN FC.