Commentary
Welcome to Reds-Sox Nation
Updated:
October 8, 2010, 3:53 PM ET
By
David Hirshey
| Special to ESPN.com
With the EPL off this weekend for Euro qualifying, I thought it would be as good a time as any to turn my attention to those among you who have been thoughtful enough over these past couple of months to share your thoughts on my columns, however sensitive and compassionate they might be.
For this first installment, I've culled only those comments that make a compelling case against my many obvious biases, my occasionally glaring factual inaccuracies and most importantly the magnificent hirsute masterpiece that is my mustache. (For the sake of clarity, deference to the ESPN censors and a desire to finish this column before Anfield becomes a blur of "Big Papi" jerseys, some remarks have been edited down from their original, discursive state.)
How Low Can Liverpool Sink?
Comment from JohnnyTwoTimes51 (10/4/2010 at 1:03 PM): Three Liverpool wins and -- presto -- they are right back in the thick of things! Ha. I don't think they have any shot -- and I mean NO SHOT -- of finishing fourth. So Scousers can just keep dreaming. Even scarier, what happens next season if they don't even get that measly amount of money from qualifying for Europa League? It's going to be a vicious cycle; Leeds United all over again. Maybe not this season but all the ingredients are there.
A word to the wise: Mention Leeds United to a Liverpool fan and you better be prepared to hightail it faster than Tom Hicks' kid, who made the mistake of walking into an Anfield pub one day and ending up with a phlegm missile on his face. But until yesterday morning, I was right there with you, JohnnyTwoTimes, all the way down to the depths at which Leeds eventually rested. Then came the news of Boston Red Sox owner John Henry and his New England Sports Venture choppering into Anfield to save the Reds from the death grip of their current clown owners, and now I see a sliver of hope where there was only toxic sludge.
[+] Enlarge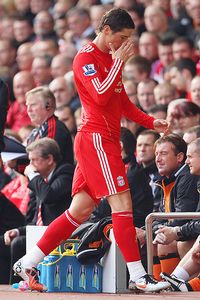 Alex Livesey/Getty ImagesInjuries and disappointing form have marked the start of Fernando Torres' season at Liverpool.
For one thing, Henry brings a level of rational thought and decorum to the boardroom that Hicks nor George Gillett could even fathom. Then, there's Henry sensible fiscal philosophy: Pay down the crippling debt and make the club self-sufficient, so what matters is the team on the field. I don't think Roy Hodgson is the problem, as long as he has people above him willing to open their wallets for players of a higher pedigree than Christian Poulsen and Sotirios Kyrgiakos.
At this point, fourth place is a mirage, and Henry or no Henry, it's quite possible that Liverpool will dance on the edge of the R-word for the rest of this season.
Who's Singing The Blues Now?
Comment from Femshawn (9/27/2010 at 4:34 PM): So, Man City win one game and now writers are thinking they might go all the way? Very funny indeed when we are still in September. They need to string together a consecutive number of wins and then Manchester United and Chelsea might just take them a bit more seriously.
First of all, it's the divine right of any sportswriter to engage in ridiculous hyperbole (see my love of all things Arsenal), but I wouldn't (and didn't) say that City is going all the way. Why? While it pains me like a slow moving kidney stone to acknowledge this, Chelsea might as well go ahead and engrave its names on the trophy they hold from last year.
But even you, my dear Femshawn, have to concede that the blue side of Manchester has already made significant carbon footprints in the title race. I mean, when was the last time United and Chelsea even thought about City as a club worthy of their contempt? As recently as two years ago, City hadn't beaten Chelsea in a league match seemingly since Churchill was Prime Minister. The fact is, with even Roman Abramovich pinching rubles these days, City's bottomless pockets inspire fear in every big club.
At the least, City appears to be a lock for a top-four spot and a Champions League berth. The Spurs don't have a deep enough squad to cope with the rigors of Champions League and the EPL and will be ground down by April. Of course, there is always the possibility that Roberto Mancini will not be able to keep the City dressing room from spontaneously combusting, as it almost did during halftime of the Newcastle match. If that does happen, all that will be left are the charred remains of Mancini's beloved blue and white scarf.
Will Arsenal go trophyless again?
Comment from ptriley10 (9/24/2010 at 2:47 PM): I wouldn't hire this guy to cut my grass. Arsenal as perennial underachievers? Arsenal is one of the greatest clubs in Europe. Please, Dave, no more stories.
Apparently, I have violated the little known 11th Commandment: "Thou Shalt Not Ever Say A Negative Word About The Gunners Or Thou Shalt Be Banished To The Land of The Plagues and The Spurs." How is it not fair to expect that a team with as much talent as Arsene Wenger professes to hold under his professorial genius would actually win something, anything other than the prestigious preseason Emirates Cup? If that is an accurate representation of our 5-year trophy drought, doesn't that constitute the meaning of "underachieving"?
I concede that perhaps perennial was the wrong adjective to use. I'm staring at a photo of the 2003-2004 "Invincibles" on my bulletin board, so let's correct the adjective straight away. How about we call them "underachivers who make me want to throw a beer glass through my TV scrren every timw they lose to clubs like West Brom?" And by the way, Mr. Riley, I don't do lawns -- just windows -- and please don't call me Dave again. Only Spurs and Chelsea fans get to use that name.
David Hirshey

For more from David Hirshey, check out his columns on all things soccer.
• The All-EPL Team, 2011-12
• Saying goodbye to Chinaglia
• Time to dethrone King Kenny Dalglish?
• In praise of Fulham
• The comeback artists
• Call it a comeback
• Death by Manchester
• The battle for third
• Spurs' title credentials
• EPL's best starting XI
• City handed first EPL loss
• Chelsea pushed to brink
• Fragile egos crossing
• City and United
• Is Newcastle for real?
• The bad-behavior derby
Meet the All-Disappointing EPL Team
Comment from rimbaud1b (10/3/2010 at 6:33 AM): Hirshey is way off. Rooney should be on the team. And Torres is hampered by more than just his own play. Liverpool have some of the least creative midfielders in the Premier League, he doesn't have a worthy No. 2 striker to keep from getting hammered by defenders, and all that adds up to injuries and slower pace.
Rimbaud, for a soccer poet your iambic pentameter appears to be slightly off. I deliberately omitted Wayne Rooney from the list of underachievers because I didn't want to be accused of piling on poor Shrek so close to his beloved Halloween. That's why it was called The All-Disappointing EPL Team (Except For Rooney, Who Is In A Class By Himself).
As for Fernando Torres, you are absolutely correct in saying he is suffering from a lack of Xabi Alonso-worthy service, but that has never stopped him from scoring wonderful solo goals in the past. Liverpool desperately needs and expects his usual world-class finishing to compensate for its other weaknesses. This season, it simply hasn't been there.
Comment from APOFalcon (10/1/2010 at 10:44 PM): The odd thing is I think Hirshey watches every Arsenal match and therefore should know that Arshavin has been alternating some scintillating passages with his unfortunate "laziness."
Falcon, you'll be happy to hear that I own an Andrei Arshavin jersey, and I maintain that the most scintillating passages the Russian has produced this season are the ones that he's read in Ashley Cole's diary. More often, his performances have given off the same pleasant whiff as my jersey does after I run four miles in it.
Remember, this is the man who inspired Wenger to bravely stick his hand in the snake pit where he keeps Arsenal's transfer kitty and pull out a record fee of over $20 million for the then-27-year-old. Granted, he conjured up a four-goal masterpiece against Liverpool last season and shows flashes of the silky moves that mesmerized at Euro 2008, but not only has his once clinical finishing deserted him recently but so has his work rate. Nowadays, when the diminutive Russian is inevitably dispossessed, rather than try to (shudder!) win the ball back, he petulantly throws up his hands and looks to the Soccer Gods as if to say, "How dare you let that clodhopper take the ball from the Great Arshavin?"
What do Dimitar Berbatov and Landon Donovan have in common?
Comment from monnat24 (9/20/2010 at 12:21 PM): Putting these two players in the same article is comical!! While Lando did play a nice game, let's save the American propaganda for another day..... What Berbatov did on Sunday was 10X the accomplishment of what Lando did against the worst team in the MLS!!! Manchester United vs. Liverpool is a little bit bigger of a game.!!!! Berbatov is a maestro with the ball, AND while Lando is a good player, he is not even close to Berbatov's level of class.....BE REAL.
American propaganda? Why is it so hard for Brits to accept that there may be one or two half-decent players on this side of the pond? You'd think after finally seeing how admirably Donovan acquitted himself during last season's loan spell with Everton, he'd be accorded some props for his moxie and skill.
This is not to say that Donovan's ball wizardry or soccer IQ is the equal of Berbatov's, nor did I intend to suggest that having a dominant game in the MLS is anywhere remotely the same as scoring a hat trick in the EPL. It's just that both players deserve to be praised for their efforts. Perhaps you forget that even though Berbatov scored, Landon's Toffees beat Dimitar's Reds 3-1. Without Landon in their lineup for this season's matchup, the best Everton could do was a 3-3 draw, albeit an exciting one.
Comment from eastcoastblue (9/20/2010 at 7:25 PM): Haters gonna hate. Again Hirshey with the digs at Chelsea. You and your mustache are ridiculous.
Leave the epic grandeur that is my mustache out of this. My enmity for the Blues goes back long before I had any facial hair and is one of those aforementioned biases -- along with my love of all things Arsenal and my loathing of all things Tottenham -- that I happily admit to.
I couldn't stand Chelsea when they were plucky underdogs in the 1970s, I danced on their grave when they were dropped to the second division in the '80s, despised them when they bought respectability with Ruud Gullit, Gianluca Vialli and Gianfranco Zola in the '90s and am utterly sickened by their resurgence in the new decade. I am as constant as the North Star.
Can the EPL's Injury Epidemic Be Stopped?
Comment from jcommins (9/20/2010 at 1:52 PM): People identify serial leg-breakers as the root of all evil, but the reality is every challenge is an example of players making an instant calculation of risk vs reward. As long as the FA/referees allow these "excessive force" challenges to continue, we will see more and more broken legs... The FA does not properly protect its skill players from the Neanthethals, and the best players will begin to avoid England if they fear reckless tackles may shorten their career... By the time the FA figures this out, it will be too late.
Admittedly, I'm a little sensitive on this subject, having watched in horror as two of my beloved Gunners -- Eduardo and Aaron Ramsey -- were carted off with broken legs while the players who committed the assaults, Martin Taylor and Ryan Shawcross, were essentially given three weeks off to sharpen their cleats.
Whatever happened to the old-fashioned notion of the punishment fitting the crime? I realize that the FA doesn't have the guts to ban Taylor and Shawcross for a year -- the length of time it took Eduardo to repair his mangled limbs, if not his confidence, and Ramsey still isn't quite there yet -- but surely they could have dropped a two- to three-month suspension on them just to show that this kind of blatant thuggery would not be tolerated.
Then again, should we really be surprised? Remember, this is the same governing body whose prize referee Howard Webb "didn't see" Nigel De Jong imprint his studs on Alonso's chest in the World Cup final. Had De Jong been sent off in the most important game of his life, maybe he would have thought twice before trying to make firewood from Hatem Ben Arfa's leg this past weekend. Instead, he walks the streets a free man because once again, an English referee (Martin Atkinson) missed the incident. I guess it just goes with the honor of playing in the "Most Exciting League In The World."
And finally,
Comment froma_thousand_pins (10/4/2010 at 4:35 PM): You, Mr. Hirshey, are a miserable little man kicking people who are down. Arsenal, like you said, don't have the moxie to win it all. Liverpool do though, and they'll be champions again.
I take offense to this. I am not miserable.
David Hirshey has been covering soccer for more than 30 years and has written about the sport for The New York Times, Time, ESPN The Magazine and Deadspin. He is the co-author of "The ESPN World Cup Companion" and played himself (almost convincingly) in the acclaimed soccer documentary "Once in a Lifetime."