Commentary
The best league in the world?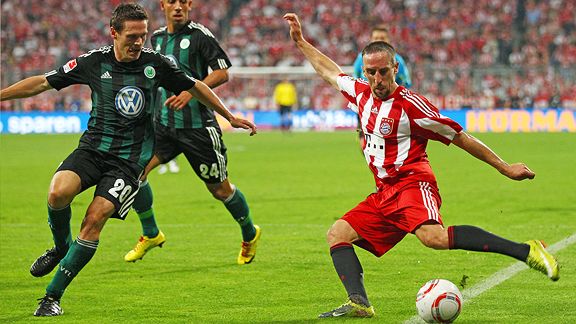 Clive Brunskill/Getty ImagesThe Bundesliga is the best-attended league in Europe, thanks in part to the fast-paced play of teams such as Franck Ribery's Bayern Munich.
The Germans, to borrow a cliché, aren't so much known for being unpredictable. The country's soccer has never been confused for being high on octane, scoring and entertainment. But all bets are off in Europe's healthiest soccer league.
In its first eight rounds of topsy-turvy play this season, the Bundesliga has seen Michael Bradley's Borussia Monchengladbach beat Bayer Leverkusen 6-3 before losing its next games by 4-0 to Eintracht Frankfurt (which had yet to garner any other points) and 7-0 to Stuttgart (a team that has mustered just one draw from its seven other games). Two matches later, Stuttgart lost 4-1 to the very Leverkusen that had gotten trounced by Gladbach. Meanwhile, powerhouses Schalke 04 and defending champions Bayern Munchen languish in second-to-last and 10th place, respectively. Mainz, which came in ninth last year and wasn't even in the Bundesliga the season before that, sat at the top of the table with an unblemished record until this past weekend.
While the English Premier League is seen as the gold standard, a scenario is unfolding in which the Bundesliga could surpass the EPL to become the world's most popular and successful soccer league. If that sounds like a stretch, consider that the Bundesliga is already the best-attended league and arguably the most exciting one, too.
German soccer is leading the way on another front as well. Most European soccer clubs are struggling with massive debt. The 20 English Premier League clubs have a combined debt that has spiraled to $4.45 billion. In La Liga, last year's 20 teams rang up $4.65 billion in debt. (For more on the European debt crisis in football, click here.) Contrast that with Germany, where the country's 36 pro teams are (wait for it) actually making money. Or at least not finding themselves under the weight of crushing debt.
"The Bundesliga is being held up as a model of financial virtue and good governance," said Simon Chadwick, a sports economist from the University of Coventry in England.
In Germany, you don't read stories about big-money buyouts and hostile takeovers by wealthy foreign investors. There's no talk of teams going bust. And there's a simple reason why.
Clubs aren't allowed to behave like irresponsible teenagers with their parents' credit cards at their disposal.
50+1=Smart Business
The steady growth of the Bundesliga is made possible, in large part, by avoiding the injections of cash that have turned middling Premier League clubs such as Manchester City into transfer market giants. Honoring the German federation's 50+1 rule, Bundesliga clubs all have the same majority owner -- their fans, who maintain control of 50 percent of shares plus one. There are a few exceptions, such as Wolfsburg, which is owned by Volkswagen, which, of course, is based in the same city as the team. Ditto Bayer Leverkusen, which is owned by Bayer pharmaceuticals. But in both cases, ownership is still community-based.
The 50+1 rule means that German soccer avoids the economic instability that comes from deep-pocketed entrepreneurs swooping in to purchase a club. Such arrangements go sour at least as often as they work out (see: Newcastle United, Portsmouth FC and Liverpool FC, to name just three).
"What you're not getting is entrepreneurs buying up clubs and amassing massive debt and then leaving the club behind in difficulty," said Chadwick.
[+] Enlarge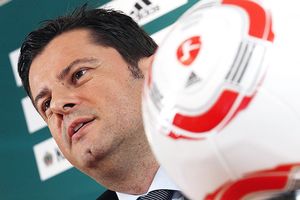 Alex Grimm/Bongarts/Getty ImagesBundesliga CEO Christian Seifert takes a league first, team second approach.
Bundesliga CEO Christian Seifert said, "You have great and serious investors but the question is: What happens if you have investors who maybe only have a short-term interest, who want to trade their shares in the clubs?" Instead, the league prefers to ensure that the "competition overall is getting stronger," said Seifert, and that investment helps more than "one club, which may be good for the fans but bad for the [overall] competition."
In other words, German soccer's zen -- its harmony of fans, parity and solvency -- is a direct result of its chi-like financial landscape.
It's a policy that folds into the Bundesliga's blanket strategy of avoiding risks. While clubs the continent over gladly snag whatever cash they can get their hands on without much concern for how they'll get out of debt, the rules in Germany force clubs to toe a strict financial line. Buy now, ask questions later -- not going to happen in the Bundesliga.
"The licensing procedure as it's currently conducted in Germany is better than what we have in other countries," said Bernd Frick, a sports economist at the University of Paderborn in Germany. "Clubs have to open their books to the league and apparently the football association does indeed exert pressure on clubs that are in financial distress."
German soccer is guided by a 200-page rulebook with precise stipulations on liquidity and debt, among many other things. Perhaps the most important rule: Clubs must demonstrate that they expect to at least break even or they are denied a license to practice professional soccer. Imagine if EPL or La Liga teams were held to the same standard?
"The key issue is to see if a club has the liquidity to allow it to play the upcoming season," said Seifert, stressing that no club is exempt regardless of its stature. "We make sure that the licensing system doesn't work in a way that somebody just writes a letter and draws some flowers around the numbers. We make sure all the figures are reliable because they have to be checked by professional accountants."
Clubs that don't make good on their financial projections are fined and docked points. This happened to Arminia Bielefeld last year. The German soccer federation also reserves the right to order an additional audit by a third party if the numbers aren't adding up.
Overall, though, the numbers are encouraging. Of the 36 clubs across the Bundesliga and second-tier Bundesliga 2, just three are thought to be in the red. Schalke 04 is said to owe about 300 million euros, while Borussia Dortmund is in the hole by an estimated 70 million euros. Hertha BSC has some 60 million euros in debts.
By being kept to a strict budget, German clubs avoid the pitfalls that sink their European peers, like paying inflated transfer fees or letting payrolls mushroom. "In the Bundesliga, the ratio between turnover and player wages is about 50 percent," said Seifert. "In other leagues, it lies between 60 and over 70 percent. This is a crucial point. Having a certain level of turnover reached and then controlling the players' wages is the key to success."
It's all about the fans
The Bundesliga's sound financial footing means that wealth is fairly evenly distributed. No one team can grossly outspend another. The net result: Relative parity rules the league. Although Bayern Munich has won the title five times in the past decade, four other teams have won it, too, and the domestic cup competition, the DFB-Pokal, has had 11 different finalists over that span.
"We need to stay entertaining," said Seifert. "We think that the more entertaining and unpredictable the competition is, the more it will excite the fans." While the merits of parity are debatable, its effects seem to encourage ticket sales in Germany. The Bundesliga has set attendance records for seven years in a row.
[+] Enlarge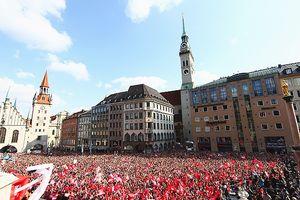 Alexander Hassenstein/Bongarts/Getty ImagesDowntown Munich came out to celebrate Bayern Munich's two titles -- the DFB Cup and Bundesliga trophy -- in May.
It's good to be a footy fan in Germany. Not only do you get competitive matches, you don't have to put a major dent in your wallet to support your favorite team. Because fans have a controlling ownership of their clubs, they can keep ticket prices affordable -- about $28 on average, roughly the same as an MLS ticket and less than half of admission to an EPL game.
Bundesliga clubs claim that they wouldn't raise prices much even if they could. "I've asked many club officials: Why don't you increase ticket prices until the first seat remains vacant in the stadium?" said Frick. "Their first answer is always that they would lose money from sponsors, because they want to see full stadiums." That strategy is paying off. The Bundesliga is thought to be taking in more sponsorship money -- some $800 million annually -- than any other league.
So it should come as no surprise that attendance in Germany is the highest in Europe. During the 2008-2009 season, an average of 41,900 spectators came to every Bundesliga game, outdrawing the English Premier League (35,600), the Spanish Primera Division (28,500), the Italian Serie A (25,300) and the French Ligue 1 (21,000).
And it's not the prawn sandwich brigade, either. Bundesliga matches are festive occasions for "real fans," as they say, drawn from a much larger socioeconomic demographic than other leagues.
Some dismiss the attendance boom as a result of Germany having hosted the World Cup in 2006. "It's almost always a major boost to the domestic league," said English sports economist Stefan Szymanski. "You primp up the stadiums and make them very attractive and you get people excited about football. But if [attendance] trails off after a few years you have to ask questions."
No one's asking those questions in Germany. By being fan-friendly and making soccer accessible, the Bundesliga has become the world's most profitable league. Although it doesn't yet gross more than the EPL, which took $3.14 billion in revenue in 2008-2009 to the Bundesliga's $2.18 billion, the Bundesliga's $225 million profit eclipsed the Premier League's $125 million.
Ready for the big time?
Ironically, some critics believe that the very thing that makes the Bundesliga a financial role model -- the 50+1 rule -- could hold it back from hitting the big time.
The 50+1 rule didn't always exist. In fact, until the late 1990s, clubs were owned exclusively by their fans, leaving no room for outside investors. But even with partial outside ownership now allowed, the rule could stand in the way of the Bundesliga challenging the EPL for market share among fans and sponsors alike.
"If the Bundesliga were to remove the capital restraints that it imposes on the clubs and would allow investors to come in, it would become the dominant league in Europe," said Szymanski. "The reason it isn't the largest league, in spite of having the largest and wealthiest population that is fanatical about football, is that they are restrained by the rules they impose on themselves. There's definitely a penalty in limiting your financial opportunities in the way that they do."
Seifert doesn't buy into the theory. "If you eliminated the 50+1 rule, it would lead to an unfair competition because every year one or two clubs would come out ahead of the league," he said. "It would be great for the fans of those clubs but bad for the competition. It's more important to find investors to keep the league exciting and unpredictable."
But the Bundesliga CEO doesn't enjoy the support of all the clubs. In November 2009, Hanover president Martin Kind moved to abolish 50+1 or any other caveats to ownership. He argued that it would be the only way the league could keep up with the big-spending clubs in England, Spain and Italy. To his point, last season was the first time in eight years that a German club (Bayern Munich) reached the Champions League final. In that span, an English team had made it there six times, an Italian team four times and a Spanish team twice.
But while regaining a leading role in European competitions is attractive, maintaining a clean bill of financial health was even more appealing to the majority of German clubs. When Kind's motion was put to the vote, 32 of the 36 clubs rejected it.
"Most people complain that the absence of rich individuals means that the Bundesliga is not competitive at the top European level," said Frick, relaying the majority of the clubs' sentiments. "But if you survive without liabilities in the long run and with mediocre on-field success, that may be better than being successful on the pitch in the short run, but being dead in the long run."
There is hope that the playing field will be leveled across Europe. UEFA's Financial Fair Play rules, which are set to go into effect in the 2012-2013 season, are supposed to require all of Europe's clubs to play by the same rules that the Bundesliga teams do or risk expulsion from European competitions. In theory, it sounds good. On a fair playing field, the race for continental dominance would be the Germans' to lose.
But football isn't fair, of course, and the Fair Play rules have a loophole that will allow financially creative clubs to continue to rack up debt for the foreseeable future. In the meantime, the Bundesliga clubs will have to make do with observing from the moral high ground as others continue to spend money they don't have.
Leander Schaerlaeckens is a soccer writer for ESPN.com. He can be reached at leander.espn@gmail.com.
Contributing writer, ESPN.com
Leander Schaerlaeckens is a contributing writer for ESPN.com. He has previously written for The Guardian, The Washington Times and UPI.